The two S.League surprise packages will face off in what promises to be an entertaining clash as they vie for a position in the top six of the table
August 4, Sunday, 8 p.m, Woodlands Stadium
This is arguably the clash of the round as it sees two sides separated by only a point going head to head, with Tanjong Pagar in third spot on 30 points and Woodlands Wellington in fourth position.
Both clubs are the surprise packages of the season following their dismal showings in the previous campaign, where the Rams finished at the foot of the table while the Jaguars ended up only one spot above Salim Moin's men.
Woodlands have won their last four league games on the trot, while the Jaguars have drawn their last two.
While the Rams have a full slate of players to choose from for this match, Patrick Vallee will be forced to tinker with his starting lineup due to injuries and suspensions.
Asraf Rashid is suspended for the tie after accumulating his fourth yellow card of the season in their last league game, while Ismael Benahmed is doubtful for the match after sustaining a torn tendon to his left hand.
While both players will return to first team action soon, the same cannot be said of Sazali Salleh, who has been diagnosed with a broken fibula.
Sazali suffered the injury following a nasty challenge by Loyola Meralco Sparks player Jang Jo Won, the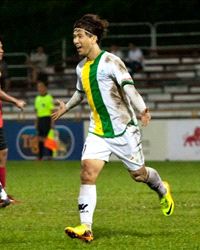 younger brother of Woodlands forward Chang Jo Yoon, in their Singapore Cup encounter last time out.
The unavailability of Benahmed and Sazali could be disastrous for Vallee as they will be looking to avoid a defeat, which would see Woodlands take their place in third spot.
The Rams will be banking on Singa-Goal Singapore Player of the Month for July, Moon Soon Ho (right), to lead the attack and add to his current tally of nine goals in the league.
Thai midfielder Theerawekin Seehawong has also been in sparkling form and will pull the strings for Woodlands as he looks to supply Moon and Chang.
With the backing of their boisterous and loyal fans, the Woodlands Stadium has become a dreaded den for visiting teams and with the team also backed by member of parliament and club advisor Ellen Lee, three points is a real possibility for Salim and his boys.