The league leaders travel to Brunei as they seek to extend their lead against the hosts, who have had a disappointing campaign
August 25, Sunday, 8.15p.m., Hassanal Bolkiah National Stadium
After pinching a point with a late equaliser against Albirex Niigata in their last match on Wednesday, Tampines Rovers will have to navigate another tricky fixture in Brunei against hosts DPMM.
The Stags somehow threw away a 2-0 lead to trail 3-2 against the second-placed Japanese side, but veteran striker Aleksandar Duric capitalised on a goalkeeping gaffe in the 88th minute to help the leaders come away with a share of the spoils.
That result saw the defending champions maintain their eight-point lead at the top of the table and coach Tay Peng Kee will hope his men can extend that with a good result in the massive Hassanal Bolkiah arena.
Workhorse Duric will shoulder the attacking burden at the grand old age of 43 as he remarkably continues to find the back of the net with unerring precision and regularity, leading the way for Tampines with nine goals as their top scorer.
Singapore international Khairul Amri is also another potent offensive threat, while Firdaus Kasman and Vitor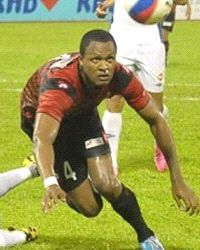 Ladeiras helm the midfield. Skipper Mustafic Fahrudin could sit this out though after an injury sustained against Albirex and if so, his fiery, combative presence will be sorely missed.
Ninth-placed DPMM similarly salvaged a result in their previous outing against Balestier Khalsa on the same ground, which did their hopes of a top-six finish no good.
Brazilian centreback Tales dos Santos (right) was the hero with a wonderful bicycle kick from the edge of the box in the 81st minute to equalise in the 1-1 draw, and his giant presence will come in handy once again at the back and upfront here.
Coach Vjeran Simunic will hope for better showings from forwards Shahrazen Said, Arturas Rimkevicius and Joao Moreira as the Wasps look to arrest a three-game winless streak on home soil.
A win will see DPMM go level with seventh-placed Harimau Muda and boost their hopes of making it to the top half with two games left to go until the half-round, and the wily Simunic will hope to make the fans go home happy with an upset win against the defending champions.