The Fenerbahce forward has had a goals' filled 12 months for club and country and deserves the biggest accolades for his feat
ANALYSIS
By Kolade Oni

When it comes to Emmanuel Emenike, his currency and his commendation are clear: Goals, goals and more goals.
The Fenerbahçe forward has never found the act of goal-scoring to be difficult at club level. This year, he has begun to add consistency in front of the net to his game with the national side—Nigeria has benefited enormously as a result.
It is remarkable to recall that once upon a time the Turkish Football association had their eyes on Emenike, so much so that they were considering applying for a nationality switch. It was then-national team boss Samson Siasia who ensured that it was the Super Eagles that benefited from his developing qualities.
Since breaking into the squad in 2011, Emenike hasn't looked back—2013 will be remembered as the year when he finally established himself as Nigeria's key attacking threat.
His recent form for club and country is a far cry from his early, ignominious career in Turky. On 28 July 2011 he made history when he was sold to Spartak Moscow for €10 million after being implicated in a match-fixing scandal involving Fenerbahçe He made history by becoming the first player to be bought and sold by Sari Kanaryalar without ever playing a match for the club.
He eventually returned to Istanbul in August this year, slightly over two years after departing for the Russian league.
With six goals, two Man of the Match performances and two assists in his opening few months at the club, the front man is evidently keen to make up for lost time.
For those of us outside Turkey, however, Emenike's key contributions have been made in the famous green of Nigeria.
He was instrumental during the Super Eagles' triumph at the 2013 Africa Cup of Nations in South Africa. Overall, he scored four goals, enough to receive the tournament's Top Scorer award. However, it wasn't merely the volume of his goals that earned such acclaim, but their timing and importance as well.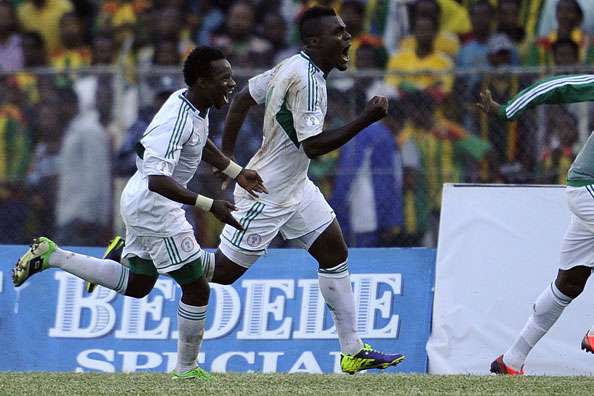 Conqueror of Addis | Emenike puts the Walias to the sword
He scored important goals against Zambia and Ethiopia in the Group stage, helped to down the Cote d'Ivoire with a ferocious strike in the quarters, and contributed a further goal in the rout of Mali in the semi-final. He was also awarded the Man of the Match award in this fixture—a sign of his growing influence and undervalued work for the team.
It was a great shame that he was missing from the final due to injury, but a spot in the CAF Team of the Tournament helped to soften the blow.
Following on from South Africa, he was sorely missed during the Confederations Cup in the summer—he and Victor Moses were conspicuous in their absence and left the Super Eagles looked devoid of a 'killer touch' in front of goal.
In the recent World Cup Qualifying play-off in Addis Ababa, his brace against Ethiopia not only overturned the Walias' lead, it also undermined their confidence and silenced the previously buoyant home crowd.
It is not an overreaction to suggest that these goals were the difference-maker for Nigeria; they, more than any other, were the contributions that pushed the Super Eagles towards Brazil, killing Ethiopian aspirations in the process.
It was no surprise when Emenike was named among the nominees for CAF's African Footballer of the Year award.
By the year's end, the similarities with Rashidi Yekini were hard to ignore and had become altogether more prevalent within the media. Former Super Eagles forward Yakubu Aiyegbeni drew a parallel between both men, announcing, confidently, that the Fenerbahçe frontman would one day share Yekini's immortal reputation.
He's certainly a long way off, but with similar playing styles and a common ability to make an impact, it is not so far-fetched to imagine that Emenike may one day be held in such high esteem among Nigeria fans. If the 26-year-old can continue his scoring form for both club and country, he may well be a position to match Yekini's impressive numbers.
Next summer's World Cup would be an ideal place to start. Yekini made such an unforgettable splash on the world stage and, as the man who pushed Nigeria towards Brazil, Emenike would be the perfect player to continue such a legacy.
If he can, then Emenike might be the only contender for Goal Nigeria's Player of the Year in 2014…as far as 2013 is concerned, he is firmly in the running.