GUEST FEATURE
By Solace Chukwu
Recently, a question was put to me regarding the nature of Stephen Keshi's coaching philosophy. It got me thinking: most coaches' approach to management is often an extension of their own playing style and/or personality.
Atletico Madrid are earning high praise today in world football for their robust, combative play and stringent organization; hallmarks of Diego Simeone's playing career. Jose Mourinho has achieved great success as a skilled, reactive strategist who excels at nullifying opponent's strengths and targeting their weaknesses; while he never played the game professionally, he did strike out on his own as an opposition scout under Sir Bobby Robson at Barcelona.
In many ways, the success of a manager is determined by just how much of his style and personality he is able to impart to his teams. Coach Stephen Keshi captained the National Team for many years, during which time he earned the sobriquet "the Big Boss" for his tough style and personality. So how much of that is evident in his management?
To coin an oxymoron, his time at the helm of the Super Eagles can be described by the phrase: 'uncompromising compromise'.
In some ways, he has maintained the abrasiveness that defined his playing career, specifically, his handling of characters he considers to be divisive. Ikechukwu Uche, Osaze Odemwingie and Haruna Lukman are all prominent examples. He has been firm and unflinching even in the face of the impressive form from the Villarreal forward, however, rather surprisingly, he handed a recall to Seattle Sounders' Obafemi Martins (then of Levante) for a crucial World Cup qualifier against Kenya in March 2013. This recall was fairly anomalous as he was a member of the old guard that Keshi has tried to phase out since taking the post.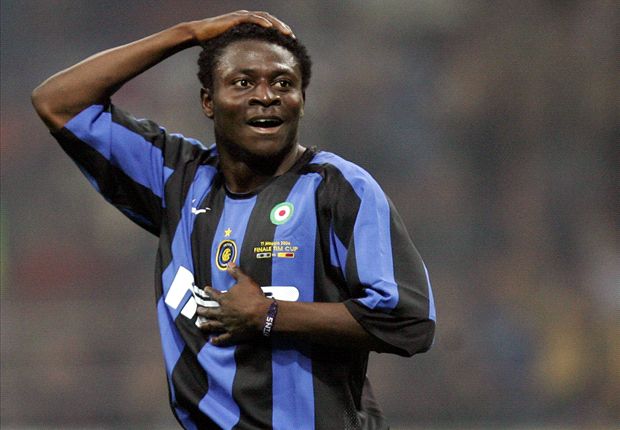 Obafemi Martins | An example of Keshi thawing?
The Big Boss has also not shied away from rightly dispensing with those who under-perform.
Ejike Uzoenyi, a mainstay in qualifying for the 2013 AFCON, was cast aside and is only now back in contention after some impressive showings at the recent CHAN. The aforementioned Martins was summarily dismissed from the international wilderness after underperforming; while the duo of Joseph Akpala and Anthony Ujah have paid for their poor performances at the 2013 FIFA Confederations Cup. On the flip side, the likes of John Ogu and Brown Ideye have kept their places regardless of uninspiring outings, most notably from the Dynamo Kyiv man who appears sapped of confidence whenever he plays.
Tactically as well, the Big Boss has struck an intriguing balance.
While a fluid, direct 4-3-3 is his preference, he seems unshakeable in his desire to have two forwards on the pitch. So he has reached a compromise: by playing Brown Ideye on the right of the front three as some "false-winger"/ " tucked-in-forward" hybrid, he retains two forwards without being undermanned in the middle. This leads to a further compromise to maintain width, as Efe Ambrose plays a more attacking role at right back, giving the attack a lopsided tilt going forward.
He has made concessions for such things as a poor playing surface and missing key personnel, but never really alters the team shape. In the final of the 2013 AFCON, with top striker Emmanuel Emenike missing, he gave Ikechukwu Uche a start, but did not structure the team to play to his strengths.
Unsurprisingly, Uche had a poor game.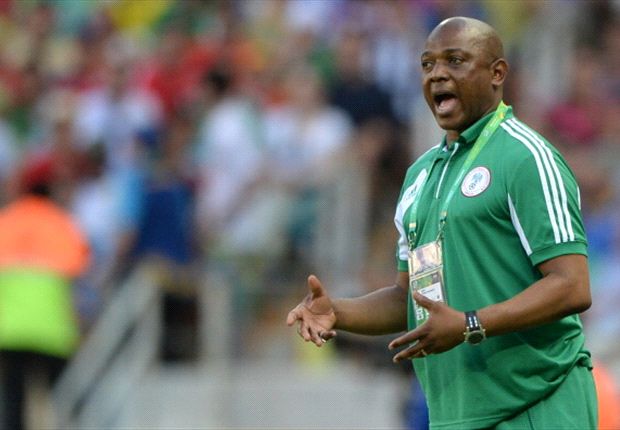 Keshi | Still capable of that ferocious fire
This was once more evident during the qualifiers; with Sunday Mba match-rusty, he drafted Nnamdi Oduamadi, a winger-cum-wide forward into the midfield on numerous occasions but kept playing a 4-3-3, and it should have come as no great shock when the Super Eagles managed only seven goals in six group stage qualifiers against Namibia, Kenya and Malawi.
In some matters he has proven himself to be remarkably innovative, but in others, infuriatingly rigid.
This has led to him being labelled biased and vindictive in some quarters, but perhaps this is merely his way of acknowledging the heft of the weight he has to carry: the expectations of almost 200 million Nigerians. You can't please everyone, but to his credit he has attempted to be flexible in certain areas. Perhaps that is the most we should require.
However, this desired personality clashes with the sturdy, forceful persona evidenced during his playing days. Keshi has achieved unprecedented success in his time at the helm, but if the premise of this article is true, then perhaps he may need to become more ruthless for the Super Eagles to move on to the next level.
Editor's Note: The views expressed in guest articles are not that of Goal. For any rejoinders, please send your comments of between 500 and 700 words to nigeriadesk@goal.com and we will consider it for publishing.