Lolade Adewuyi

Sights and Sounds of Afcon 2013

Follow on
"It is not the critic who counts; not the man who points out how the strong man stumbles, or where the doer of deeds could have done them better. The credit belongs to the man who is actually in the arena, whose face is marred by dust and sweat and blood; who strives valiantly; who errs, who comes short again and again, because there is no effort without error and shortcoming; but who does actually strive to do the deeds; who knows great enthusiasm, the great devotions; who spends himself in a worthy cause; who at the best knows in the end the triumph of high achievement, and who at the worst, if he fails, at least fails while daring greatly, so that his place shall never be with those cold and timid souls, who neither know victory nor defeat." – Theodore Roosevelt
At Friday afternoon's pre-match press conference ahead of Sunday's important quarter final match between Nigeria and Cote D'Ivoire, Super Eagles trainer Stephen Keshi was asked an important question by journalist Colin Udoh: "Do you think it is unfair that you don't have the backing of the people as you go into one of the most important games that this team is going to play at the Nations Cup?"
Betraying some emotion, the 51 year-old trainer with baggy eyes responded: "It's a shameful thing if my nation doesn't have confidence in their team. I don't care if we're playing against Brazil. If you don't have confidence in your team, it's a big shame to my nation, including me. What kind of morale are they showing to the players?"
For such an important game coming up tomorrow, it is certainly disheartening to hear our countrymen speak so low of their own team. A couple of people have sent me messages from home asking me to confirm their fears that Nigeria "will lose" tomorrow. I've tried to avoid answering.
But here's my response in public: it's stupid to go to battle without hope of victory. And it is a stupid person that sees his team at such an important epoch and fails to give it support.
No matter what the shortcomings of Keshi's squad, this team is our national team and on Sunday they will be singing "Arise O compatriots, Nigeria's call obey" in the green and white in front of a worldwide audience. If for those 90 minutes and more you feel like that team is not representing your interest, then by any means you are free to change nationality. But please do not allow your negative vibe affect the morale of our boys.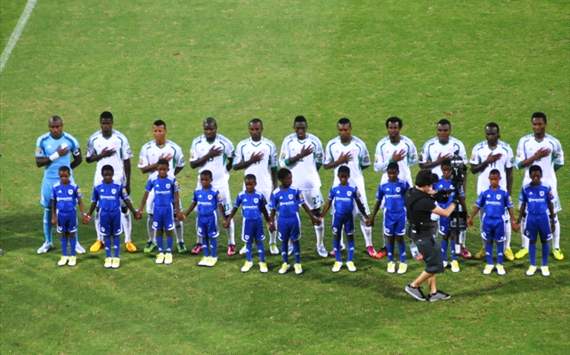 To serve with heart and might | Our boys need positive vibe not criticism
It is high time we stand up as a proud people who are able to proclaim our Nigerianness without shame. If we lose on Sunday, it won't be because our coaches and the players have not tried enough. It would be because we met a better team.
And what if we win? The game of football is between 11 men on a football field. I dare say that this young team of ours can and will confound the ageing Elephants tomorrow. But it starts with believing in what you have and giving them all the support, just like the coach does.
Have a little faith in your team - faith doesn't hurt, it strengthens.
Criticising will not make them improve, but supporting them will raise their spirits. Nigerians are the most self-critical people in the world, as I have come to learn. They doubt their strengths but talk up their weaknesses. They are slow to give praise but swift to condemn. The authorities are always looking for someone to blame, the people are always looking to pass the buck.
Shame on you doubters that will not support your team, you might as well ask them not to play the game, that way you can be free of the burden.
My hope on Sunday is that Stephen Keshi and his boys will confound all the naysayers and make them eat their words. Tomorrow, our boys will play with heart, they will "never be [like] those cold and timid souls, who neither know victory nor defeat."