Lolade Adewuyi

Sights and Sounds of Afcon 2013

Follow on
It was a long bus ride to Rustenburg from Nelspruit. One had to get to Johnannesburg before continuing on to the final destination. I arrived in the Royal Bafokeng nation on Sunday evening, tired and pelted by rain but found good Samaritans who offered me a lift to my lodge.
I miss Mbombela already where I had the opportunity of meeting a wonderful local South African family, the Mdlulis of Kamagugu Spoornet. Mama Mdluli gave me a warm hug as I entered the cab to depart; earlier we had taken a family photograph with everybody dressed in their Sunday best – except for me in my work clothes.
Through the Mdlulis I have learnt that Nigeria and South Africa may be more than 6000 kilometres apart but we do enjoy things in common - P-Square, Ice Prince and Mafikizolo. And I have learnt to say the Zulu phrases: Umjani (how are you), Siyabonga (thank you) and Makothi (my bride – this one's for Olayide).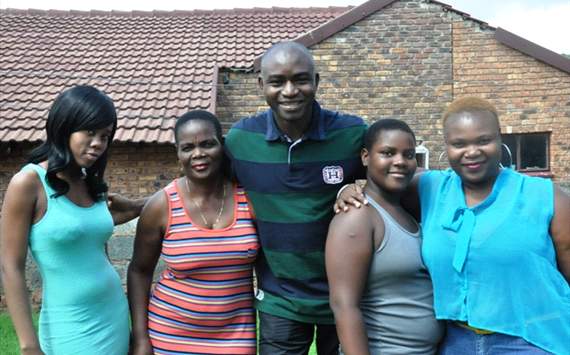 Home away from home | With the Mdluli family of Kamagugu Spoornet
I have again chased the Super Eagles to Rustenburg – an unusually quiet city. Nigeria will play their final Group C game against the Walya Antelopes here on Tuesday night. There's all to play for in that encounter.
It's win or bust.
We have had a few problems in this tournament. We have been afraid to score more than one goal – our inability to kill off games has cost us dearly.
Against Burkina Faso we took an early lead but couldn't find the second goal to make our status comfortable until we lost our advantage late in the game.
In the second encounter against Zambia we did the same – Emmanuel Emenike cancelled out our frustration at Mikel's missed penalty only for us to be undone by the referee's late call for penalty. Kennedy Mweene showed us just how to do it by giving the defending champions hope of a quarter final place.
During the post-match press conference, I asked the Nigeria coach about his team's discipline – in the first game we earned five yellow cards and a red. In the second game we gave away a penalty. Would the coach address this fundamental issue, I asked.
Perhaps it was the wrong moment to do so due to all the irritation in the camp, but Keshi went for my jugular. "Did you watch a different game," he bawled back. "You are the Nigerians spoiling Nigeria. Didn't you see how they've been treating us?"
Needless to say, I felt that Keshi missed the point of my question and I do not begrudge him for that.
Events were to later prove me right. In the second game of the night, Burkina Faso were reduced to ten men and they still handed out a 4-0 trouncing to Ethiopia.
What I have noticed, since Ghana 2008, is that Nigerian teams lack a psychological spine. In the quarter final game against the Black Stars, the hosts were reduced to 10 men and they still defeated us 2-1.
I asked that question of captain Joseph Yobo during pre-match press conference but he wouldn't give a definite answer. His claim was that the team of Ghana 2008 is different from this squad. Still the results are the same, we are unable to have a key leader on the pitch to rally the lads and give them the psychological boost to go for victory in the face of odds.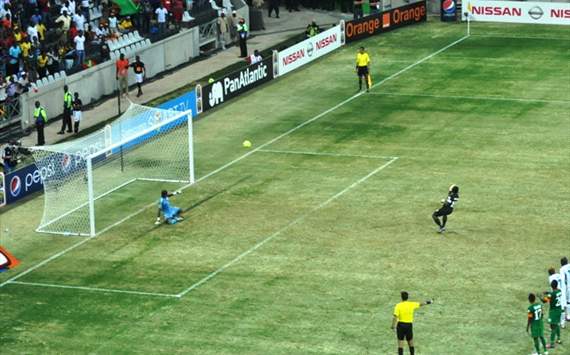 Well struck | Kennedy Mweene showed us how to play a penalty
Coming into this tournament, Mikel was the player expected by many to turn this into his break out competition. He has shown glimpses of what he is capable of – his assist against the Chipolopolo where he won the ball and passed to Emenike to score after missing a penalty shows he could be the difference.
However, he needs to do that on a more consistent basis in order to help his team become a force to fear.
Keshi has stated that every Nigerian thinks they are a coach, but I do not want to become part of his generalisation. Nevertheless, I must question his decision to keep Ahmed Musa for so long on the pitch when it is obvious that the player is not creating opportunities for his side.
Another player that I think needs to sit up is Nosa Igiebor. I haven't been impressed with his play in the two matches so far. Against Burkina Faso he had the opportunity to delay the game when he was struck on the thigh by an opponent, instead he limped back into play and had the nerve to complain to the opponent later when they equalised. What nonsense.
Against Ethiopia on Tuesday, Keshi would not have the opportunity of a fourth match if we don't beat them silly. The Ethiopians have moved camp to Rustenburg but we can confound them and their legions of fans on Tuesday night with a massive win.
This is the time to start our tournament.