Nana Frimpong




Feature

|

Ghana




Follow on
Some are awful and quite difficult to believe whiles others appear as mere fable. Whether a tale or simple logic to win the mind game ahead of a game, the issue of supernatural belief will continue to dominate African football discussions.
They come in different forms - a spectator daubed in a club's colours and white chalk markings carrying earthenware in the inner parameter, a player inexplicably refusing to shake hands with an opponent in a pre-kick-off ritual, a team official sprinkling concoction on the field before a game, a cat being dug from underneath a football pitch that had apparently been buried alive and footballers tying white bands to their wrists or waving spotless handkerchiefs while coming onto the turf.
Others include two clubs involved in a football game withholding a player each from entering onto the pitch until they had seen the opponent budge, and teams taking a different route to the field. These are varying forms of what is now known as juju in African football. The act, per the context of African football, is simply explained as the application of supernatural beliefs, objects or practices believed to possess magical powers in a bid to gain a competitive edge over another. The practice is particularly rife in Africa.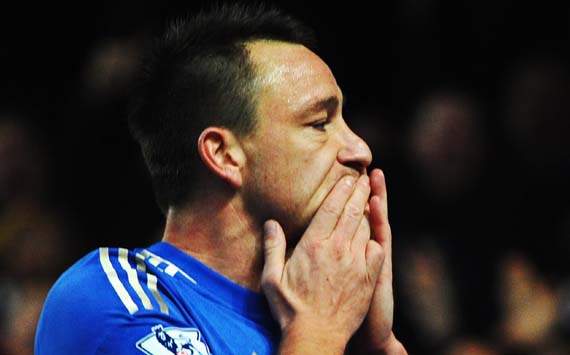 Africa is a continent with a past steeped deep in the worship of ancestral and traditional beings, and vestiges still remain centuries after foreigners introduced Christianity and Islam. Belief in the supernatural is hardly limited to our part of the planet. Elsewhere in the world - even in the sophisticated sphere of European football - petty superstitions still hold valid for many, clubs, coaches, players and fans alike. Consulting diviners and psychics who operate with tarot cards and crystal balls are still in vogue, and many are those who care to indulge those services.
Personal omens abound, too; John Terry has always maintained the same seat on the Chelsea team bus; Liverpool goalkeeper Pepe Reina has an incredible sequence of queer, uncanny rituals he follows prior to every one of his club's games at Anfield, some of which he carries out right on the pitch, yet not so obvious to the casual observer. Gary Neville is known to have always donned the same set of clothing and aftershave when results were going his Manchester United's way. Giovanni Trapattoni infamously sprinkled 'holy water' on the field when he was in charge of the Italian national team.
Then there is Mario Gomez's fetish with the number three, and Laurent Blanc and Fabian Barthez's little kiss-on-the-pate act at France '98. However, sub-Saharan Africa's thick history with spiritistic practices ensures that the intensity and passion with which they are carried out and observed here would always be greater than elsewhere. Here, juju/voodoo/African 'electronics' is a potent charm, a tool utilised for multiple purposes.
Zambia and Ivory Coast examples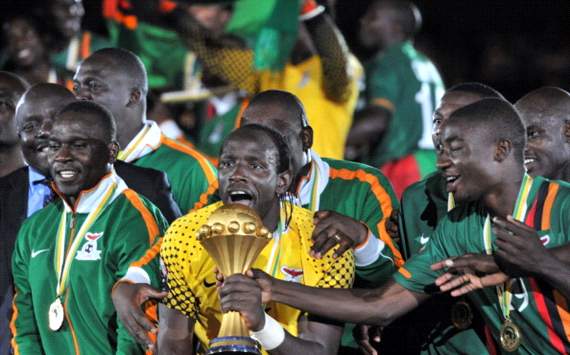 For those who subscribe to its power, juju could make a career or break one, win or lose a big derby game, as well as prove the difference between a successful campaign and a failed one. Many are the tales - verified or otherwise - that are told of players who, through one way or the other, obtain and maintain regular places on their teams, usually at the expense of another they cast a spell of some sort on. Teams - at both club and country level - are rumoured to have sought assistance from the supernatural when faced with daunting tasks, and among these have been some of the continent's finest sides. For one, there was always something mythical, even surreal, with the Zambian conquest at the last Nations Cup in Gabon and Equatorial Guinea. Some quarters had it that the spirits of the Zambia squad that met its ill-fated demise over the waters of Gabon nearly a decade prior had been invoked in some way, for instance. The Ivory Coast's maiden - and only, thus far - taste of continental success was credited, not to the tactical superiority of the team, but rather to the amazing, miracle-working abilities of certain fetish priests in the west African country. Apparently, the Ivorian minister of sports at the time, perhaps drunken by the applause he received for that achievement, declined to pay the financial wages of these men, and thus provoked an indefinite hex on Les Elephants.
Twenty-odd years later, the Ivory Coast team, in spite of the fine generation of players that have represented the country in recent years, has failed to repeat that feat, having suffered, among other disappointments, the agony of two lost finals. Similar incidents have played themselves out on the domestic scene over the years, especially with respect to Ghana's biggest sides, Asante Kotoko and Hearts of Oak. Once in a while when these giants suffer prolonged spells of poor form, juju-men emerge with startling revelations about how at sometime, officials of either club consulted them for spiritual help, and later reneged on giving them their due after their needs had been met. Often, of course, the clubs would come out to publicly debunk those claims as blatant falsehood peddled by opportunists seeking to exploit their misfortune.
In privacy, though, it is believed they move discreetly to settle whatever debts they owe, in whichever form they are required to. Then, again, it is an open secret that those two clubs are the leading proponents of juju in Ghana, and issues of 'ways and means' – as the act is sometimes called - come to the fore very much when they play each other. In fact, most of the incidents described at the onset have occurred during encounters involving the pair, and often losses are attributed to the lesser efficacy of the vanquished side's charm than some deficiency or inferiority in other areas. Even the Black Stars team, often packed with foreign-based professionals supposedly more enlightened than their local counterparts, has not been rendered immune to such 'primitive' tendencies, with the individual players often working mischief via such forces against their team-mates and mostly to self-destructive effect, as highlighted by ex-Black Stars coach Goran Stevanovic after they failed to win the 2012 Afcon.



The Black Stars team, often packed with foreign-based professionals supposedly more enlightened than their local counterparts, has not been rendered immune to such 'primitive' tendencies with the individual players often working mischief via such forces against their team-mates and mostly to self-destructive effect.

- Nana Frimpong

There are those who argue otherwise, however, and they do so on two major counts. One category opines forms of juju are merely adopted and enacted to give a side or player a psychological advantage of sorts over an opponent who believes in its might. Another school of thought claims that while juju might exist, its efficacy is severely restricted by several other limiting factors, mostly physical in nature, and for these, it explains why African sides have failed to make any significant impact at major international tournaments, where effort and hard work often trump black magic.
Some African sides that have qualified for the World Cup have been known to take along with the team ritualists, granting them official portfolios such as 'special advisors' and even making allocations for their fees in the budget. The trend started back in 1974 with the then Zaire side (DR Congo) that qualified for the World Cup and allegedly took with them a team of potent medicine-men and still returned with a deficit of 14 goals conceded in three matches and none scored. Since then, some nine editions of the World Cup later, the farthest an African outfit has gone at the competition is the quarter-final and the sheer irony of that fact could hardly be lost on anyone.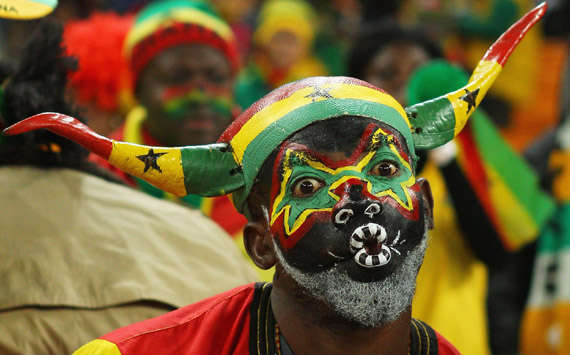 Well, one could not be faulted for reasoning that for all our renowned prowess with juju, we could have faired much better, perhaps even going on to win the real thing a couple of times. In conclusion, one can say juju clearly is a powerful, inevitable co-efficient wherever football is played on the continent. Although the power it undoubtedly wields -whether emotional or otherwise - can never be underestimated, its potency can only be complemented, and in most cases, overcome by sheer hard work and physical ability.
Juju alone on its own would not get a team anywhere.
What do you think? Leave your thoughts in the comments section below or discuss it on Twitter and Facebook.