DEBATE
By James Ezimoha & Solace Chukwu

Kelechi Iheanacho burst into the imagination of Nigeria fans with his marvellous performances at the 2013 U-17 World Cup. He was influential as the Super Eaglets won the title, scoring six goals, making seven assists and winning the Silver Boot and Golden Ball for his efforts.

He was also named as CAF's Most Promising Youngster of 2013, in celebration of his fantastic year.

Recently, however, Iheanacho's performances have reached the mainstream, following his exceptional showings for Manchester City during the team's pre-season matches in the United States.

In this feature, two Goal Nigeria writers debate whether the 17-year-old should be incorporated into the Nigeria senior set-up following his headline-generating showings.

We can all agree that the awe surrounding most of the 'superstars' within the national team is dripping away much faster than a melting cone ice-cream on a hot summer day.

Despite leaping ten spots forward in the latest FIFA rankings to 34th in the world, it is unquestionable that the Super Eagles need some radical changes.

Before the World Cup, the well-painted dream was for the team to go to Brazil, entice and excite fans with some slick attacking football, possibly reach the semi-finals, and then aim for the prestigious cup. However, when reality hit, many were left heart-broken by the gravity of incompetence exhibited by some of the players.

Take John Obi Mikel for example. To a certain agreeable degree, playing for Chelsea amplifies his 'greatness'. However, his performance at the World Cup measured against his status, one can argue, makes him the most overrated player in the team. And for how long will such continue? It would be profane to settle on past achievements while ignoring the present reality which inspires little hope.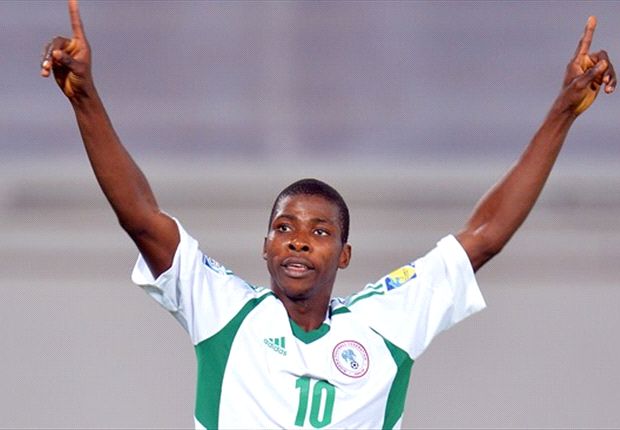 Iheanacho | About to return greatness to the Super Eagles?

In truth, zeal, passion and commitment levels within the current squad are quite thin. There is also the worrying case of lack of inspiration and leadership by example. Since the departure of legends such as Kanu Nwankwo and Austin 'Jay-Jay' Okocha, Nigeria have not quite found talents to match their many exploits and to fill the big shoes they left behind.

For this reason, it would be in Nigeria's best interest to consider and subsequently implement the promotion of Kelechi Iheanacho into the senior team.

The 2013 FIFA U-17 World Cup Golden Ball winner and Manchester City forward did more than enough to quell assertions over his capacity to perform on the big stage with his brilliant display for the Citizens, and you don't find 17-year-olds with that much confidence and technical ability every day. The Green-and-White is for all Nigerians, regardless of their age.

Watching Iheanacho dazzle energetically for 92mins on Thursday morning must have been a proud and refreshing moment for Nigeria fans; one that inspired hope. More pleasantly, however, he was not doing it for an average European outfit but for the English champions and undoubtedly one of the biggest clubs in the world: Manchester City.

There is an urgent need for a new name, a new hope, a new number 10…there is a rising star amongst us and his name is Kelechi Iheanacho.
Follow James Ezimoha on

There can be no denying that Kelechi Iheanacho has talent. There has been nothing to warm the cockles like him since a certain Femi Opabunmi tore up the U17 World Cup in 2001.

It is also true that he displays a maturity that belies his youth, and this is where caution must be exercised. We must not, in our frenzy, spill the drink given to quench our thirst.

Experience is a powerful teacher, effective but exacting a high price. Let us learn from another's.

I knew a striker once, electric, predatory and devastating. On a charged night in Saint-Etienne sixteen years ago, he announced himself to the world with one of the goals of the World Cup in France. He was only 18 at the time.

A first-choice, first-team player for Liverpool at 17, a Premier League Golden Boot winner at 18, but by the time the 1999/2000 season came around; his body had begun to creak under the weight of so much football. At age 20, Michael Owen had hit his peak.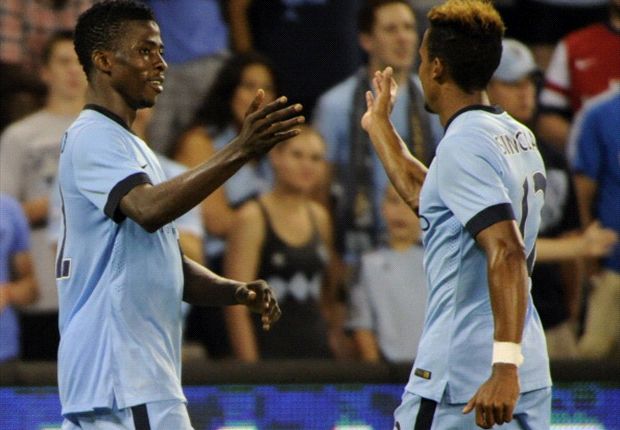 Can the youngster avoid the fate that has befallen so many prodigies past?

He will be 35 come December, a good age for retirement. You would have to strain though to remember the last time Owen looked a serious proposition on the football pitch.

Herein lies the danger of pushing so much responsibility to one so young. These are the formative years for Iheanacho; he is still only 17 and has yet to even sign a full professional contract. We have no idea what he will become, and yet we are already in danger of projecting our own desires onto him. Thierry Henry was an inconsistent winger and occasional wing-back at Juventus, but grew into the most fearsome attacker in world football.

Talent is there, but a player must learn application and maturity to fulfill potential. That will not happen in the Super Eagles with the rampant egos and political posturing of certain senior players. It would be best for all concerned if Iheanacho's growth is allowed to run its natural course.

What do we have to gain? Perhaps he will come into the squad and have the same sort of immediate impact a young Owen did almost two decades ago, and we will have our instant gratification. However, remember how that story ended? Good, you were paying attention.

A place in the Super Eagles for Kelechi Iheanacho at the moment is simply too much too soon.

Follow Solace Chukwu on



Is it time for Iheanacho to step up to the senior side? Comment below and let us know.