COMMENT
By Rupert Fryer
Nobody died. No careers were ended. Brazil's World Cup hopes are still alive. But one young man felt like his entire world had crumbled around him.
The pressure and expectation on Neymar over the last few weeks cannot be overstated. It was more than a 'once in a lifetime' opportunity. Countless billions will never have the chance to lead the spiritual guardians of what is undoubtedly one of the world's leading modes of culture to glory on home soil. To banish the demons of 1950 that led Brazil to question the very concept of itself.
The Barcelona man addressed the world on Saturday in floods of tears, his dreams crushed after suffering a fractured vertebra. "I don't have the words to define what's going through my head and my heart," he wept. Few would.
But now he's gone. It's time for Brazil to truly show their mettle, for coach Luiz Felipe Scolari to prove his collective philosophy reigns supreme over that of the individual.
Bernard would be the most like-for-like replacement. That the Selecao play in his home state of Belo Horizonte works in his favour. The support of the home crowd has been vital to Brazil's evolution which began at the Confederations Cup. A start for Bernard would take the volume in the Estadio Mineirao up to 11.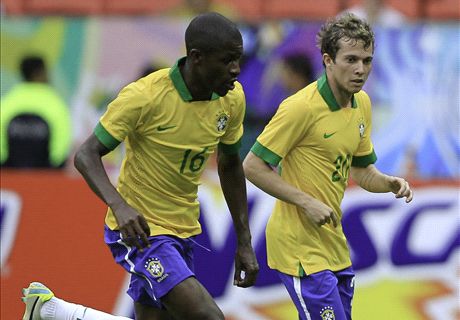 Time to step up | Ramires or Bernard could replace Neymar
The little Shakhtar star Scolari famously described as having 'joy in his legs' offers pace, trickery and individual moments of creative genius, but he is less likely than others to bring overall improvement. His direct running could stretch the space in midfield, but that has been the problem area for Brazil and something Scolari won't want highlighting.

The introduction of Ramires would provide more steel, but he has failed to impress in his cameos and Scolari is concerned by his propensity to pick up cards. Luiz Gustavo joining Paulinho and Fernandinho in a 4-3-3 is also an option - while that shape would also offer Hernanes the platform to provide the passing from central areas Brazil lacks.

But it will likely be the time for Chelsea's Willian to step up.

Since joining Chelsea from Anzhi Makhachkala last year, Jose Mourinho has moulded him into a player who works for the collective. He chases and presses in a fashion only rarely seen during his days at Shakhtar. For all his technical quality and ability to pick that killer pass, it's his work-rate that convinced Scolari to draft him into the side in November last year. If deployed wide, his willingness to track back could also provide one full-back the rarity of some defensive support.Rather than finding Neymar's replacement, Scolari and technical director Carlos Alberto Parreira are looking for an alternative. Willian's role will not be to star, but to be the difference-maker. Rather, the 25-year-old will be anointed responsibility of getting more out of those around him. "Neymar is better at scoring goals, I am better at serving the team," admitted Willian himself on Sunday.

While Hulk's performances have improved since the group stage, he is yet to find the net. Fred has just one goal in four; as does Oscar, whose underwhelming showings are a direct result of Brazil's inability to pass the ball through the midfield.

For Scolari, Tuesday's semi-final against Germany is not the time for Willian to wander out from behind the curtain and take centre stage, but the time for the 'Scolari Family 2.0' to truly share the limelight. And Willian's potential to unlocking the power of the collective will be key.

Follow Rupert Fryer on