GUEST FEATURE
By George Ukam
Melvin Ini's recent guest article, Is Keshi ready to take on the World prompted controversy among Goal Nigeria fans. In this piece, one reader explains why the Big Boss deserves all the credit he can get.

Let me first state that I disagree with Melvin Ini's view that Stephen Keshi is 'miles' below par tactically. Team formations are decided based on the players at a coach's disposal and on that basis, I see it as no tactical impropriety for the Eagles to set out in a 4-3-3 cum 4-2-3-1 system. Formations are what they are - formations. However, the approach and set up, styles and employment of personnel within these formations and results is, of course, the litmus test of a coach's tactical know-how and not in the multiplicity and variant of formations a team can play. Great teams of the world are not known for their multiplicity of formations, but by their ability to adapt their style in a formation to every opposition.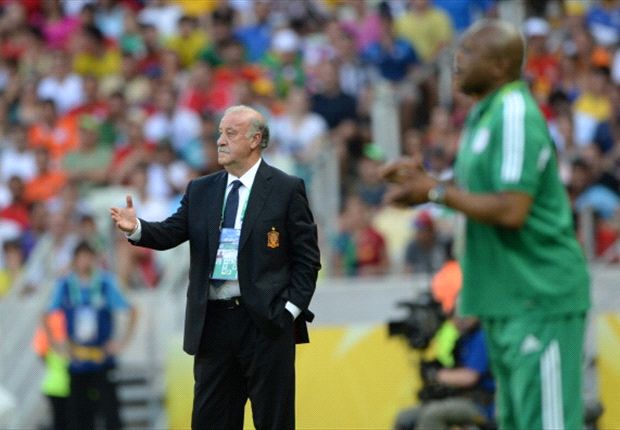 Keshi | Belongs with the Best
During the recent African Nations Championship in South Africa, Keshi made his goal clear, to "expose the players and see if I can get two or more players to take to the World Cup in five months' time". Based on that objective, the CHAN was a successful operation. In the game against Morocco, used by Melvin as an example, the Super Eagles began the second-half period by pressing the Moroccan defense much higher to nullify the long ball approach that kept dragging our defence out of shape.
Also, the defence was much better organised in dealing with the tactic the Moroccans employed in the first period. This, I believe, was tactical savvy demonstrated by the Eagles' boss and, of course, raising team morale is part of the job. especially after such a woeful first period.
Agbim | Causing problems for Keshi

Questioning Keshi's bravery in making a tough call lacks merit in light of very recent decisions he made at the AFCON and during the qualifiers. The boss's decision to replace Joseph Yobo in the starting XI and to introduce Sunday Mba are further examples of courage, and this decision ranks up there with Keshi's best. Can a parallel also be drawn with similar decisions made by Sir Alex Ferguson at Manchester United to axe David Beckham and players of similar standing from the team.
Keshi's dealings with Chigozie Agbim at the CHAN is no yardstick to measure his ability to make
tough calls. The CHAN was not a high-stakes international tournament for Nigeria and even
from the onset, the boss made his objective clear. I believe the context of the match is what makes a decision a tough one or not, and axing Agbim was not a high-stakes decision, but rather, has given the boss more reason to reconsider his choice for the third goalkeeper slot for Nigeria at the World Cup in Brazil.
Never before in the modern era of Nigerian footballing history has an indigenous coach been so close to his foreign counterparts with regards to his tactical management and decisions. He should be celebrated for that and not criticised for his decision-making with a situation as inconsequential as that which concerned Agbim.
His track record is not in doubt.
Editor's Note: The views expressed in guest articles are not that of Goal. For any rejoinders, please send your comments of between 500 and 700 words to nigeriadesk@goal.com and we will consider it for publishing.