By Ben Hayward at Estadio Maracana
The best team won, but the best player did not. For Lionel Messi this was the chance to match the legend of Diego Maradona, to lead an average Argentina side to World Cup glory just like his compatriot did in 1986. But when it mattered most, he fell short.
Germany's golden generation of players brutally beat Brazil last Tuesday and were favourites to win this one, but Argentina's hopes hinged - as so often before - on one man.
Messi had stepped up in the group games to drag the Albiceleste through their pool with three wins and nine points. There was a stunning strike in the 2-1 win over Bosnia-Herzegovina, a wonderful winner against Iran and two more great goals in the 3-2 victory versus Nigeria.
But there has been no Maradona moment. Messi's run deep into extra time set up Angel Di Maria to net the only goal in the last-16 win over Switzerland, while he had his moments against Belgium in the quarter-finals, drawing space in the build-up to Gonzalo Higuain's goal and seeing a second-half effort saved by Thibaut Courtois. In the semi-final shootout success against Netherlands, he converted his penalty, but was unable to lead his team to victory in normal time.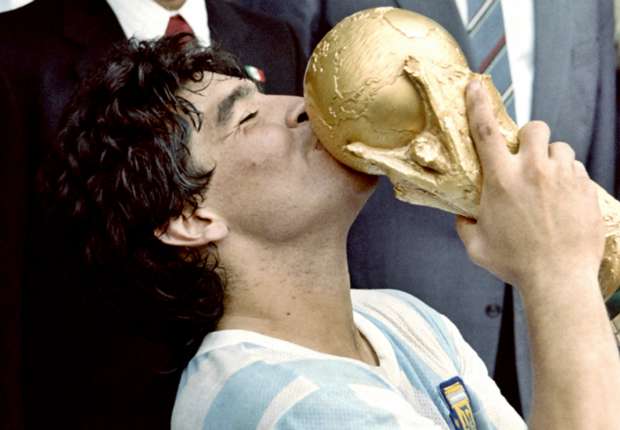 Inspirational
| Maradona is still the last Argentine to lift the World Cup
In the final, he again failed to live up to expectations. Again there were moments, such as an exciting run into the area in the first half which caused havoc in the German defence, another dribble past four defenders in the second period which was cleared by Joachim Low's men and an angled drive which went wide when often it would have gone in. Those moments, however, weren't decisive.

After his four goals in the group games, Messi was unable to add to his tally in the knockout stages. Maradona, by contrast, scored two against England in the quarter-finals in 1986 (including what is still considered the greatest goal in World Cup history) and two more in the semi-finals against Belgium. And in the final, it was his pass which set up Jorge Burruchaga for the winner against West Germany after Argentina had thrown away a two-goal lead.

At Barcelona, Messi benefits from a passing philosophy which is specifically designed to allow him to shine. But for Argentina, playing on the counter-attack, he is much more easily thwarted. At Camp Nou, he can be seen walking around the pitch seemingly disinterested, just as he did on Sunday, but he'll soon spark back into life when the opportunity arises, the markers are dragged wide, the spaces opened and the chances created.In the last few games, that hasn't happened. While Messi, who was controversially named the winner of the Golden Boot, needs support from the collective to make him shine against the very best rivals, Maradona was able to take the team by the scruff of the neck and create something out of absolutely nothing in the biggest games of all.

Comparisons will go on about who is the greatest and perhaps they are unfair after everything Messi has achieved, but he still hasn't been able to match Maradona's feat of winning a World Cup in an ordinary team like Diego did in 1986. At Russia 2018, he'll have another chance.


Follow Ben Hayward on