FEATURE
By Ude Ikenna Ezekiel
Much has been written about the need for reinforcements in various areas of
Stephen Keshi
's team since the Cup of Nations triumph in South Africa.
The midfield and the strikeforce have attracted a good number of player suggestions with the likes of Lukman Haruna, Ikechukwu Uche and Peter Odemwingie being the most-advocated players. Some fans and analysts are even going a step further and inferring that their addition will automatically guarantee the Super Eagles a semi-final berth this summer.
It is, however, clear that as important as it is for a team to score goals at will, it is even more important to defend those goals scored in order to ensure victory at the end of the match.
It is often said that the best form of defence is attack but in the game of football, especially in the World Cup, the defence is as important as any team's strike force.
Not even the 'Golden Team' of Hungary could win the World Cup despite scoring a total of 27 goals in the 1954 edition in Germany.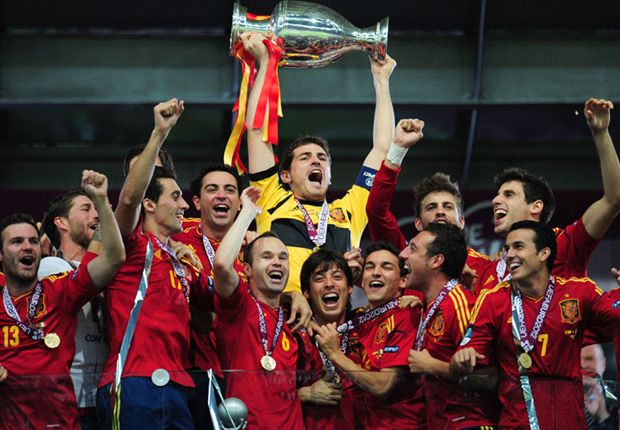 Spain's Success | Born in Defence
The 2010 World Cup winners Spain scored a total of eight goals and conceded just two. Likewise 2006 Champions Italy scored a total of 12 goals and conceded only two. France conceded only two goals to become the World Champions in 1998.
It is, therefore, obvious that a team does not need to score high goal margins in matches to win the World Cup but will need to keep out other teams from scoring more goals than them in each game. I term this the 'higher goal aggregate' system as exemplified by the Spain national team. Remarkably, La Roja have not conceded a goal in the knock-out stage of a major tournament since Zinedine Zidane knocked them out in 2006.
Therefore, seeing that the Super Eagles might not possess the most prolific set of strikers going in to the tournament there is need for the team to attempt to keep as many clean sheets as possible in order to maintain a good higher goal aggregate in all their games.
This may well be a very tough task but given the promise of a defensive backline of Godfrey Oboabona, Efe Ambrose, Kenneth Omeruo and Elderson Echiejile, expecting such a result is certainly not impossible.
As the modern day full-backs are known to be, at times, more offensive than defensive, the major defensive work usually falls to the centre-halves.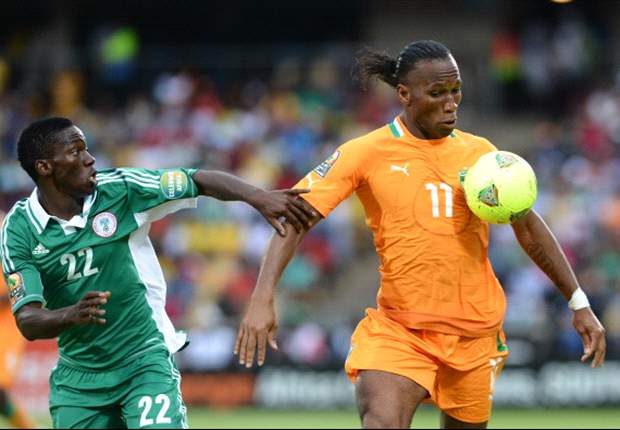 Omeruo | Thrived when thrown in at the AFCON
Can Omeruo and Oboabona rise to the challenge? Both players may not be making waves presently in the top European leagues, nevertheless their talents and defensive abilities as a pair and individually cannot be neglected. Although their record of having played 14 matches together and conceding nine goals might not be too impressive, their overall performances in those games were very encouraging. Among those games were the matches against Uruguay, Ivory Coast and, twice, against Mexico. Against Italy, when partnered with Azubuike Egwuekwe, Oboabona showed a lot of defenders how to mark AC Milan's Mario Balotelli out of any game. Not only is he good aerially, his number of completed tackles-per-match is quite impressive.
At Nigeria's last two World Cup appearances the major failing was the presence of weak and less tactical centre-backs, we struggled without confident and disciplined defenders that had the guts and skill to face renowned and clinical strikers of other teams.
Kenneth Omeruo, with his good height and man-marking ability, is definitely a blessing to any team he might be put into. It's little wonder Middlesbrough's backline has not been the same since he joined the club on loan in January.
In Omeruo, Nigeria have a young version of both Chelsea legend John Terry, given his great ability to make any match hell for opposing strikers, and Brazil skipper Thiago Silva, highly reputed for his tough-tackling ability.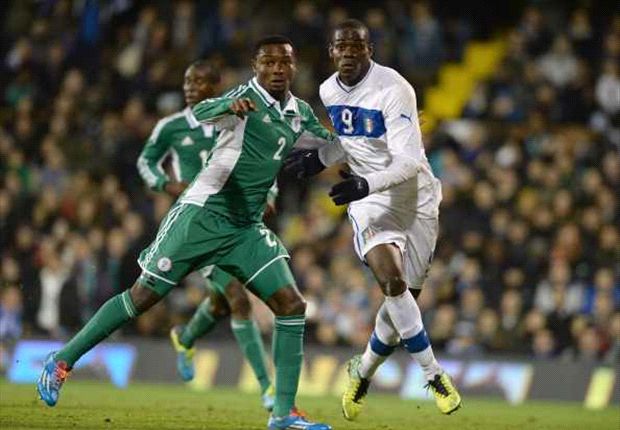 Oboabona v. Balotelli | A Lesson
These two youngsters, with an average age of twenty two, definitely have all it takes to protect Vincent Enyeama in goal at the World Cup even from severe attacks from their opponents.
With just a little motivation from Keshi, who himself was a great defender in the highly revered Clemens Westerhof team of the '90s, Oboabona and Omeruo will surely be good to go for the World Cup finals.
Both players will certainly be busy and, if the the Super Eagles are to stand any chance of winning the strongest contests in the tourney with the slimmest goal margin, need to be at their best.
The Eagles fans should have every boldness to hope that their team possesses a collection of players that can keep other teams' forwards at bay in the tournament and, in general, shock the world in Brazil.
EDITOR'S NOTE: Guest articles are not the opinion of Goal. Contributions not less than 700 words can be sent in via nigeriadesk@goal.com. They will be edited for clarity.