ANALYSIS
By Ed Dove

Such are the riches on offer to Stephen Keshi that the national team boss has what one might describe as a 'good problem' ahead of this weekend's crucial World Cup Qualifier. Taking a look at the squad called up to compete against Malawi, there are areas of the team where the Super Eagles boast strength and talent in abundance.
Take the goalkeeper position for example, where Nigerian fans ought to be anticipating an exciting, season-long battle between Austin Ejide and Vincent Enyeama for the Number One jersey. The latter may be playing in a top European league, and may have been one of the Afcon stalwarts, but Keshi has clearly become concerned with the Lille man's costly, if occasional blunders, and has looked to integrate Ejide into the first XI.
Injury arguably cost the 29-year-old his starting spot during the Cup of Nations, but his impressive performance against South Africa in the recent Mandela Challenge match, when afforded a starting spot, suggests that he now has the opportunity to prove his worth.
Just don't expect Enyeama to give up without a fight.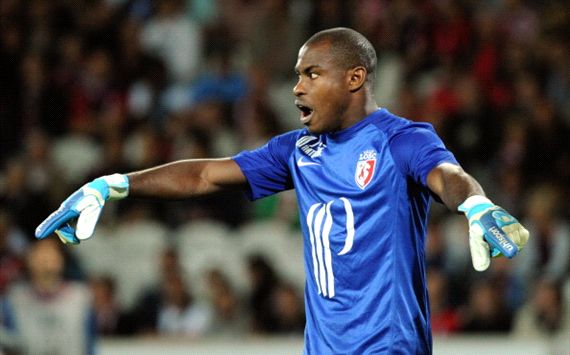 Enyeama: Position Under Threat
Despite being much-maligned in recent months, our stable of strikers also boasts depth and variety.
Taking the wide forward roles will likely be two out of Ahmed Musa, Victor Moses, Victor Obinna and Nnamdi Oduamadi. Whichever players miss out on starting positions will offer the side excellent late weapons for Keshi to bring off the bench if things aren't going Nigeria's way.
As for the centre-forward position, Keshi has called up four men who each bring something slightly different to the role. Expect Emmanuel Emenike to get the nod—he was sorely missed during the side's stuttering Confederations Cup campaign—but beyond him will be a trio of others champing at the bit.
Ideye Brown brings mobility and bustle, Shola Ameobi brings presence, experience and could be an excellent platform for our younger, quicker players to launch attacks, while Uche Nwofor gave a glistening account of himself against South Africa. Keshi will surely be tempted to give him another opportunity to impress against Malawi.
The days of Joseph Akpala, Anthony Ujah, Ike Uche and Mohammed Gambo are, for now, over.
In midfield, the sensible money would be on Ogenyi Onazi—fit again following injury earlier in the summer—and Chelsea man John Obi Mikel taking two of the starting spots.
Onazi's energy, dynamism and astute reading of the game was missed in Brazil, and he is the perfect foil for Mikel's more lethargic, measured style. Between them, the pair offer mobility and composure, vision and anticipation, destruction and creation—they are the rock upon which any World Cup assault ought to be built.
Mikel: Certain to take one of three midfield berths
However, Keshi's 4-3-3 leaves space for one more player alongside them.
Fegor Ogude's solid performances at the Confederations Cup earned him the begrudging respect of some Nigerians, in light of some previous criticism. The Valerenga man was displaced by Onazi during the Super Eagles' Afcon run and the perception is that, with the youngster fit, Ogude's place is, at best, among the substitutes.
Regardless, a knee injury keeps him out of the Malawi clash.
While I doubt I am alone in hoping that by next summer, one of Nwankwo Obiorah and Joel Obi will have matured enough to take a spot alongside Onazi and Mikel, injuries and a lack of opportunity have led to them falling down the pecking order, for now at least.
So, for Saturday's crunch fixture, we are left with three options: Sunday Mba, Nosa Igiebor and John Ugochukwu Ogu.
To begin with Ogu is a tidy player, a good all-rounder and is clearly valued by Keshi, however, he looked lightweight at the Confederations Cup. The Big Boss's experiment against Uruguay, playing the Academica man alongside Mikel and Ogude, was dropped after an hour as Mba returned to the side.
That leaves Mba and Igiebor, two very different characters, both chasing one spot, international careers dovetailing, but as black and white as negatives hung in a dark room.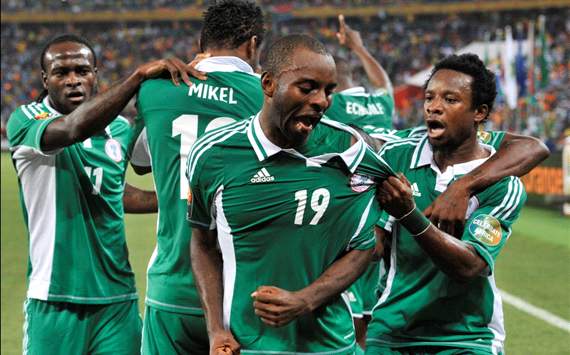 Sunday Mba: Spot under Threat
As the Cup of Nations kicked off, back on the 21st of January, Igiebor was Nigeria's great creative hope. The youngster was charged with linking midfield and attack through the middle of the park, using his guile and his creativity to set-up chances for Emenike, Brown, Moses and Musa.
It simply didn't work out; Nosa was replaced with 15 minutes to play against Zambia, following another anonymous performance, and wasn't heard of again.
When opportunity calls, in football, you must take it, and Sunday Mba did just that when afforded a run in the side during the knock-out rounds. One can only imagine how the usurped Nosa felt, looking on, as Mba's goals downed Cote D'Ivoire and Burkina Faso to bring the cup home to Lagos.
As Sunday's name was written into Nigeria's history, Nosa returned to hear his own named jeered on the terraces at club side Real Betis. His lacklustre performances in South Africa were indicative of his failings domestically, where he had failed to justify his price tag since arriving in Andalusia and had drawn the ire of Verdiblancos fans.
As Mba went from strength to strength, so Nosa threatened to slip into ill-tempered obscurity.
However, as I explored recently, football's fates and fortunes have a habit of fading in mid-flight. Embroiled in his own domestic dispute, Mba's form dipped. The Cup of Nations hero struggled to replicate his inspirational outings of early 2013 and became a shadow of his former self.
Igiebor, on the other hand, gradually began to win round the Betis fans that had once called for his head. He started, slowly, to prove his worth to the team, began looking forward to greater creative influence following the departure of Benat, and eventually guided Betis to an impressive seventh place finish.
He was even linked to Premier League sides West Ham and Fulham earlier in the summer.
As my colleague Jide Alaka noted last month, "The stage is set for a full-circle redemption." The Malawi game will be a major indicator as to where Keshi views this process, but could it be that Igiebor's salvation comes at the expense of the Super Eagles' faded Afcon hero?
On Saturday, we will learn the identity of the Third Man. It is a selection decision that could write the next chapter in the oscillating careers of two young men.