SPORTS PSYCHOLOGY
By Jide Ayegbusi

The fact that Cristiano Ronaldo, who recently committed his future to Real Madrid till 2018 after signing a new three-year extension to his contract, is a world class footballer is surely an understatement. While many factors are responsible for the brilliant striker's performance, undoubtedly his personality has also largely contributed positively to the convincing performance of the dexterous Portuguese, who has scored 203 goals since his €94 million move from Old Trafford in 2009.
Personality, the sum of those characteristics that make a person distinctive and its potential effects on sports participation and sports performance has been of interest to psychologists and researchers for many years.
Going by the narrowband approach to studying personality, there is no doubt Cristiano Ronaldo is a Type A footballer.
Type A individuals can be described as people who are impatient, lack tolerance of others and have high levels of personal anxiety. Type A individuals also have a strong urge for competition, have high desire to achieve goals, always rush to complete activities, will happily multi-task when placed under heavy time constraints.
Even though it is difficult to link between personality types and sports performance or identify an ideal personality for sports, you will agree with me that the description of personality type mentioned above isn't atypical in CR7.
At Sporting Clube de Portugal, the impatient Ronaldo once had a surgery that should have truncated his promising career if unsuccessful or better still, kept the promising player behind the turf for several weeks. Interestingly, the goal getter resumed training in few days.
His touchiness is also often noticeable even while on the pitch. He is often seen moaning, gesticulating and surly while trying to speed up his team to victory. In fact he once insisted that his competitive nature should never be mistaken for conceit, affirming "I was in the swimming pool with my girlfriend and sometimes we like to have a race. Sometimes you have to give her an opportunity to be happy but I win because I don't like to lose. It's simple like that."
Besides impatience, Ronaldo is also a footballer known to be intolerant of others. One of such instances was in 07/08 season at Manchester United. He was shown red with a three-match ban for head-butting Portsmouth's Richard Hughes during United's second match of the season. Even though the player said he had "learned a lot" from the experience and would not let players "provoke" him in the future, he has often reacted starkly to tackles both inside and outside the pitch after the incidence. An interesting one was when the Spanish media and fans consistently criticized him for his arrogance. The Portuguese retorted that people were jealous of his handsomeness.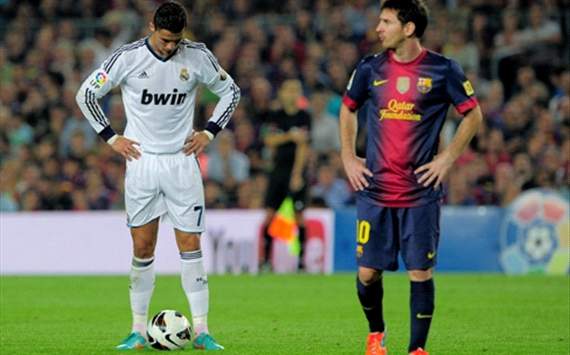 Always in competition | Cristano Ronaldo & Lionel Messi
At Euro 2012, during the match between Denmark and Portugal, the Danish fans chanted Lionel Messi's name whenever Ronaldo was on the ball. The frustrated and tormented Ronaldo squandered two one-on-one chances, and when asked about the Messi chants, he responded exasperatedly: "You know where he was at this time last year? Do you know? He was being eliminated in the Copa America, in his own country. I think that's worse, no? And people say that he is the best player in the world. This sort of thing is normal for great players."
Another trait that I have personally noticed in the prodigious player is high level of personal anxiety. This he evidently shows each time he's frustrated.
After the opening 0–1 defeat against Germany at Euro 2012, Cristiano Ronaldo was criticised for underperforming, showing frustration at his team-mates' errors and for walking off into the changing-rooms straight after the match, rather than acknowledging the crowd along with the team. Although his team mate Nani, later defended him, stating that he had left the pitch as he needed to instantly be treated for a possible injury, there was no doubt CR7's attitude was influenced by excessive personal pressure to perform which he was unable to do.
Diego Maradona once said about the anxious player: "As good as he is with Real Madrid, he often seems frustrated on the national level, as if he was surrounded by players who do little to assist him."
As previously mentioned, Type A individuals have strong urge for competition, have high desire to achieve goals, always rush to complete activities. Could these be said of Ronaldo? Yes of course.
In fact, Ronaldo is one of most the fantastic footballers the universe ever produced - if not the best. His record speaks volume. Ronaldo was the first player playing in England to have won all four main PFA and FWA awards, doing so in 2007. In 2008, Ronaldo won the Ballon d'Or. He placed second in the Ballon d'Or in 2007, 2009, 2011 and 2012. He was awarded the European Golden Shoe in both 2008 and 2011. In 2008, he won three of the four main PFA and FWA trophies and was named the FIFPro Player of the Year, World Soccer Player of the Year, Onze d'Or, and the FIFA World Player of the Year. In 2007 and 2008, Ronaldo was named FWA Footballer of the Year. Ronaldo was the inaugural winner of the FIFA Puskás Award for the Goal of the Year in 2009.
The prolific striker, who has the potential to become one of the greatest of all time, holds numerous former and current scoring records, including records for most goals scored in a season for Real Madrid, most goals scored per minute in La Liga, first top European league player to reach 40 goals in a single season in two consecutive years, fastest Real Madrid player to reach one hundred league goals, and the first player ever to score against every team in a single season in La Liga. In January 2013, Cristiano Ronaldo scored his 300th club goal.
The last of my personality analysis of Ronaldo is that Type A individuals will happily multi-task when placed under heavy time constraints. This too could be observed in CR7.
The versatile player can either play as a striker or as a winger and is known for his finishing, pace, dribbling, positioning and his passing and crossing ability. He is able to play on either wing as well as through the center of the pitch. How many strikers of caliber could do that?
Having said all these, it could be concluded that Ronaldo's personality has really influenced his attitude and performance on and off the pitch. It is an understanding that should guide our perception of several footballers around the globe and their differences and uniqueness.
- Jide Ayegbusi is a Psychologist. He can be reached via phone and Email: +2348036566809(sms only), informjiday@yahoo.com

Follow Ayegbusi on