After about 11 years in the Super Eagles set-up, Nigeria's number one goalkeeper Vincent Enyeama finally won the Africa Cup of Nations title. The Maccabi Tel Aviv goalkeeper spoke to us about various issues since he joined the senior national team as well as discussing his next port of call in his club career and his infamous vow to strip naked if the country won in South Africa. He spoke to
Goal.com
's Kolade Oni at the team's Transcorp Hotel camp in Calabar
You made your debut at the AFCON in 2004. How will you describe the progression in the Super Eagles from then till 2013 when you eventually won the tournament?
It has been a long journey down here. It has been loads of miles flying almost everywhere. I want to thank God for this opportunity to stay in this team from then till now. I am happy it has gone this far and that I have been able to find success this year. My experience in the national team will take a whole day and even more to be talked about. I am thanking God that I can now turn back and boast of something worthwhile that I have achieved in the national team. I almost won it in my first Nations Cup campaign in 2004 but it took me about nine years thereafter to eventually touch it. I am still grateful. Some only wished but it never came to pass. It has been a wonderful experience and I am relishing every bit of it.
How were you received when you got back to Israel and how were the reports in France over your AFCON success?
In Israel it was amazing. I never expected that kind of reception. I never knew I was that loved and famous until I witnessed the show of love from the fans. The reception was great and massive. Lille too tried their best; they received me and were so happy for me.
You are among the leaders in the team, how do you hope to motivate your team mates not to get carried away with the AFCON win and concentrate on the job at hand against Kenya in the World Cup qualifier?
We are all football professionals we can't get carried away. We know the magnitude of the assignment at hand. There is no need for us to get complacent now that every eye is on us after the victory in South Africa.
I don't think I need to talk to any member of the team before knowing his role ahead of Saturday's clash. We know success comes and goes and that we should strive to aim at setting another precedent by qualifying for the World Cup in Brazil next year. It is a new ball game now, no more AFCON merriment.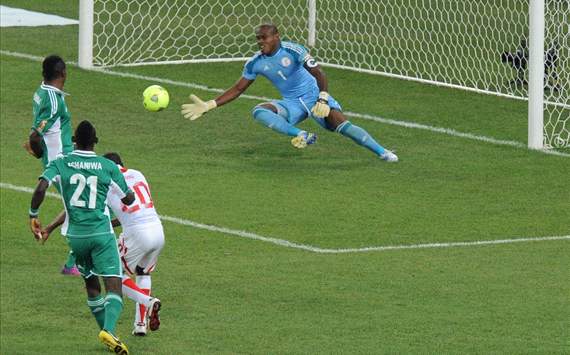 There are other emerging goalkeepers like the ones presently with you in the national team and others waiting to be spotted. Enyeama, have you at any time felt threatened that your number one spot between the stick may soon be in serious competition?
I have always said I am not in the national team to compete with anybody. We have loads of wonderful and amazing goalkeepers and it is my joy to see them steadily graduate into the national team and eventually take my place. I cannot be in the national team forever and there should be natural progression between now that I am still in the national team and when I will call it quits with the national team, there should be a known figure that should replace me. So, if the coaches discover another better goalkeeper than me and they feel he should take my place, I will gladly stay back and be on my own. I have never been in competition with any goalkeeper. All the goalkeepers in the national team are here to contribute their quota to the progress of Nigeria.
You are currently on loan in Israel from French League's former champions, LOSC Lille. How are you leaning towards your future, is it to return to France or to remain with Maccabi Tel Aviv?
There are going to be a lot things to consider before I contemplate where my future will lie between Lille and Maccabi. Let's wait till the end of the season and see how everything will pan out. At the end of the season, I will sit back and check my score card and see what I need to do.
On a lighter note our number one, the media said you would strip yourself naked if Nigeria won the AFCON. Please, is your promise based on your assurance that the team will not win it and why haven't you done so?
No, I was quoted incorrectly by the media. I never said I would celebrate the AFCON success by dancing around nude. That would have been the most stupid thing to do in the world judging by my position as the assistant captain. It will be a ridicule of the country among international countries. I never said I would strip but I remember I did say I would [take] off my jersey but would celebrate with my underpants on but I was advised by well meaning people against doing so and I changed my mind. You can roll back the tape that is what you will get there not like it was portrayed in the media.
Nigeria is playing against Kenya on Saturday, how prepared are you and the team?
We are prepared for Kenya. You can see the amount of work we have put into the build up to the game. We are not expecting anything short of victory on Saturday. We have trained very hard and putting ourselves in the mood for the game. I am assuring Nigerians that victory will come our way.