SPECIAL
By Emeka Nwani | NPL Editor
The Professional League in Nigeria started in 1990. At that time, a group of football administrators felt it was time to commercialise every aspect of the game in the League.

They did their best to make sure that everything went well with the game and committed money and resources to make sure that Nigerians get to see the best of our footballers who play locally.

But all their efforts to put down lasting structures that will transform into what the players will need to become world beaters has been eroded since that time.

The coaches in the League have had to go through so much pain because nobody reckons with them. They are not allowed to show the stuff they are made of.

Nobody wants to give them the respect they deserve. Club Chairmen and owners of the clubs are not ready to give the coaches what they need to perform creditably well.

All the clubs want from the coach is to work and get fired when they are tired of him. His welfare is not important.
These days, coaches handle clubs and are not allowed to sign contracts. Every agreement is done verbally and the only paper given to the coaches are employment letters which some of the clubs take as contracts.
The situation is getting out of hand and the authorities in charge of the game in Nigeria are not ready to do anything to stem the ugly tide.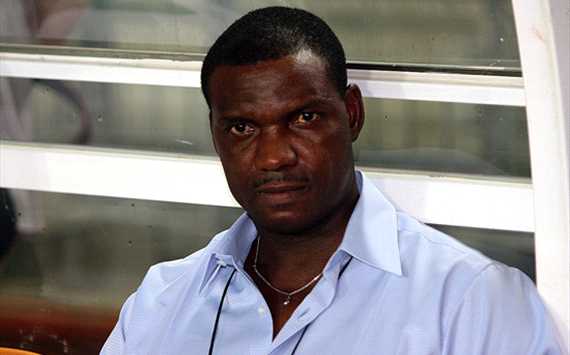 Austin Eguavoen has brought focus to the treatment of coaches in the Nigerian league

The situation got to its head last week when Sharks Football Club of Port Harcourt asked former national team coach Augustine Eguavoen to step aside until his contract is ready.
Eguavoen had asked to be given a well documented contract but officials of Sharks informed him that they had sent the contract to the Ministry of Justice for vetting.
Football followers are of the opinion that the management of the Nigeria Professional Football League club is not ready to give him a contract because they don't want to be held liable when anything happens during the season.

The fact that clubs don't like giving contracts to their coaches because they can be sacked at anytime is another factor that stalled the contract papers for Eguavoen.

Former national team assistant coach Lawrence Akpokona noted that it is a problem that has refused to leave the League.

"It is a big problem in Nigerian Football. Most of the coaches are so desperate to get jobs that they can do anything to start work with any club," said Akpokona.
"It is in the desperation that clubs will ask them to begin work and later they will get proper contracts. But in most cases, the coaches will never get the contracts and they cannot do anything about the situation.
"What they call contract papers is just a piece of paper that looks like an employment paper. There is nothing inside the paper. They will just state that you have been given the job of a coach and that small paper is your employment letter.
"A lot of things must change so that our coaches can work without any problem," he said.

Akwa United technical director Charles Bassey said the fault is with the coaches who act as if they will die if they don't have jobs.
"I want to say that I blame majority of our coaches. The first thing a coach should demand from clubs is for proper contract papers. But they will just have a verbal contract talk where they will tell them to begin to do their best to improve the fortunes of the team without anything to fall back to if they are sacked," said Bassey.
"Augustine Eguavoen has not done anything wrong. He merely stated that he wants to have his contract documented. What is wrong with Eguavoen saying he wants a contract? That is the only way he can safe guard his job so he will not be treated with shame. But they are behaving as if it is a wrong thing to ask for what is due him.
"It is not fair on the coaches that they will always be treated without respect. If what Eguavoen has done will liberate other coaches from not signing contracts, so be it. A lot of things must change if the game must move forward in this country. Coaches must stand up for what they believed in," Bassey said.

Nigeria Coaches Association Secretary Solomon Ogbeide told Goal.com that they are working hard to make sure that coaches in Nigeria get the best treatment.
"We are going to do our best to protect any coach that his right is trampled upon. It is not true coaches don't sign contracts. I am supposed to know because I am the Secretary of the Nigeria Coaches Association.

"The number of coaches that don't sign contracts is small compared to the ones that sign in our League. But I must confess that it is not good the way Eguavoen has been treated. Yes the contract can go to the Ministry of Justice, but it should have been done before the start of the season.

"All they have to do is to make sure that they finished the paper work before the start of the new season and hand it over to him," Ogbeide said.

The fact remains that many coaches are the architects of their own problems in the Nigerian League. Until coaches make bold decisions like Eguavoen not to accept work without proper contracts, club administrators will continue to exploit them for cheap labour.