Super Eagles
defender and Sunshine stars of Akure skipper
Godfrey Oboabona
has been rewarded by the Ondo State Government for his excellent performance at the just concluded Africa Cup of Nations Cup tournament in South Africa.
Oboabona played all the six matches that culminated in the Super Eagles winning the Afcon trophy against Burkina Faso 1-0 on February 10. He was given a sum of N1 million and a bungalow in Akure.
The State Governor, Dr.Olusegun Mimiko disclosed at the dinner organised in honour of the player at the Government House in Akure that Oboabona made the State proud.
"We are happy with what he did for the State. He showed that there are good players in Sunshine Stars and the Nigerian League and that is why we are honouring him."
Governor Mimiko praised Oboabona for his heroic displays at the tournament and also for being a good ambassador of the Sunshine state. The Governor further urged him not to relent in his quest for greater achievement.
Oboabona thanked Governor Mimiko for the kind gesture shown to him and also for the effective development of football in the state, which has seen Sunshine Stars of Akure become one of the best football clubs in Africa.
Oboabona started his football career in Ondo state and rose through the ranks to become the skipper of Sunshine Stars of Akure, a club owned by the Ondo State government.
Some photos from the dinner: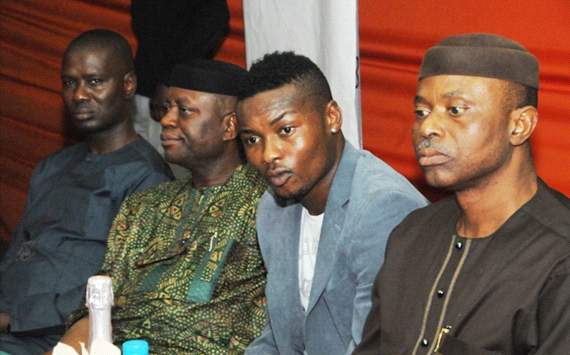 (R-L) Governor Olusegun Mimiko, Godfrey Oboabona, Dr Kola Ademujimi and Engr Gboye Adegbenro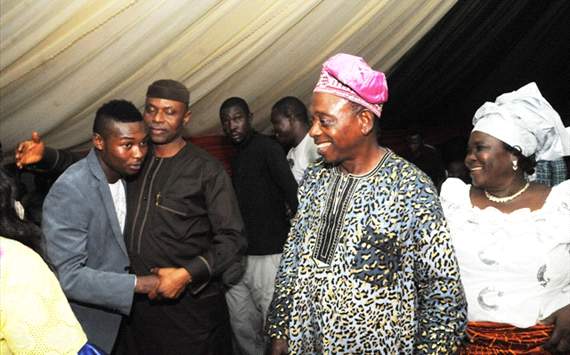 (R-L) Proud parents Jonathan and Victoria Oboabona with Governor Mimiko and Godfrey