EXCLUSIVE
By Emeka Nwani
Last season, Chikeluba Ofoedu was a relatively unknown player plying his trade in Enugu. He was one of the strikers of the University of Nigeria Teaching Hospital, an amateur team. He never knew that he will today become the hottest striker in the Nigeria Premier League.
Having made his mark in Enugu, it was time for him to also test his skills in the big league in Nigeria. Rangers grabbed the opportunity to give him a trial this season with a bit of risk and he has justified the confidence reposed in him so far.
With 10 goals and currently the highest goal scorer in the Nigeria Premier League, Ofoedu is set for greater heights in football. Goal.com met with the young striker recently and he shared his thought on his first season in the NPL. He was frank to a fault and revealed why he cried the first day he played in Rangers' colours this season.
Goal.com: Chikeluba Ofoedu, can you tell us how you started your career?
Ofoedu: I started like every other footballer playing on the streets. But in 2003, I gave my career another meaning when I joined Rivlane Academy. At that time, former Udoji United defender Jude Agada was our coach. He was the first coach that started teaching me the rudiments of the game. I heard so much about him and playing under him at that time really helped me. At that time, my colleagues in Rangers, Emeka Eze and Onovo Chukwuebuka also played for Rivlane. We also had Kingsely Onovo, who is the elder brother of Chukwuebuka, play for Rivlane Academy. Kingsley is now with Abubakar Bukola Saraki football club of Ilorin. I had to move in 2007 because I needed a higher challenge so I joined the University of Nigeria Teaching Hospital Football Club. We played in the Amateur League the following year and I became the highest goal scorer with 12 goals.
Did you enjoy your stay with UNTH FC?
Yes I did. We played in the amateur league. We also participated in the Federation Cup. I also learnt from playing with clubs in the amateur league. The club exposed me to a lot of things and it prepared me for what I am today.
How did you join Rangers?
Two years ago, there was this announcement that Rangers will conduct screening for players in Enugu State. I did not hear about it but my friend who is also a player informed me that Rangers were looking for young players that they can recruit and keep for one year before they are finally signed on. We all went to Polo Field where you have Shoprite now and we played our hearts out. I was part of the players that were selected. But the management of Rangers felt that we should remain with our clubs for another six months before we started to train with the team. So I went back to UNTH and finished the 2010-11season with them. But I started training with Rangers later until they were convinced that I can prove my worth with them. This season, I was finally registered. It was a happy day for me because players don't just move from an amateur team to a big side like Rangers. But it was not easy getting to train with the big boys. Gradually, the coaches assured me that I should try and be relaxed because that will be the only way I can make my mark. I started getting myself into all the training sessions of the team. At that time, there was this problem of actually looking for strikers to play because almost all the strikers of the previous season left for other clubs. So I was left with Razaq Adegbite and Ivorian Boris Konan in the attack. Then the day for my first game for Rangers came against Kaduna United.
After the last training, the coach called up 20 players to move into camp and I was part of it. And in the pre-match talk in the morning of the match, I was called upon to lead the attack. I thought it was a joke. But on our way to the Nnamdi Azikiwe Stadium inside the club bus, I started crying. We were all singing so no players noticed. Tears came down and I was also signing. I cried because it was my first game and a lot of people would watch me. They have always known me in Enugu playing for UNTH, but this was a bigger team in the Nigeria Premier League. As soon we entered the dressing room, I prayed silently and was ready for that game. I did my best that day, but I did not score.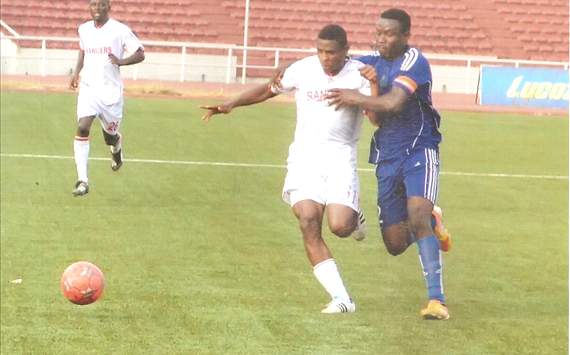 Chikeluba Ofoedu | I want to play for the national team
When did you score your first goal for Rangers?
It was against Kano Pillars. One of the defenders of Pillars committed a foul in their vital area and it was adjudged a penalty. I played the penalty and that was my first goal.
You have scored 10 goals so far in the season. Do you think you can emerge the highest goal scorer?
It is possible, but I want to take each game at a time. I don't want to say I will score a particular number of goals. It is possible for me to win the scorer's award. But the overall interest of Rangers comes into play here. I would prefer we win the League title than Chikeluba Ofoedu emerging the highest goal scorer in the season. But I would strive to continue scoring and if it that would make the highest goal scorer, I would gladly accept it. The point remains that I will continue to do my best till the end of the season.
You have some players that are also competing with you for the scorer's award, are you not scared that they will soon overtake you on the chart?
I can never be scared. In fact, I am praying for Mustapha Babadidi to start playing again because when all the players are playing regularly, it has a way of motivating others. I know that Babadidi has nine goals and Sanusi Sani has scored eight, but let us all be strong and injury free so we can justify the confidence reposed in us.
Do you think Rangers can win the league title?
It is very possible. We are doing well and when you check the stats on the league table, we have very good record in terms of matches won, goal difference and others. We just have to be consistent like we have always been. There are other good clubs that are not giving us any breathing space, but we are ready and know exactly what to do to win the title. It will not be easy but we are going to give it our best shot. Everybody can attest to the fact that we have a very good team backed by some of the best coaches in the country. So I am confident that Rangers can end the 29 year old jinx of not winning a trophy this season.
Finally what are your aspirations as a footballer?
I want to play for the national team. For now that is my aspiration and I hope one day it will come to pass.