EXCLUSIVE
By Lolade Adewuyi | Chief Editor
After playing two seasons in Russia, estranged Super Eagles striker Obafemi Martins, 27, has said he would love to move away in search of quality playing time elsewhere. His sojourn in Russia has affected his international career which saw him stifled out of Samson Siasia's team.
Nothing has changed with new coach Stephen Keshi as Oba still remains locked out, something that would have been difficult to imagine three years ago when he scored a brace in the 3-2 victory over Kenya that ensured the country's flag was flown at Africa's first World Cup in South Africa.
Conceivably players have the right to be angry at the manner in which they are treated by football authorities, as Martins feels let down by his country. Even though he might not have helped himself by staying in Russia, a league which he self described as bad for his style of play, the explosive striker has been in the news these days for his big car purchases than for the goals he has scored. We tried to stay on the game in our questions, after all we're a football site.
It's difficult pinning down professional footballers for an interview. It was no less tough getting the Rubin Kazan striker recently when he came to Nigeria to attend the third anniversary of his mother's death.
As the striker was set to return to Russia, Goal.com met him at the international wing of the Murtala Muhammed Airport where he consented to an interview as he opened up on missing England, racism in Russia and his future with the Super Eagles. As we spoke, one could hear fans call his name as they walked by. They still love the guy.
Here are excerpts of what the striker told us:
Goal.com: Let's start from the Super Eagles, it has been a while since you were last called up for national duty, what is your vision for the future under Stephen Keshi?
Obafemi Martins: I think Stephen Keshi is doing his job and I'm doing my own job for my team as well. When they're ready to call me, they'll call me. I don't have to fight or kill myself to play for the national team because I was there already anyway and I have a good profile there. So when they're ready to call me, I'm ready to play for my country.
Let's go on to your club career, after the League Cup win with Birmingham against Arsenal in 2011, I wrote an article about your career getting to bloom again on a bigger scale. But then you went back to Russia and then everything became quiet, how come? (See article)

How we play in our team is defensive, so it's difficult. It's not like the attacking football in England, especially at Rubin Kazan. I'm not going to say it's difficult to score but it's hard to score. It's all about defence, it's not good for my style. You know I love to attack.
In Rubin colours | The style of play is not good for me
Do you think that this has affected your game?
Of course, it has affected my game a lot as I've not been playing much. I'd like to go somewhere else where I can play regularly.
Is there any transfer in the horizon for you?
I don't want to say now anyway because I have to be sure what is coming.
Would you be going back to England?
I don't know yet.
You left Newcastle three seasons ago, what do you think of Papiss Cisse's impact since he joined the club? Do you believe they can maintain their push and get into the top four?
I think they can because Cisse is doing very well, he scored two fantastic goals [against Chelsea], I watched the game and they're doing quite well. I hope they can get into the Uefa Champions League because Newcastle really need it because they've been fighting for it for ages. Obafemi Martins: They've not been playing the Champions League for like, I remember when I played against them in 2003-04 [while at Inter], I hope they make it.
Do you miss Newcastle?
Of course, Newcastle is one of the best teams ever, they have great fans and all that. Some people will go, others will come in and play, that's life.
Looking at the fact that they are doing really well at the moment and might secure fourth place and go to the Champions League, do you wish you didn't leave?
I'm going on with my own career so I don't have to think that I miss them too much because they're going to play the Champions League. It's all about moving on. What about Inter Milan, it's a great team, one of the best clubs ever. I left there since 2006 so there's nothing to talk about. I played well there I'm not there anymore so life has to continue.
I know you have a special bond with Inter, looking at their disappointing campaign this season, do you think that Andrea Stramaccioni is the man to lead the club forward? Or do you think they need a bigger name coach?
He's a young man. I think for Inter they just need a type of manager like that with a different style of play. At Inter everybody is big so they need a young coach that is going to help the young ones as well. I think he can do it very well.
League Cup victory | Goal against Arsenal easiest of my career
Do you feel that the Russian league has a particular problem of racism, have you experienced racist acts? There was the recent Chris Samba issue as well as the previous Osaze Odemwingie one, have you experienced racism as a player?
I haven't experienced racism. I think racism is everywhere but when you talk about Russia I don't think it is everywhere. Nobody has come to attack me. The only thing that happened is that my friend went to a shopping mall with my brother and they tried to fight them. They didn't really understand what they said to them. So when they got home they told me, I said they should stay at home, why are you running around? I know it is difficult but we need to be free wherever we go. Unlike in England, we go everywhere we want, there's no racism but it's still quite difficult there for we black men.
Your family has been affected like that, we find that Samuel Etoo recently moved there, Victor Obinna, Ahmed Musa and Emmanuel Emenike all made the move recently, why then are Africans moving to Russia?
I don't know, I think they have their own reasons why they chose to move to the Russian league. You don't know what they are going through anyway. For the fact that they are doing well, they will continue to play. They don't have a choice, they have to stay in their teams and try to do well, who knows if they will go away or if the team really likes them to stay.
You played under Alex McLeish at Birmingham last season where you won the League Cup and he's moved to Aston Villa, are you surprised that he's not been as successful?
It is football. Just like Jose Mourinho who really wants to win the Champions League with Real Madrid but hasn't. The belief was that he would go there and win everything again. It's the same for footballers and coaches as well, they are at one club and do very well but when they go to another you wonder what's going on? It's all part of the game, the fact that he's not doing well at Aston Villa does not mean he will not do well at another club.
Many Nigerians would love to see you back in the national team, just from standing here you can feel that there's goodwill for you, what are you doing to ensure you return to the Super Eagles?
When I started my career, I was playing in my club when they called me to come and play for my country and I went to play. I think Nigerians just forget things quickly. I'm not going to talk about only me, I'm going to talk about a lot of players that really helped the national team. As a football player, when you're not in form they have to try and help you, to cheer you up. But if they think that they will always push us aside and bring in other players, then we're not going to go anywhere. There was a time Rooney played a lot of games for England but didn't score but he was still in the national team. I'm not the only player.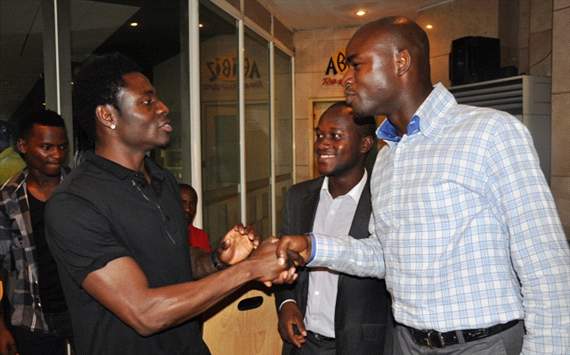 Pleased to meet you | Obafemi and Lolade, Goal's Nigeria editor
I guess you're speaking for Yakubu and some other players?
Yes, that's what I'm saying, you know they're good players and have been helping Nigeria for a long time. When they are not in form why can't you just bring everybody along and try to help? If they think that they have to bring somebody else, then that's okay. I'm in my club, no complaints. I come home to visit my family. But for the fact that I'm still young and I still want to play for the national team.
Shall we say that the hunger that was in you a couple of years ago when you came into the team has disappeared?
Let me tell you something, I took Nigeria to the World Cup [in 2010], so it's still there. Scoring 18 goals in 37 matches, that's something. I have a good profile with Nigeria so there's nothing to complain about. If I'm called upon, I'll do my best that's how it is. If I'm not called upon, I'll stay in my team, earn my money, stay with my family and I'll continue with my career. When the likes of Siasia couldn't play anymore, somebody came and played. When you're not there, somebody else would be there, this is life. When we're not there, some younger ones would come and play for Nigeria. We're not going to be there for 40 years anyway. And this is not our father's team.
It's our fatherland.
Yes it's our fatherland but not our father's team. Even if it's your father's team you're still going to leave the team and somebody else is going to be there. They need to try and support we players, we've been there trying to help and all that. Football is not easy, people just think it is. Some people's hearts have fallen apart on the field and they are not living anymore. We're still there and anytime we're called upon we just want to play and do our best for the national team but if we're not called upon, fine.
Tell us what was your best moment playing for the national team.
I think I have the best moment every time when I play for the national team. All the times when I have scored goals, they are my best moments. And the only time when we have had difficulties, I'm not going to say Oba took Nigeria to the World Cup, we all did. The players that played in that game, we all tried to help each other and without them, how am I going to score anyway? When people expected that we would not be there, we tried our best possible, we brought everything out a hundred and twenty percent, took Nigeria to the World Cup, played the World Cup, we didn't play well, that is football. We didn't play well, but we weren't the only ones who didn't play well. Argentina were expected to do well but they didn't, that is football.
For a number of years there was the rumour that you were being courted by Arsenal, every summer we heard it, why didn't you make the move? Was it about money?
That is true but, it's not all about money, it's just I think if they really wanted me they would have spoken to me directly so for the fact that they didn't do that, it's not genuine then.