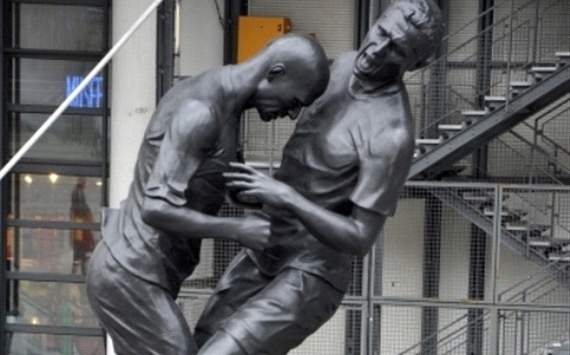 Parisians now need never forget the moment that Zinedine Zidane lost his head and, arguably, lost
France
the 2006 World Cup Final.
In the last game of his career, the France legend, who had put his nation ahead earlier in the match, was sent off in extra time for head-butting Italian defender Marco Materazzi in the chest.
The dismissal meant that Zidane was unable to participate in the all-important penalty shoot-out, which Italy won 5-3 to claim the trophy.
The incident stunned the football world, with rumours flying around over what exactly the defender said to the former Real Madrid man, and the midfielder refusing to apologise to his opponent.
And now, six years on, a five-metre high bronze statue of the headbutt has been erected in the forecourt of the Centre Pompidou in Paris, complete with Materazzi's painful facial expression, just in case the 40-year-old former playmaker forgets about his actions.
Passers by, including tourists from Italy, have been seen posing for pictures in front of the piece of art, if you can call it that.
Extra Time wonders whether a similar structure of one of Joey Barton's many outbursts somewhere in London would be so well received? Maybe not.