Did Chelsea's comfortable 3-1 victory over Burnley provide a window into what to expect for the Nigeria international this season?
FEATURE
By James Ezimoha

Chelsea got their Premier League campaign off to a flying start with a comfortable 3-1 away win over newly-promoted side Burnley on Monday.
In terms of personnel and performance, it was a new-look Chelsea, one that Jose Mourinho likes very much.

The Portuguese handed debuts to new recruits, Diego Costa and Cesc Fabregas, and both proved to be key figures as Burnley were taken apart.

However, with the team packed with so much power and flair, where exactly does John Obi Mikel fit in the revolutionised Stamford Bridge outfit? As Mourinho seeks perfection, does he have a place for the Nigerian, even if he is one of his long-serving lieutenants?

Mikel was a substitute against Burnley, entering the fray in the second half with the match already won. This is hardly a status befitting the Super Eagles' key man.

To make my point crystal clear, here's a tweet by Goal's Chief Editor Lolade Adewuyi after the game: "Mikel begins his #CFC season as a (82nd minute) substitute. Nigeria's most high profile player ought to set a better example. Na like this we go dey dey?"

It would have taken quite some guts to bet against Mourinho starting with Nemanja Matic and Fabregas just in front of the back-four—a combination he is likely to stick with for most of the campaign, including the Champions League, you'd think.

Now, that's in the starting XI and the midfield set, leaving no place for Mikel.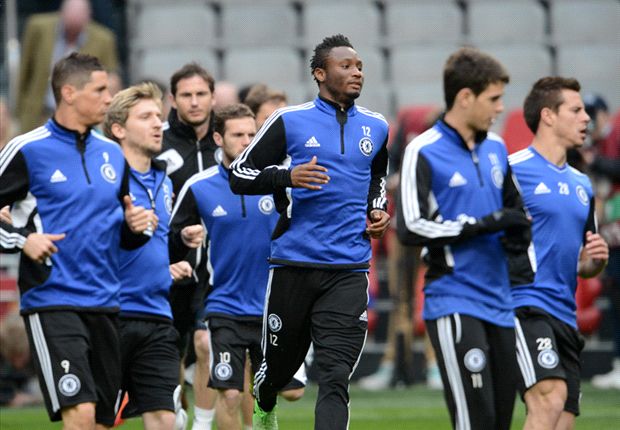 Mikel | How can the Nigerian find a place in the midfield?

It would also be wayward to believe that the Nigerian would get the nod over Ramires (who was suspended for the game) for a position in the double pivot in midfield in the event of injuries or suspensions.
Now, that's on the bench; still no chance.

So what exactly is the Nigeria's most high profile player doing at the London-based club?

The frustration for most is that he continues to carry the torch as the Super Eagles' most flamboyant player, wile he continues to represent Nigeria under the illusion that he is still the player he used to be five or six years ago.

The most sensible thing to do, one would think, is to do a 'Mourinho' on him in the national team, and seek someone else for the centre of midfield. Maybe that would serve as the much-needed wake-up call.

But then again, have the national team handlers got the grace to pull such a drastic move?

That's a story for another day.

Though the English Premier league is underway, the transfer window is still very much active. There have been several viewpoints regarding Mikel's insistence to remain at the Bridge, some of which make for a good laugh.

However, whatever the case might be, it seems the seasonal and platitudinous I-want-to-fight-for-a-place-in-the-team song has lost its meaning. There's no battle. There's no war. There are just too many other better players at the same time.

Mikel, at 27, is not getting any younger, and as far as the national team is concerned, there is a sense he could be walking the last mile in his Nigeria career. Few batted an eyelid when he was parachuted into the Super Eagles setup in 2006; so high were expectations of him.

He is now at an age where players, especially midfielders, are expected to peak. In a way, one can say he already has. His performances in 2013 were heart-warming in their consistency, and brought unprecedented success to the Super Eagles. However, is that the best Nigeria's brightest midfield talent of the last decade can produce? One year of peak performance? A brief flicker in a prevailing wind? *Mikel's stats for 2013/14
He soldiers on at Cobham, in a capacity that remains unclear.

Mourinho's methods are well-known; he will not suffer fools. If Mikel remains, one must feel that there is some usefulness to him in the eyes of the manager. His eight-minute cameo role against Burnley offers perhaps the best indication of what he can look forward to.

However, Chelsea will not always have the luxury of wrapping up a game at half time, especially when you consider that the Premier League provides sterner tests. The Blues went through the motions after the break, slowing the game down to a manageable pace; one in which Mikel is well versed. Even then he only got eight measly minutes.

The implications for Mikel are grave: a further reduced playing schedule and copious amounts of time on the upholstery.

In his prime years, Nigeria's No.10 can look forward to the playing schedule of a weary veteran in the twilight of his career.



Follow James Ezimoha on