The Arsenal manager has got his charges defending better as a unit, which bodes well ahead of their Premier League opener
COMMENT
By Solace Chukwu

There are many things Arsene Wenger could be accused of.

Not knowing his own mind is not one of them.

Amid the progress of last season, and finally accruing a major trophy in the FA Cup triumph at Wembley, a spectre hung in the air.
The heavy losses away to Liverpool and Chelsea (and to a lesser degree, Manchester City) in the league put a dampener on the positivity of a proper title challenge. In these three games alone, the Gunners shipped an eye-watering 17 goals.
In a fan-base as large as Arsenal's, post-mortems were bound to happen. The common diagnosis is that Arsenal lacked backbone or, more specifically, a hulking brute of a defensive midfielder. Mikel Arteta, now club captain, was (and still is) dismissed as too slow, too weak for a team with realistic title ambitions.
Whether or not this is true is a matter of fervent debate, but the one person whose opinion truly matters begs to disagree.
It was in 2012, while speaking to Arsenal's official website, that Wenger put forward his theory of collective defending. "There are no defensive midfield players at the moment. We try to find the defensive balance collectively. We have fewer players who are purely defenders but some are physically strong in defending like [Abou] Diaby, some are tactically strong like Arteta.
"At the moment we have the balance because everybody participates, but we have fewer specialists, purely defenders. We are more versatile going forward because everyone has the potential to go forward."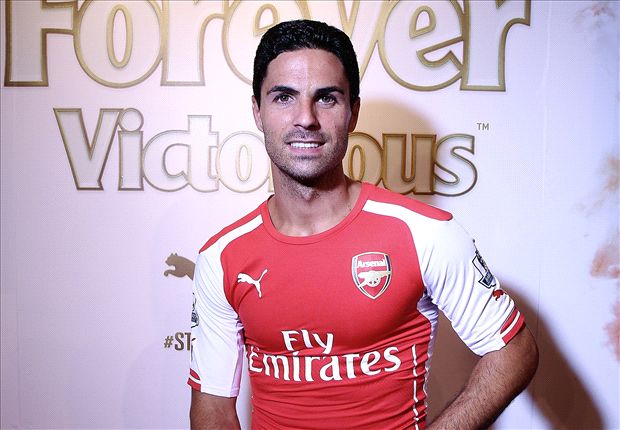 Arteta | A Mixed Reception
So far, he has borne out this statement in the transfer market. Amid popular acclaim, Arteta remains the team's first-choice defensive midfielder. It is clear that the manager values his mental and technical qualities in the role, and feels they outweigh the downside of a lack of mobility.
The whole world cannot be wrong, can they? If everyone can see that a physical specimen in front of the defence cures all ills, surely Wenger is just being stubborn. Correct? Well, not exactly. Perhaps we have misdiagnosed the problem.
The bane of those heavy defeats was not so much a lack of physicality as a lack of composure, especially in the full-back positions. The full-backs tended to advance when possession was not yet established in midfield; this meant that whenever a turn-over was forced by pressing, the central defensive pairing was left horribly exposed, having to cover the width of the pitch.
Would buying a quicker defensive midfielder have helped? It is a possibility. The ability to get across quickly enough would probably have nipped an attack or two in the bud. However, like I pointed out, the team shipped 17 goals; what are the odds any defensive midfielder would have been able to cover every single time?
Also, let us not lose sight of the problem in itself, which is the adventurous nature of the full-backs. Would signing a 23-year-old Claude Makelele solve that? That would be akin to putting a fire truck at the end of the street, rather than properly fire-proofing a building!

Much better to simply prevent the fire, no?
That is precisely what Wenger has done in the build-up to the season. Already noticeable in preseason and in the Community Shield victory over league champions Manchester City is the team's change of shape to a 4-3-3. The system provides greater balance in midfield, as well as an extra man to dominate and recycle possession centrally.
The trio of Aaron Ramsey, Arteta and Jack Wilshere are all excellent in possession, ideal to the play around an aggressive midfield press. So long as the dynamic duo of Ramsey and Wilshere remain disciplined and go forward one at a time, as well as working hard to cover the wide area when one or both full-backs go forward, Arteta will have far less space to cover.



Wilshere | Primed for a big campaign in the eyes of the manager...
The Spaniard has been a tremendous servant to the club, and is in the final year of his contract. A renewal may or may not happen, but in the mean, he remains the club captain and a thorough professional. In the words of an immortal Scotsman, "Support your new captain!"
Whether or not this change is a permanent one remains to be seen, but the positives are impossible to ignore. We saw already last season that the Professor dallied with this shape, notably away to Bayern Munich in the Champions League. In that game, he played record signing Mesut Ozil in a wide role, though the playmaker went off halfway through the game with injury.
Ozil is no stranger to playing on the flank; he showed his versatility in taking up that role for the German national team as they won the World Cup. Often, last season, Wenger pushed him wide left late in games, notably against Newcastle at the Emirates, from where he provided an assist for striker Olivier Giroud.
With three in midfield, the problem of where to play Wilshere is also solved. Wenger stated this is set to be a big season for the highly-rated Englishman. Is this what he had in mind?
We will know soon enough, the new season is upon us.
First up is Crystal Palace. For the second time in successive seasons, they have let go a manager on the eve of a game against the Gunners. It is testament to the great job he did with Palace that almost everyone, even Gooners(!) were incredulous at Tony Pulis's departure from Selhurst Park. It is now almost impossible to envisage Premier League survival for the Eagles.
I would not read too much into the sacking in the short term though, especially for the game on Saturday. Keith Millen took over upon the sacking of Ian Holloway last term in similar circumstances, and gave Arsenal an awful fright. The Gunners had Arteta sent off, and needed a late Olivier Giroud goal to settle a tense game. Expect a game just as tight.
The emotional rollercoaster that is the Premier League kicks off Saturday. With all the contenders significantly strengthened, it promises to put last season's installment in the shade. I, for one, cannot wait.

Follow Solace Chukwu on