FEATURE
By Ude Ikenna Ezekiel

It's no longer news that African champions Nigeria have put their chances of making it past the group stage at the World Cup in jeopardy by playing out a goalless draw against Iran on Monday.
Stephen Keshi's team, before that encounter, had not being able get a win in their previous five attempts. One could then ask why many had expected them to perform differently by beating Iran. In truth, Keshi had led every one of his team's followers to believe that his team was going through some form of 'Building process' as he termed it.
Many had accepted the Big Boss's excuse for his team not being efficient enough in attack hoping that once they start their World Cup campaign, we would start seeing the 'real' Super Eagles as he had inferred. Many of the players had, for their part, stated that their overall quality should not be deciphered from their lethargic and unconvincing displays in their warm-up matches.
Many fans believe that they should be trusted, as the Super Eagles had in the past maintained a record of not being at their best in friendly encounters. After the game against Iran, however, only the most optimistic supporters could still be convinced that there is still a chance for the team to advance from the group stage, let alone of making it to the semi-finals. Criticism has continued to pour in from both fans and analysts alike on the teams tactical approach to that encounter, with some even going ahead to suggest that Keshi is not competent enough to lead the team to tangible success this summer.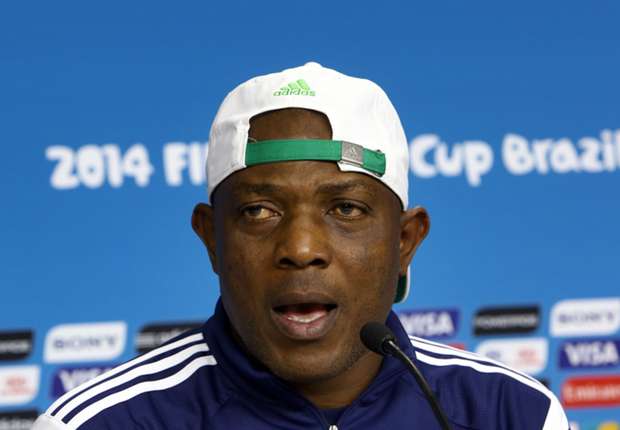 Big Boss | Style & Approach coming under question
There have also been some reservations about Keshi's choice of personnel for his 23-man squad. This fact, as well as his inability to settle on a starting XI, does not necessarily show that he is tactically deficient, particularly considering his excellent manipulation of resources at the 2013 Cup of Nations.
One of Keshi's problems has been his choices of central midfielders. This was evident in the match against Iran as the team struggled without the services of a playmaker.
His decision to play Almeria midfielder Ramon Azeez in the attacking midfield role, even after his dismal performance in the same position in the friendly against the United States of America, proved detrimental to the side's attacking prowess against a defensive Iranian team.
Azeez made only 13 key passes and one assist in 30 appearances for Almeria during the 2013/2014 season, yet he was expected to successfully spearhead Nigeria's attack in a position that is totally unfamiliar to him.
In the game against Bosnia-Herzegovina, Keshi must put only the round pegs in round holes and the square ones in the square holes!
There is absolutely no need for further experiments with the 4-2-3-1 and the 4-4-1-1 formation, as both formations have not proved to be reliable or suited to the players currently at the manager's disposal.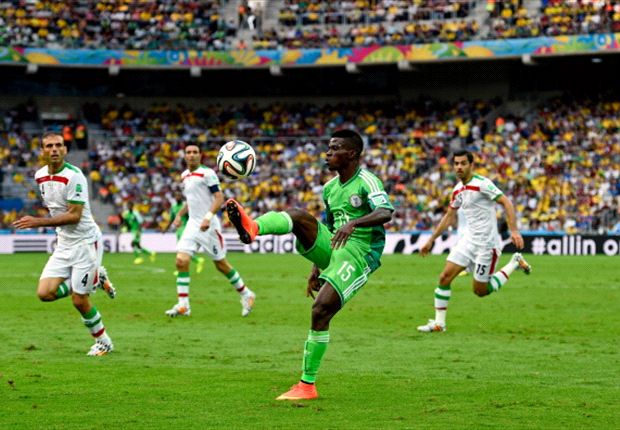 Azeez | No more time for experiments...
John Obi Mikel, with his dribbling ability and passing accuracy, should be played at the tip of the team's usual 4-3-3 formation, just as he was played at the Confederations Cup last year. Gabriel Reuben or Azeez should occupy a defensive midfield position ahead of the defence, while Ogenyi Onazi can be retained in Mikel's central midfield role against Iran as he plays better when entrusted with the responsibility of closing-up any space in the midfield that the opposition might exploit.
Whether he opts for Ahmed Musa or Osaze Odemwingie for the right-wing position, the team should be able to penetrate the fragile defence of the Bosnia team. Victor Moses must be encouraged with more direct passes at the left wing so he can run at the opposition at will, instead of the long passes that were constantly incomplete against the Iranians.
Whatever it was that Keshi planned with the long balls that were being sent in the path of the centre-forward Emmanuel Emenike in that match, it obviously did not work out and, as such, it should be completely abolished except in counter-attacking situations.
Overall the match against Bosnia should be an open one as the Eastern Europeans will not sit back and defend. If the Super Eagles can remain resolute at the back, and repel the Dragons' offensive, they may well be in a position to launch their own attacks and utilise their fast forwards.


EDITOR'S NOTE: Guest articles are not the opinion of Goal. Contributions not less than 700 words can be sent in via nigeriadesk@goal.com. They will be edited for clarity.