After being left in the cold by Stephen Keshi for a long time, the duo has been handed a lifeline and want to do well in Brazil
By Lolade Adewuyi in Curitiba
Long held as Nigeria's most hardworking player, Peter Odemwingie saw the other side of fame when he lost his cool and took to trash-talking his national team coach on Twitter two years ago.
The player, who was once held up as the mark of commitment for the squad, became public enemy.
Two years in the wilderness have, however, softened the Stoke City striker who will make his second appearance at the World Cup this summer, with a chance to prove himself on the biggest stage.
In the same shoes is captain Joseph Yobo, who fell out with the coach after the team won the Africa Cup of Nations title last year, in South Africa.
Out for more than a year, the skipper has returned to the side in time for the World Cup and has to contend with the duo of Godfrey Oboabona and Kenneth Omeruo for a starting place in defence.
Nigeria play Iran on Monday needing a win to kick start what many back home expect to be a successful campaign despite the bulk of the team being first timers at the World Cup.
Not one to pull punches, coach Stephen Keshi has culled the bulk of the ageing squad that failed to win a match in South Africa four years ago.
Only four players remain – Odemwingie, Yobo and goalkeepers Vincent Enyeama and Austin Ejide.
The heart of the team is in the goalkeeping department where Enyeama has come off a brilliant season with Lille earning a Uefa Champions League place.
However, the other veterans have to prove themselves worthy of their places.
In recent friendly matches against the United States and Greece, Odemwingie looked rusty and looked a little out of place in the team. He lost the ball to opponents and failed to connect with the others.
It is something that the 32-year-old is keen to correct.
"It was a come back for me and things don't just gel overnight. There are a few new faces to play with but the most important thing is that I'm going to give my best in games that mean a lot for us," Odemwingie told Goal.
Expected to be a game changer by many Nigerians, Odemwingie has had to contend with younger, faster wingers Victor Moses and Ahmed Musa meaning he has been played out of position behind the striker.
Without him the Super Eagles won the AFCON last year, many wonder what he's going to bring to the World Cup side.
"I'm joining a winning side, they've been doing well in the past two years, I hope that continues," he said.
"There's less pressure on me because there are people here who can deliver for Nigeria so I'll just give the contribution that I can and do my best."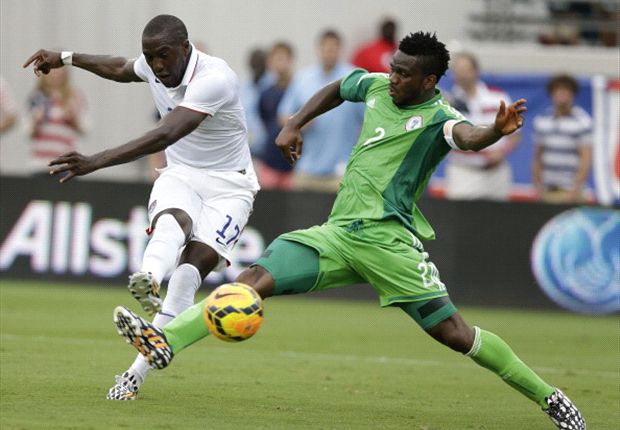 Yobo | Chasing his 100th cap and a memorable World Cup
Chasing his record-setting 100th cap, Yobo also has to find rhythm with whoever he is paired with in central defence.
After their last game against USA, Oboabona complained that there was lack of communication in the side as they shipped in two goals.
"We have to step it up", Yobo told Goal. "We know the importance of starting well, it's not going to be easy against Iran, they are no pushovers.
"It's going to be a tough game on Monday but if we get the three points, then the confidence is going to grow."
Every time that Nigeria have won their opening game, they have reached the second round. On Monday they will hope their veterans can add experience to the zeal of their youngsters against the Asian representatives.
The veterans could be their game changers or the weakest links.