ANALYSIS
By Solace Chukwu

A team is as good as its last result, the cliché goes. Well, this is even truer for coaches.
Managing a national side is the ultimate poisoned chalice. With fewer matches than club level, there is essentially only a small window within which to make an impression on an entire nation. Lose a game and you have to wait months for an opportunity to have another go. Win and there is no chance to build on that momentum; people forget. Bad occurrences evoke recollection more efficiently than good.
So it is that Stephen Keshi stands at a crossroads in his career as a coach. He has shone in management, guiding lowly Togo to qualification for its maiden World Cup appearance in 2006. This was even more remarkable because the Hawks pipped Senegal, who had excelled on the world stage only four years prior; averaged two goals a game and lost only once in ten games: away to Zambia in the very first qualifier!
The feeling that he was always going to coach the Super Eagles eventually was justified when Samson Siasia was sacked in the wake of that draw against Guinea in 2011. Again, he defied expectations by ending a 19-year wait for Africa Cup of Nations glory in South Africa 2013. His team famously vanquished perennial favourites Cote d'Ivoire in the quarter finals, in a wonderfully controlled performance, on the road to lifting the trophy.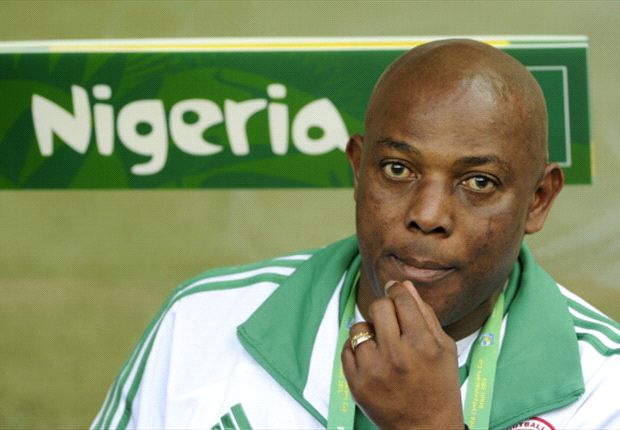 Keshi | At a crossroads...
For a man who stated early on that he was looking to build for the future, Keshi is well ahead of schedule.

This in itself has created a problem: the win at the Afcon perhaps led many to believe he was farther along in his 'rebuilding' process than he actually was. The Big Boss has cited Clemens Westerhof as an inspiration in management; the Dutchman took five years to deliver a continental crown and play in the World Cup, Keshi has hit these marks in two.
The danger then is that there is nowhere to go but down. Westerhof left on a high, at the very zenith of his reputation and acclaim (a decision he has admittedly come to rue); Keshi will have to do a lot in order to keep from leaving with a whimper. Already the transience of human contemplations has started to colour people's perception of what he has achieved so far. Some have called into question just how impressive a feat the Afcon triumph really was.
You cannot fault their logic altogether. Keshi triumphed in South Africa in spite of a slow start and turgid performances in the first two games, but the feeling is they were never really tested. Of course you can only beat what is in front of you, but it certainly helped that neither of Cameroon nor Egypt were represented at the Nations Cup. The two nations have combined for 11 titles, and have accounted for 6 of the last 10.
The only true test was the aforementioned encounter against the Ivorians, and even that had a hint of good fortune. The Elephants are led by the inexperienced Sabri Lamouchi, and boasted no coherent strategy either in attacking or defending. They were really just the right scalp at the right time: a complacent mastodon lumbering under the weight of age and too many ineffectual battles.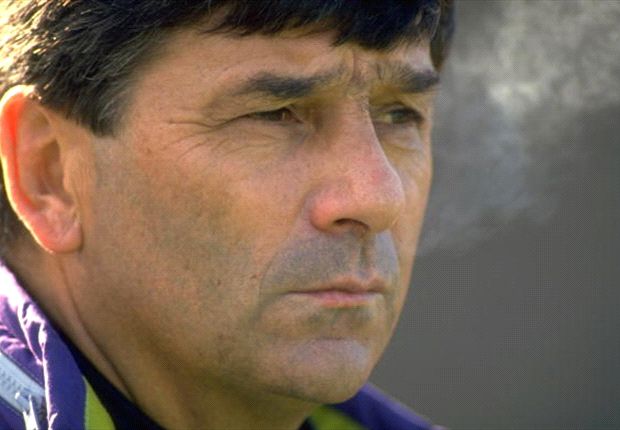 Keshi did in two years what Westerhof did in five
This sort of revisionism is not uncommon. Brazil racked up results with frightening efficiency under Dunga on the road to the World Cup in 2010, winning the Copa America in 2007 and the 2009 Confederations Cup. His style was not loved by purists but was effective and surprisingly nuanced, considering he was accused of rigidity. When a freakish set of events culminated in the Selecao's elimination by the Netherlands in South Africa, he was summarily dismissed. His legacy is now viewed as a lot less favourably than it was back in 2009.
Like Dunga, Keshi is in danger of being hoist with his own petard. The Big Boss has championed team unity, and has understandably preferred to work with a small group in order to achieve this. The danger is that in doing so, he has turned a blind eye to quality where it is needed, in favour of improvisation.

Ikechukwu Uche, for all his flaws, would almost certainly bring more to the table than Shola Ameobi, who is a painfully limited footballer. Taye Taiwo is an attacking force from left-back and eminently comfortable on the ball, a compliment we cannot pay to Juwon Oshaniwa. Chinedu Obasi and Sone Aluko are at a level that Ukraine-based Babatunde Michael can only aspire to at the present time.

The list goes on.
Now, even the level of cohesion and integration Keshi desires is fast disappearing into the ether. Elderson Echiejile, with whom he has persevered for all of his tenure, is out of the World Cup; John Ogu and Brown Ideye, previously mainstays, were not included in the squad at all; and the dilemma of who to complete the midfield triangle remains unsolved. It is mystifying that after working with the same group for two years (bar Ramon Azeez, the other three midfielders selected were all part of that Afcon triumph), the balance required in this zone remains elusive.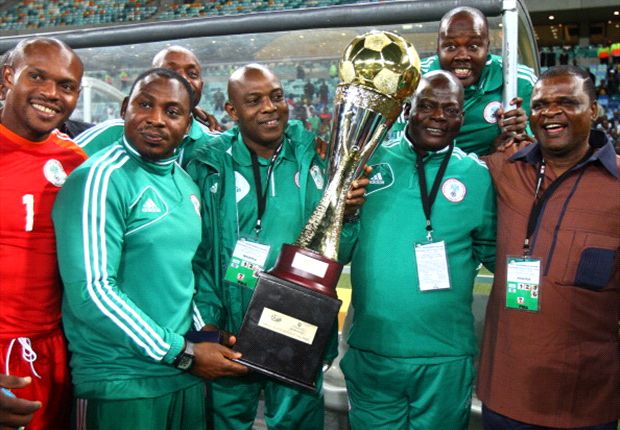 Time to build on your success, Stephen
Coupled with personnel problems at right-back, there is a sense of unnecessary thrift about this Super Eagles vintage. When Efe Ambrose went down on the right wing clutching his thigh against the United States earlier in the month, over 100 million Nigerians held their breaths. On the bench, there was no substitute to call upon.
With so many odd decisions and a seeming lack of coherence in spite of relative stability, this may come to be how Keshi's reign is remembered: that of a lucky coach who just so happened to be in the right place at the right time, with teams who won with only minimal input from him. Why, even with Togo, he had the luxury of a striker in Emmanuel Adebayor who accounted for half of the Hawks' goals in qualifying for Germany 2006.
Keshi has vocally asked to be judged on performances at the World Cup itself, but the friendlies against Scotland, Greece and the United States have done nothing to allay fears about the personnel deficiencies and tactical inadequacies of the team.

Trust is earned. The Big Boss just about has enough goodwill to still guarantee the support of a majority of Nigerians, but if the performances and results do not improve, the Super Eagles will enjoy only a short stay in Brazil.
Keshi may then find that hindsight is as punishing on a legacy as it can be rewarding.

Follow Solace Chukwu on