ANALYSIS
By Ed Dove
There was a genuine fear, about 43 minutes into Nigeria's friendly match against Greece, that Stephen Keshi's World Cup plan was unravelling.
There have been two main talking points, two key divisive issues, that have dominated the discourse for Super Eagles fans over the last few weeks and months. They are, one suspects, the subjects that will decide what kind of summer Nigeria are set to have in Brazil.
Unfortunately for Stephen Keshi, at the end of the first half last night, the consensus was beginning to conclude that he had perhaps got these two key decisions wrong.
The first, of course, is the inclusion of Peter Odemwingie.
In the face of massive public support, in light of the NFF's insistence, and following a handful of encouraging performances in the Premier League with Stoke City, Odemwingie was recalled to the side. At first glace, it was a straightforward decision, the former West Bromwich Albion man was performing well in the English top flight and, struggling for goals and creative inspiration themselves, the Super Eagles needed someone who could step in to fill the void.
Those who called for his return largely ignored the potentially negative consequences the inclusion of Odemwingie, a capricious and divisive individual, could have on Keshi's intricately configured team spirit. They often overplayed his 'return to form' in the Premier League—he did only score six goals after all—and seemed oblivious to the fact that, at 32, the forward's best days were behind him.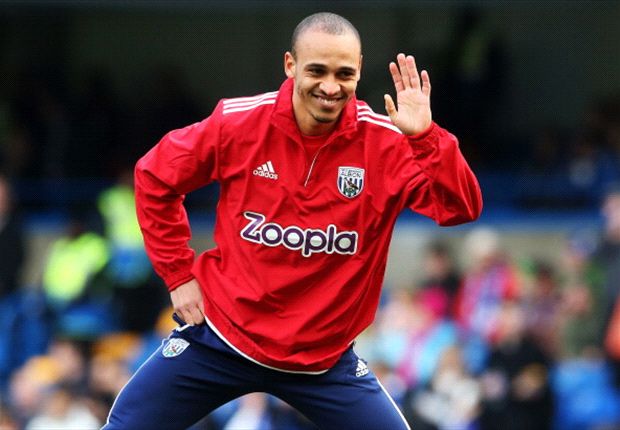 Could Odemwingie be Keshi's Ace up the Sleeve?
It wasn't a huge surprise that after a little over half an hour, the @GoalcomNigeria Twitter handle was inundated with fans complaining about the Uzbekistan-born hitman, questioning his place in the side and even, God forbid, calling for the return of Ideye Brown.
Football fans are fickle, sure, but this was bordering on the kind of volatile humour that Odemwingie himself has been accused of possessing in the past!
In fairness, Odemwingie was played out of position, asked to occupy a deeper role, linking the midfield and attack. It's not how many fans envisaged his first start for the national side since 2012. He largely found himself clogging up congested areas, losing possession, and watching on as Ahmed Musa, playing in Odemwingie's preferred role out on the right, sent crosses hurtling into no man's land.
Perversely, with Joel Obi, Nosa Igiebor, Sunday Mba and Nnamdi Oduamadi jettisoned from the squad, and the World Cup on the horizon, is it to be Odemwingie, that most-cherished of pariahs, who takes the 'Third Man' role in midfield?
If the Stoke City forward is to vindicate Keshi's decision to co-opt him into the plans, if he is to justify the hero's welcome that greeted him at Craven Cottage in the friendly against Scotland, he should take a role on the right, afforded the liberty to cut inside as he did, to occasional great effect, in the EPL this season.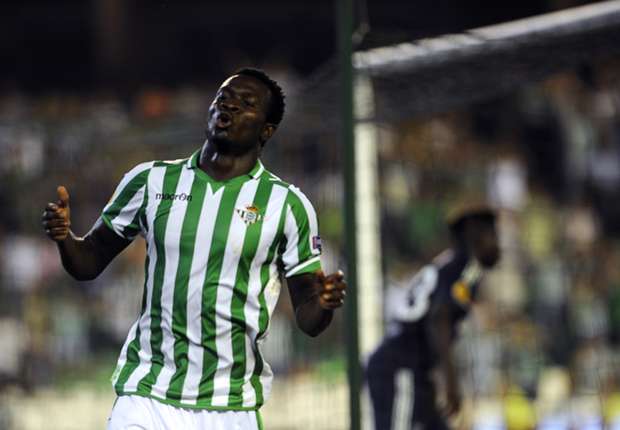 Igiebor | Truly Not Worthy of a place in the 23?
The second incendiary decision that Keshi made over the last few weeks is broader, and encompasses various different fronts of conflict. The manager's squad selection appears to have been a muddled affair and has, quite rightly, been met by intense scrutiny and scepticism by Nigeria fans.
There is the odd minority that trot out the "What's done is done, let's just accept Keshi's decision and support the team" line, which is fine, up to a point, but prevents one from getting to the heart of the issue, of identifying weaknesses, and of moving forward. Certainly support the Super Eagles, back them to the hilt and throw every fibre of your passion behind them, but do not just sit back placidly and accept the manager's decision-making, without interrogation and tenacity, when you don't understand the logic behind it.
The Big Boss's highly questionable squad selection decisions were suddenly thrown under the spotlight last night following an injury to Elderson Echiejile.
When Keshi named his provisional World Cup squad of 30, he included eight defenders. This is not necessarily a problem in itself, but while, ostensibly, the selection had balance (two left-backs, four centre-backs, two right-backs), the identities of the back-up full-backs, Juwon Oshaniwa and Kunle Odunlami, wouldn't fill many Nigeria fans with encouragement.
This sentiment was enforced even further following Odunlami's dismal showing against Scotland in London, when he was regularly bested by Ikechi Anya and contributed to a dismal defensive showing.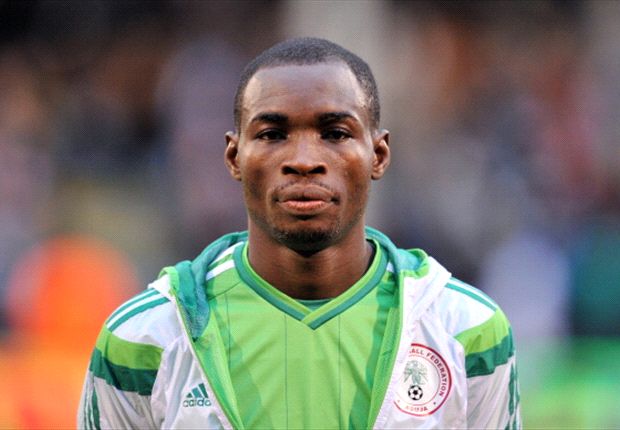 Odunlami | Thrust into the Limelight
Those justifying Odunlami's inclusion based on his qualities at centre-back miss the point. For him to get any playing time in his favoured position, he would need for injury or suspension to befall three of Joseph Yobo, Azubuike Egwuekwe, Kenneth Omeruo and Godfrey Oboabona. Even then there's a chance that Keshi might push Efe Ambrose into the heart of defence and play Odunlami on the right.
If Odunlami isn't realistically going to play centre-back and looks uncomfortable and sub-par at right-back, then why, oh why, has he been named in the final list of 23?
Then, there is the inclusion of Oshaniwa.
The Israel-based defender was a member of the 2013 Cup of Nations side, and even made a brief cameo in the final where he looked very uncomfortable when faced with pace and dribbling and managed to pick up a booking.
He was subsequently overlooked for next year as Francis Benjamin took up residency in the squad, before replacing Benjamin for the recent friendly against Mexico.
When Elderson went off injured on 43 minutes, the natural decision would have been to have turned to Oshaniwa as a direct like-for-like replacement, as happened in the AFCON final.
Surprisingly, Keshi opted not to do this, instead shifting Efe Ambrose to the left and throwing Odunlami into the contest to continue his learning process as a right-back.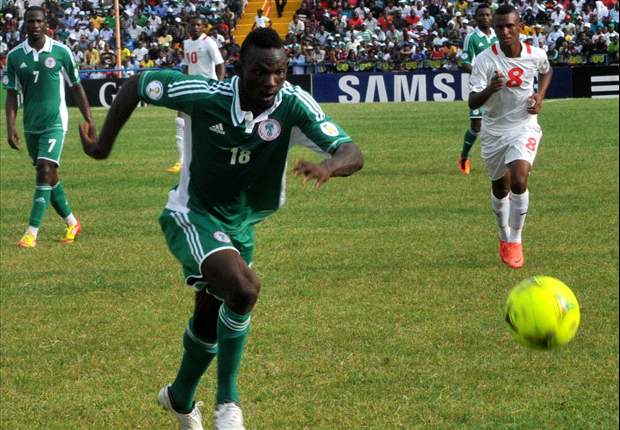 Oshaniwa | Does he even exist?
It was a decision that begs explanation and throws up a multitude of questions: How must Oshaniwa have felt seeing a right-back who's not a right-back (and who's definitely not a left-back) being picked ahead of him? If Oshaniwa isn't going to get some playing time when Nigeria's first-choice left-back falls (not beyond the realms of imagination considering Elderson's inactivity at AS Monaco) then why has he been named at all? What is Keshi's plan if Elderson doesn't make it to Brazil or picks up an injury during the contest?
His current selection, and lack of faith in Oshaniwa, will seemingly result in him weakening another aspect of the defence, the right-hand side, to compensate for his own deficiencies of selection.
Don't be surprised if the words 'Taye' and 'Taiwo' come back to haunt Keshi on the grandest stage of them all this summer.
There were positives to be taken from the performance against Greece, certainly, but it's hard not to be left with the overwhelming sentiment that plans and preparations might just be getting away from Keshi when Nigeria fans need him at his best.