This article profiles three African youngsters who have struggled to match the expectations that greeted them early in their careers
FEATURE
By Ude Ikenna Ezekiel
Many believe that success without a successor is failure. Perhaps this is because everything that the successful man had built will certainly crash if not handled by a capable hand. It is little wonder that global football fans relish the prospect of seeing young players that will take over from their ageing legends. Even the media is not left behind in this pattern, there is a regular trend for exaggerating or excessively talking about a young player's ability to match the previous feats of great footballers.
Some even go as far as to give them names of those already-established players whose playing style the young player is said to exhibit.
Football is littered with the 'next' somebody, or the 'new' somebody else.
The reality, however, is that most of these hyped youngsters fail to live up to the early promise that sparked up the interest of the football fans.
In the last decade, many African youngsters have also come to the attention of the football world.
Many of these players, like some of their European counterparts, also failed to match the earlier expectation of their admirers. This article profiles three such players; Nigeria's Rabiu Ibrahim, Morocco's Mouhcine Iajour and, the biggest of all, former Ghanaian youth prodigy Dominic Adiyiah.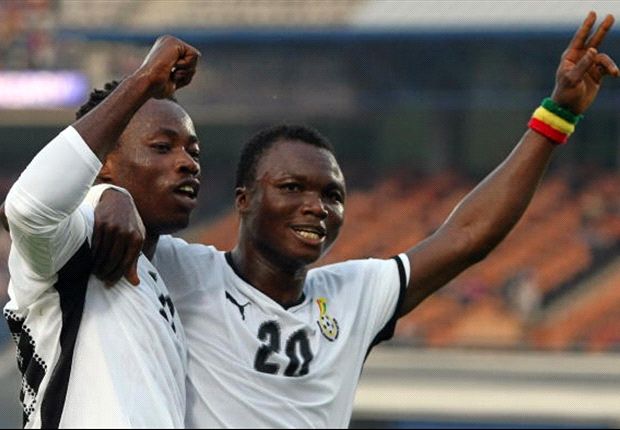 Adiyiah | Unlikely to be returning to the World Cup this summer
Adiyiah first came to global attention when he finished as the top scorer and the Most Valuable Player at the 2009 Fifa Under-20 World Cup, ahead of top Brazilian prospects Alan Kardec and Giuliano.
He had earlier finished as the highest goal-scorer in the qualifying stage of the competition and was subsequently signed by Italian giants AC Milan. Adiyiah failed to score a competitive goal for Milan throughout his stay there. During his three years at the San Siro side, he was sent on loan to four different clubs and was finally bought by Arsenal Kyiv.
In the 35 matches he played for Kyiv he scored just seven goals.
That he is a free agent at 24 shows how low the stock of a young man, once likened to African football legend Samuel Eto'o, has fallen.
Iajour | Far cry from early projections
After the 2005 World Youth Championship in Holland, many Moroccan football fans were convinced that they were on the brink of an international sporting revival.
Their team had reached the semi-final of the youth tournament for the first time.
Mouhcine Iajour was clearly the brightest prospect in the team, having scored three goals before they were eliminated from the competition by Nigeria.
He was expected to sign for a big club in Europe immediately after the competition but that did not happen.
Since then, his development into a great player has stalled.
The only mention of him in the global media after over eight years was at last year's Fifa Club World Cup in Morocco, where he showed glimpses of the player that many football fans fell in love with in 2005. He won the top goal-scorer award in the tournament.
It is a far cry from the projections that were once reserved for him.
Ibrahim | Things didn't take off for him at PSV...or Sporting...or Celtic...
Rabiu Ibrahim, or the 'new Okocha' as we hailed him after the 2007 FIFA Under-17 World Cup, is one player whose underperformance has never ceased to amaze many football fans.
That he made the 2009 Goal list of 'Ten African Players to Watch' while still a teenager confirmed the magnitude of expectation virtually every Nigerian football fan had for him. In 2010 he was featured in an article by football website Insidefutbol.com alongside Emmanuel Adebayor, Mario Balotelli, and John Obi Mikel.
After the Under-17 tournament he joined the youth team of Sporting Lisbon. He was named the best player in a youth tournament a year afterwards. Since then, the skilful Nigerian has been in freefall.
He has changed clubs over three times since he left Sporting without replicating the type of form he showed at the age of 16. Comparing him to a player like Toni Kroos, who also participated in that 2007 tournament, makes for depressing reading. Many have already lost hope of seeing him become the midfield maestro that he was expected to become.
EDITOR'S NOTE: Guest articles are not the opinion of Goal. Contributions not less than 700 words can be sent in via nigeriadesk@goal.com. They will be edited for clarity.