By Enis Koylu
When Sevilla hired Unai Emery to replace Michel midway through the 2012-13 season, it was almost inevitable that he would make Valencia rue the decision to dispense of his services the previous summer.
For four years, the Basque presided at Mestalla, delivering third-placed finish after third-placed finish. Evidently, that wasn't enough. Tired of playing a distant second to Real Madrid and Barcelona,
los Che
decided to replace him. How he made them pay.
Valencia travelled to Ramon Sanchez Pizjuan on the final day of last season with their Champions League status on the line, things were never going to go smoothly.
Their season had been something of a disaster. Robbed of yet another of their stars, Jordi Alba in the summer by the Spaniard's move to former club Barcelona, they started the campaign under Mauricio Pellegrino.
The Argentine did not have the desired effect on the squad. At the start of December he was gone as Valencia sat in midtable. Just a few days before, Emery's adventure with Spartak Moscow had come to an abrupt end thanks to a crushing derby defeat to Dynamo.
Ernesto Valverde took over after Pellegrino – a fan favourite from his playing days – and restored hopes of a top-four finish. A 4-2 defeat to Real Sociedad at Anoeta could have proved costly, but Valencia won their following four games as the Basques stumbled against Getafe, Real Madrid and Granada.
LA LIGA TABLE

Team

1. Barcelona
2. Real Madrid
3. Atletico Madrid
........................
4. Real Sociedad
........................
5. Valencia
Played

38
38
38
...........
38
...........
38
Points

100
85
76
...........
66
...........
65
GD

75
61
34
.......
21
.......
13
So the final Champions League spot came down to the final day of the season. Valencia's game was noticeably harder as they travelled to Sevilla, but
la Real
had a trip to Deportivo La Coruna, who were fighting to keep themselves in the top flight. Win, and
los Che
would be in Europe's top competition, lose and the Basques could overtake them with even a point.
Going into the game, Valverde knew the task at hand and the consequences of a defeat. "I'm worried because Sevilla are creating a lot of goals. When you have something to achieve, a loss is deflating. Missing out on the Champions League spot would be a disappointment for us."
For a while, it seemed like Valencia were on course for Europe. Ever Banega had given them an early lead, but his goal was closely followed by one for Antoine Griezmann. Still, things were going to plan until five disastrous minutes before half-time when Alvaro Negredo turned the scoreline on its head before Jonas got a red card to compound their misery. Amidst all that, Sergio Canales had a decent penalty shout denied.
It was what turned out to be Negredo's last match for Sevilla and he was playing like a man eager to leave on a high note. His quickfire double at the end of the first half was followed by two others after Roberto Soldado had drawn his side temporarily level.
Soldado, himself playing in his final game for Valencia pulled one back late on to cut the deficit to 4-3, but it was too little too late.
Los Che
had entered the last game of the season with their fate in their own hands, but had finished it in the worst possible fashion.
And so, the man who had delivered Valencia Champions League football so often denied them a place in the following year.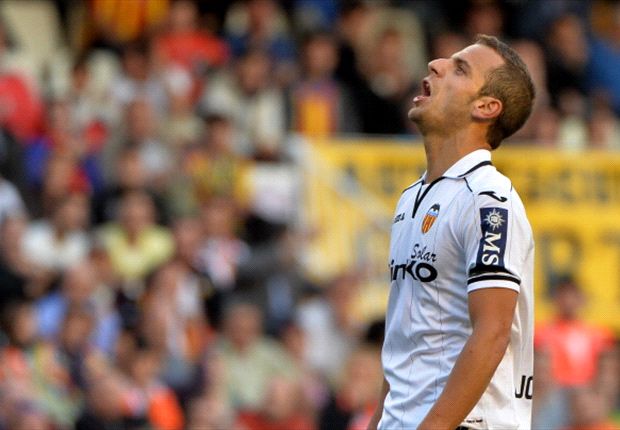 Adios | Soldado was sold shortly after Valencia's failure to reach the top four
It was the end of an era at Mestalla in more ways than one. For the first time in three years, Valencia were not competing in Europe's top competition and their belts had to be further tightened.
Soldado was sold to Tottenham as they looked to redress the balance of failing to reach the big time and Valverde was dismissed for failing to secure a top-four finish. Ironically, he is now on the verge of leading Athletic Bilbao to a Champions League place.
Upon his exit, the 50-year-old was adamant that the club's future was bright. "Valencia will be fighting for the Champions League places again next year. With the team that Valencia have and the strategy that I expect, they have a good future ahead. The team is bound to have success."
But this has been another campaign of transition for the club. Faith has been put in the youngsters and they have endured another disappointing term in La Liga, which cost Miroslav Djukic his job as coach back in December.
There is cause for hope, though. An extensive run in the Europa League has given the fans something to cheer about once more and they have the chance to reach the final as they prepare for a semi-final tie with, fittingly, Sevilla.
For Emery, the encounter presents an opportunity to show his employers that the grass was not, in fact, greener elsewhere, for Valencia, they have the chance to prove that the past is behind them and they are bound for better days.
Short of winning the tournament, they are unlikely to have contintal competition at Mestalla but revenge against the Andalusians would provide hope for the future.
Vote for your favourite team and win tickets to the UEFA Europa League final!