SPECIAL HEALTH REPORT
By Sammie Frimpong

The 2014 Fifa World Cup is still some months away and, quite reasonably, eligible footballers all over the planet are eager to impress the coaches of their respective national sides. An unfortunate few are, however, already out of contention for a place at the Mundial or nearly so - several of whom might well have deemed themselves firm favourites to make the trip to Brazil, matter-of-factly - through no fault of theirs.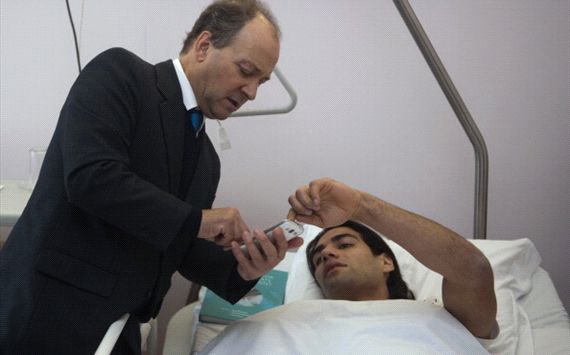 Varying forms of injuries have eroded the prospects of these, the most common of which is the kind that affects the Anterior Cruciate Ligament (ACL). At least six high-profile footballers have fallen victim to it and are receiving treatment at present, albeit with little or no hope of recovering in time for Brazil 2014; the likes of Kevin Strootman (Netherlands), Victor Valdes (Spain), Theo Walcott (England), Radamel Falcao (Colombia), Holger Badstuber (Germany), and Portuguese starlet Bruma have all been knocked out by damage to their ACLs.
For Ghanaians, ACL injuries have frequently hit close to home in recent years. Most would recall current Black Stars regular Michael Essien suffering a succession of such injuries that rendered him consistently unfit and unavailable for national duty in the not-too-distant past.

What, then, is this plague that threatens to rob the latest installment of international football's most glamorous showpiece of some of the sport's brightest, game-changing talents? Here's most of what you need to know:
What is the ACL?
The ACL lies deep within the knee joint, connecting the thigh bone with the shin bone. Its function is to prevent excessive forward movement of the shin in relation to the thigh and also to prevent excessive rotation at the knee joint. The ACL, in sum, is an important ligament for proper movement.
How does the ACL get injured?
While direct contact could be a factor in acquiring such an injury, the causes are usually of non-contact sorts. The ACL can be injured in several different ways during a football game, most notably by landing from a jump onto a bent knee then twisting, or landing on a knee that is over-extended. ACL injury more commonly causes knee instability that does injury to other knee ligaments. Injuries of the ACL range from mild such as small tears to severe when the ligament is completely torn.
What are the signs and symptoms of ACL?
Symptoms of an ACL injury include hearing a sudden popping sound, swelling, and anterior instability of the knee (i.e. a 'wobbly' feeling). Depending on severity of the injury, there could be varying levels of pain.
How is ACL injury diagnosed?
The pivot-shift test, anterior drawer test and the Lachman test are used during clinical examination of suspected ACL injury, while it could also be visualized - and confirmed with considerable accuracy - using a Magnetic Resonance Imaging (MRI) scan.
Could ACL injury be prevented?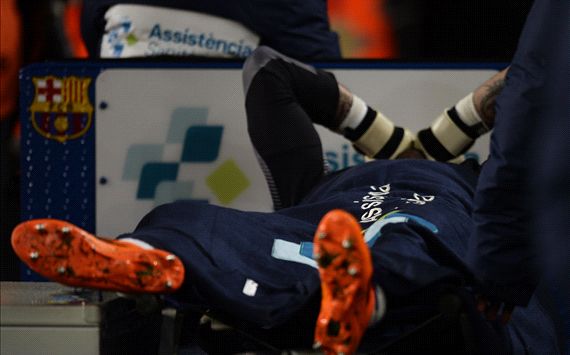 Yes, but only to an extent, for there are no absolute guarantees. Regular neuromuscular training that is designed to enhance non-contact proprioception, balance, proper movement patterns and muscle strength could reduce the incidence of ACL injury up to 80%, as has been proven by research. One of the goals above, proprioception, is thought to be very effective in the prevention of knee ligament injuries, as well as during rehabilitation.
What does ACL injury treatment involve?
In the immediate aftermath of an ACL injury, the PRICE approach is key to minimizing pain and damage caused. It involves (i) Resting the knee, (ii) application of Ice packs, (iii) application of a Compression, and (iv) Elevation of the injured knee above heart level. Once those initial steps have been taken, two major forms of professional treatment could be resorted to; the conservative, and the surgical (ACL reconstruction).
The conservative method involves healing chiefly via physical therapy, and the entire process -including rehabilitation- could take months. This is where the 'P' bit of the PRICE mentioned above comes into play: Protection of the injured knee with a brace for stability during recovery. The surgical method is typically indicated in sportsmen who are regularly required to return to the sort of active play that exposed them to risk situations similar to those that triggered the injury in the first place.
Whichever treatment option is chosen, though, full rehabilitation eats up a huge chunk of time. The multi-staged process could be of varying lengths, the full duration of which is determined by the span of the sixth and final phase -the 'return to activity' phase, which commences from the 10th week of rehab- could last for up to half-a-year. Somewhere between three and six months, the surgeon will probably request that the patient perform physical tests to monitor the activity level. When the doctor feels comfortable with the progress of the patient, he/she would give the all-clear for the resumption of a fully active lifestyle.
So, then, why Footballers?
Well, in reality, football is just one of a host of sporting disciplines that predispose individuals to ACL injury; American football, alpine skiing, Australian rules football, basketball, rugby, professional wrestling, martial arts, and artistic gymnastics are others. Tears in the anterior cruciate ligament often take place when the knee receives a direct impact while the leg is in a stable position, as is illustrated by a standing football player who is tackled sideways when his feet are firmly planted. ACL injuries also occur when an individual stops suddenly or presses his foot really hard into the ground. ACL failure has been linked to heavy or stiff-legged landing; the knee rotating while landing, especially when the knee is in an unnatural position. Since football involves all these described awkward movements and more, players are often easy targets. Being a footballer aged over 40, or one who is female, is also a definite risk factor.
So there you have it - the 'almighty' ACL!


Goal Ghana has its own

and

account, so for all the latest news and features on Ghana football follow us by clicking on the above links