ANALYSIS
By Ed Dove
Nigeria have a tradition of producing youth prodigies about whom they can rightly be very proud. While the senior national side have too often flattered to deceive in international tournaments and have only recently shed their AFCON hex, our youth sides often flourish upon the gilded pedestal of junior competition.
At the Atlanta Summer Olympics of 1996, the U-23 side became Africa's first representatives to seal gold in the competition.
The U-20 side have been African Youth Champions on six occasions and have thrice finished in the final three in the FIFA World Youth Championship.
Even further down the ladder, the U-17 team have been African champions for their age group in 2001 and 2007. Remarkably, they have on four occasions won the U-17 World Cup, the most recent occasion coming in 2013.
These great youth sides have, naturally, thrown up some marvellously exciting talents, some of whom have gone on to great things, and others who have fallen by the wayside. Wilson Oruma and Nwankwo Kanu both made fine careers for themselves having prospered at the U-17 even in 1993, but their compatriot, Peter Anosike never managed to build on his impressive showing in Japan.
For every John Obi Mikel there is a Davind Solomon Abwo, who lost his way somewhere between Hungary and Poland. While the likes of Chinedu Obasi and Taye Taiwo graduated from the youth set-up to enjoy careers at the top of the sport, we are still waiting for Isaac Promise to truly emerge onto the world stage and establish himself in the Super Eagles' squad.
It will probably never happen.
At this stage, Kelechi Iheanacho looks optimistically like he is heading towards the top band of these fortunes. Surely, the 17-year-old is too talented, too special and too explosive to settle for a career of mediocrity.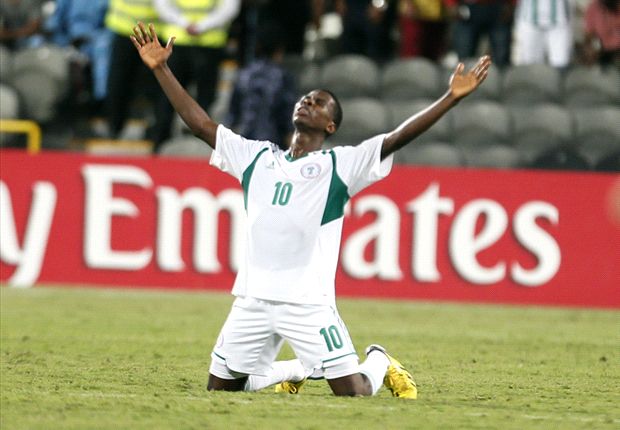 Iheanacho: Too special and too explosive to settle for a career of mediocrity
The Nigerian teenager was recently honoured at the GLO/CAF Awards ceremony. His name was recognised alongside the likes of Yaya Toure, Stephen Keshi and Mohamed Aboutreika as he received the prize for the 2013 Most Promising Talent of the Year.
In taking this title, he inserted himself in a list of stars that has endured mixed, but generally impressive, fortunes. Egyptian Mido's attitude may have affected his career prospects, but few ever doubted the 2002 winner's raw abilities during stints with Marseille, Tottenham, Roma and Ajax.
Dominic Adiyiah, who took the award in 2009, is a fine forward with explosive talent, and has, after all, played in a World Cup quarter-final. Nonetheless, he is another who hasn't quite managed to extend his early, unstoppable, trajectory.
Beyond this, the likes of Mikel, Salomon Kalou and Kwadwo Asamoah have all won major titles with major clubs. Mohamed Salah, 2012's winner, is a Swiss champion, has played in the Champions League and looks set for a move to the Premier League with Chelsea.
This early recognition is setting Iheanacho up for a sterling career. Few would be surprised, he sits easily within this company; he was the outstanding player at the U-17 World Cup last year, guiding Nigeria to the title, their fourth, in the process. He was also the second-highest scorer during the competition.
Nigerians will doubtless be very proud that one of their own has not only won such a prestigious award, but has also attracted the interest of one of Europe's big clubs, moneybags Manchester City no less.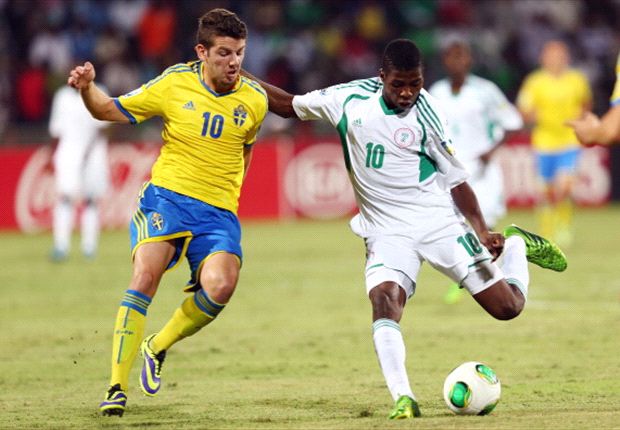 Iheanacho: The cream of a generation
The Citizens agreed a pre-contract deal with Iheanacho earlier in the month, meaning that he will sign for the club officially on his 18th birthday. While there is much to be celebrated, there is also some cause for concern.
Immediately, I would question whether Manchester City is the best environment for the youngster to realise his talents. Certainly, the club have the facilities to make the most of young players, but the academy has made a negligible impact on the first team since the likes of Micah Richards, Nedum Onuoha and Stephen Ireland broke into the side in 2004-05.
Since then, young players such as Dedryck Boyata, John Guidetti and Alex Nimely have all been recruited as highly-rated prodigies only to leave little impact. Now all in their early twenties, only the much-maligned Boyata has made more than one league appearance.
The most concerning case, however, has to be the Spanish playmaker Denis Suarez. Having beaten-off hefty competition to secure his signature from Celta Vigo in 2011, City never played the youngster and then seemed to lose faith or interest in their acquisition. After two frustrating years he was sold in the summer, picked up by Barcelona which perhaps, would have been the best destination for him in the first place.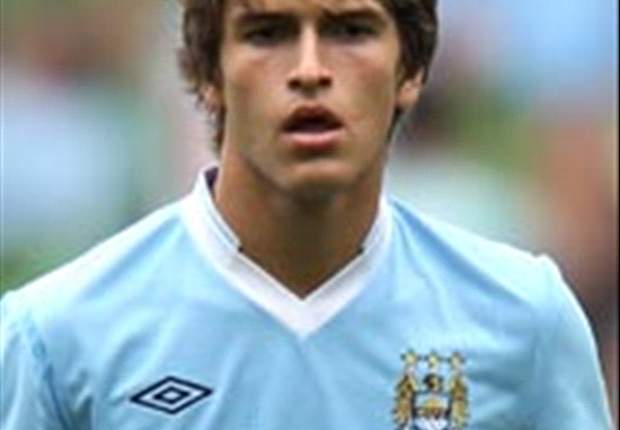 Suarez: Sets a concerning precedent
This decision seemed to indicate that at City, particularly with the swathes of cash floating around and the proclivity for instant success, there is little true commitment to the academy program and the benefits that can be found from promoting youth.
The Citizens may well have to watch on in anguish as Suarez goes on to become Xavi's heir in Catalonia. Their fans ought to hope that Iheanacho is not similarly disposed of in a year or two's time.
My second concern is influenced by the well-documented changing identity and status of John Obi Mikel.
Everyone knows the chronicled past that has seen the central midfielder go from languid playmaker to stodgy defensive midfielder to on-field general and majestic inspiration. I suspect that Mikel, with his litany of honours, his EPL titles, his Champions League winner's medal and his AFCON crown, will not regret joining Chelsea in his early twenties.
Perhaps, however, he would have been better served following the template of someone like Kwadwo Asamoah or Mohamed Salah, building a European reputation at a club such as Udinese or Basel before then arriving at a major side for that final polish and refinement.
Maybe Iheanacho will have the irresistible talent to make the most of his move to City. Perhaps the club will realise the uniqueness of his talents and not attempt to impose too much upon him as Jose Mourinho did to Mikel at Chelsea.
His switch has certainly generated headlines, and should be a point of pride for Nigerians. However, the real satisfaction would come, surely, from him creating headlines five years from now as one of the continent's finest exports.