ANALYSIS
By Ed Dove
Earlier this week, Goal's Peter Davis spoke with former Super Eagles star Yakubu Aiyegbeni. One of the most intriguing comments to emerge from his exchange with the striker was the Yak's suggestion that, in time, Emmanuel Emenike can be like Rashidi Yekini.
He said: "He will get there with time…It is too early to compare Emenike to Yekini, Emenike is a good striker but Rashidi Yekini is a legend."
"It will take some time for Emenike to be like Yekini, he just started playing for the national team two years ago so he has a long way to go."
"We've had strikers that have scored more goals for the Super Eagles than Emenike so for the moment you can't compare Yekini to him,"
While Yakubu is right not to over-hype the young Fenerbahce forward and immediately claim that Emenike is the Second Coming, his praise is absolutely spot-on. As Emenike has demonstrated over 2013, the 26-year-old is blossoming into a fine forward.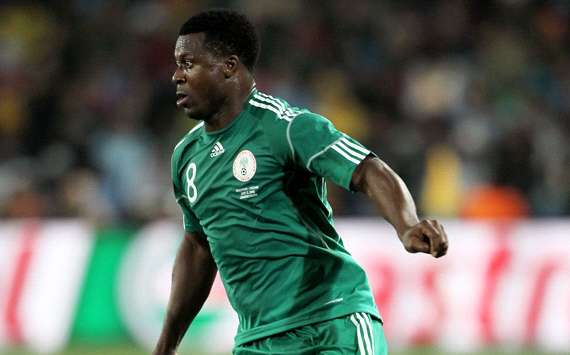 Yakubu: An Excellent frontman in his own right
Yakubu was correct when he said: "I will give it to Emenike, he is the man of the moment, without his vital goals the Super Eagles wouldn't be in the position they are now."
We should all be delighted that in Emenike, sitting as he shall in an attacking trident between Victor Moses and Ahmed Musa, Nigeria possess one of Africa's finest forwards, and a striker who could genuinely make an impact at Brazil next summer.
However, it is the parallel drawn with Yekini that I found most intriguing, and Yakubu's insights forged the basis for this editorial. He is right, of course, that Emenike is not yet at the level of the Bull of Kaduna…but just how far away is he?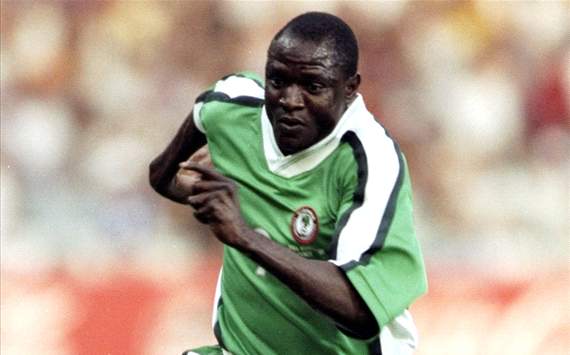 Yekini: Nigeria's all time leading goals scorer

At the end of the summer, I reassessed my list of the Greatest African Players of All time, ranking and rating the continent's finest using a self-devised metric to come up with a reasonably accurate list.
I judged players on their individual performance, their international honours and their club honours. After assessing and analysing a shortlist of Africa's greatest, Yekini found a place on the list, in 35th position.
Comparing Emenike and Yekini in those three areas highlights both how the pair are following similar trajectories, but also how much ground the younger man has to make up on the Bull.
Initially, comparing their individual honours, a fair disparity is drawn between the two. With the late Yekini taking massive strides ahead of his young compatriot.
Africa has not been shy of producing sublime goalscorers who knew how to find the net with unflinching reality, and Yekini fits firmly into this category. However, while the likes of Tony Yeboah and Godfrey Chitalu knew how to dismantle scoring records with their sharp feet and excellent opportunism, Yekini has the honours to back up his tremendous goalscoring record.
He was recognised as CAF's African Footballer of the Year in 1993 and finished in third place in the France Football award. This recognition came when he was in his late 20s, and so while one could argue that Emenike has never even been in contention for such acknowledgement on a continent-wide basis, he hasn't yet reached the age at which Yekini was receiving such acclaim.
For all its prestige, the African Footballer of the Year award only recognises a wonderful 12 months in a player's career, rather than sustained, outstanding achievement (explanation, perhaps, for El Hadji Diouf's brace). Perhaps more impressive, therefore, is the IFFHS's decision to name Yekini as the 17th best African player of the last century.
This acknowledgement, made by a respected source, and considering the player's career in its entirety, firmly places Yekini's legacy among the game's greatest in the continent's sporting pantheon. It is an individual reputation that remains a mere pipe dream for Emenike at this stage of his career.
Yekini's record of 37 goals in 58 internationals remains Nigeria's greatest return. Emenike may have time on his side, but he will need to improve his goals-to-games ratio if he is to come close to challenging Yekini's Super Eagles stats.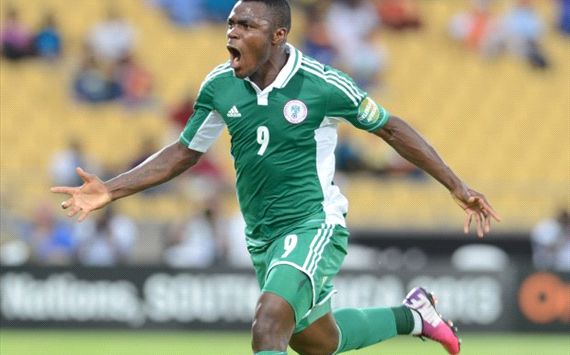 Emenike: Time on his side
At club level, Yekini's achievements are relatively sparse.
He won an Ivorian title at Africa Sports and was the Portuguese top scorer while representing Vitoria Setbul in the 1993-94 season. However, this represented his career peak. He struggled to settle at Olympiakos and gently drifted away from the limelight.
Emenike, by comparison, won the Turkish TFF First League, the country's second tier, in 2010, the year in which he was also named as the division's finest foreign player. Despite sterling efforts, his Spartak Moscow side were just pipped to the Russian title in 2012 and thus he has still never won a major club honour.
Now installed at Fenerbahce, however, this may soon change. The club currently sit atop the Turkish classement, four points ahead of Kasimpasa, and, crucially, nine points ahead of bitter rivals and reigning champions Galatasaray. In a year's time, Emenike may have equalled—if not exceeded—Yekini's club honours.
Finally, and most crucially, we consider their records with the national side.
Yekini was part of that iconic Super Eagles generation that conquered Africa in 1994, the year in which the forward was also the tournament's top scorer and its outstanding individual. This incredible tournament effort also came on the back of his admirable effort in 1992, when, aged 28, he scored four to take home the golden boot.
Emenike can match two of these four achievements.
He too has conquered the continent as part of a memorable Nigerian generation, although naturally, only time will tell if Stephen Keshi's current crop can replicate the aura and legacy of 1994. Similarly, he too was the tournament's top scorer and, like Yekini, scored crucial goals at crucial times in crucial contests.
What Emenike can not yet claim, however, is Yekini's consistent tournament scoring form, nor his irrepressible impact.
However, was the first leg against Ethiopia a window into the future?
His brace against the Walias, goals which changed the complexion of the tie, demonstrated not only fantastic technical prowess, but also a maturity, a renewed intensity that allows him to assert himself upon contests and decide matches in the Super Eagles' favour. It was a performance not dissimilar to some of Yekini's individual endeavours back in '94.
One final, crucial, difference between the two men at this point in time is their World Cup participation.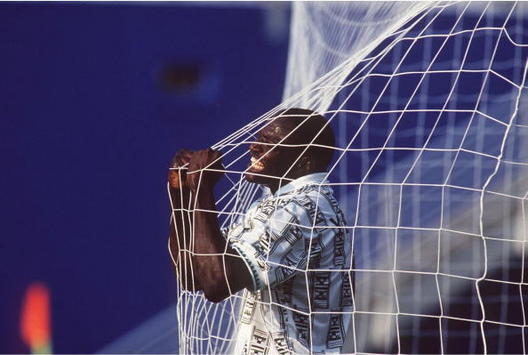 The net was only days away from retirement...
In the USA, only months after that wonderful Afcon triumph, Yekini was one of the stars of the globe's grandest sporting occasion. He bagged Nigeria's first-ever World Cup goal (in the 3-0 demolition of Bulgaria) and proceeded to entrance a nation with his gloriously passionate, net-tearing celebration.
Emenike had not yet been capped when Lars Lagerbeck picked his squad for the 2010 World Cup in South Africa, thus, his potential participation in 2014 would be his first invitation to international football's high table. Considering his current form, and particularly his impact in Addis Ababa, I wouldn't be surprised to see the former Delta Force man replicate Yekini's electric showing, twenty years on.