EXCLUSIVE
By Nana Frimpong
Before 2012, he was no more significant than the average man we see down the street without so much as a greeting. Fast-forward a year or so, and he has become a fully-fledged celebrity; the one personality in the African game who a lot of media houses have desperately sought audience with.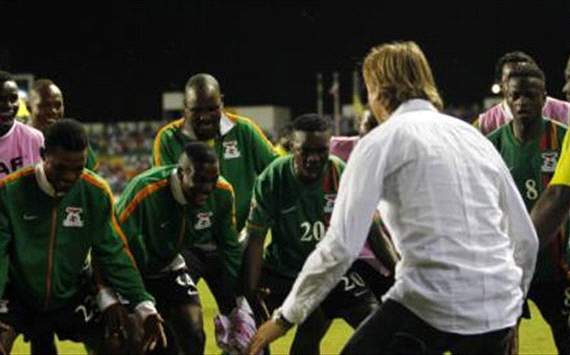 HAPPY MOMENTS | Renard led Zambia to win their first Afcon title in 2012
He is Herve Renard, the 44-year-old Frenchman who masterminded Zambia's shock triumph at the 2012 Africa Cup of Nations in the face of odds stuck heavily against his team and himself.
To many African football observers, Renard is a novice in managerial circles, with Zambia being the most high-profile job he has handled thus far. In the 14-year period his career has lasted, however, he has worked with eight different sides located on three continents. Somehow, though, he has successfully carved a niche for himself wherever he has worked, be it in England, China, Algeria, or his native France.
"No one country is like the other, and thus the need to adapt wherever one finds himself. Besides, each place provides an opportunity to learn something refreshingly different," Renard explains to Goal.
In spite of the vast working experience he had garnered prior to accepting an offer to work in Africa, Renard maintains the challenge to work on the continent as an assistant coach with Ghana struck as peculiar and thrilled him no end.
"I was excited, of course. I am never apprehensive. I love my job because it is my passion, irrespective of where it takes me. I figured this (the Ghana offer) could become my big break as the sheer magnitude of that country's football dawned on me while I followed the Black Stars' exploits at the 2006 World Cup. Hence, it was a fantastic opportunity for me and many thanks to Claude [Le Roy] and the president of the Ghana FA [Kwesi Nyantakyi) for extending such a great privilege to me."
FAMOUS EXPATRIATE COACH
Le Roy is perhaps the most famous expatriate coach in African football. Indeed, the bespectacled Elton John look-alike has been a recurring theme in his countryman's career. It was Le Roy who, as Ghana coach before and during the Nations Cup edition hosted by the west African country in 2008, invited Renard to help out with his team's technical duties. The pair had worked together earlier at Chinese side Shanghai Cosco as well as at Cambridge United, an English lower-league outfit, and established a long-lasting rapport that would see the older man assist the younger in learning the intricately intertwined ropes of African football. Renard explains the relationship between himself and Le Roy thus: "I have to thank God every day to have met him. He is a great man, a second father to me, as it were. We still speak on the phone albeit on an irregular basis. Each time we speak, though, I learn something worth keeping in mind."
| | |
| --- | --- |
| Well, I have always felt I would seem a bit formal and too serious were I to go strictly sartorial as other coaches do. Besides, some claim my head looks quite big as it is already, so imagine how so much worse it would appear were I to dress up in a suit | |
Le Roy is something of an institution in African football, having worked extensively across the continent in a period that spans as far back as the mid-eighties. Ambitious as Renard is, he certainly is desirous of emulating his mentor, yet even he is not left unfazed by the enormity of the shoes he wishes to walk in.
"He [Le Roy] has featured in as many as seven Afcons as head coach. He won the 1988 Nations Cup with Cameroon, having lost a final at the previous edition of that tournament with the same side," Renard admits, before adding with a sly grin: "That said, I would like to beat his record. Not to be better than him, of course, simply out of respect for him. Without him I might never have been ushered into this amazing footballing continent. I might, at present, have three Afcons participations under my belt as manager, and another as an assistant, but I obviously have a long way to go to match Le Roy's achievements in that regard."
In the build-up to CAN 2008, Renard endured what he describes as his nadir while working with Ghana: an infamous 5-0 loss to Saudi Arabia that Renard blames squarely on the fact that the Black Stars were required to play their opponents within hours of their arrival after a long flight.
And his definite high point of that era?
"That certainly was the atmosphere at the venues where the Stars played their matches during the said Afcon. The fans were absolutely incredible!" he recalls with little fuss and lots of nostalgia.
AFCON 2008 EXPERIENCE
The Afcon itself did not end well for the Ghana team. That fine Ghana side, in spite of some memorable performances, failed to deliver a fifth African title, something that leaves Renard bemused and regretful even till now, if the bitter look on his face as he seeks to provide an explanation is anything to go by.
"That team was very strong and well-prepared. Regular captain John Mensah missed the semi-final after the sending-off he received against Nigeria yet the team had dominated the entire match. Only in one swift counter-attack did Cameroon - Ghana's opponents on the day - score with the solitary real opportunity it had to claim victory. It was all so unreal.
"In football, a team needs to be efficient to succeed. On that day we simply weren't and, quite unfortunately, it cost us."
At this point, Renard is eager to draw the curtains on this rather unpleasant subject, and so we move on to one of mutual interest: working as an expatriate coach in Africa.
Goal points out to him that not everyone has warmed up yet to that concept, in spite of the huge successes others have enjoyed while at the helm of African national sides. Renard, however, is quick to negate the logic in that argument by claiming the situation on the ground is not really so and, even if it were, he had not encountered such opposition himself. Instead, he is full of praise for Africa, its people, and its beautiful game.
"In Africa, more than anywhere else, you are required to earn the respect of the people, especially if you are a 'foreigner'. The reception has always been very good for me in all four countries where I have worked. Above all, I love the smile of the people in Africa which radiates from a big, appreciative heart."

One place where Renard has enjoyed plenty of such love and heartfelt appreciation is his current station, Zambia. In his two spells in charge of the Chipolopolo - interspersed by brief stints with the Angolan national team and Algerian club USM Alger - Renard has won over an entire nation as much with his charm as with his technical acumen.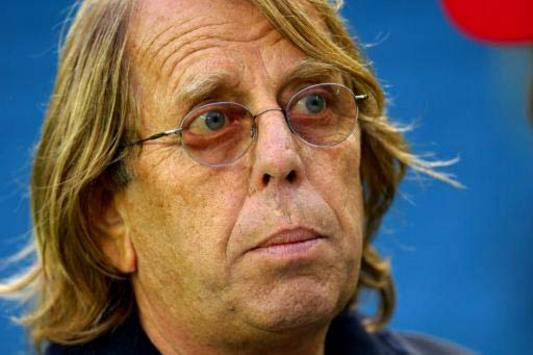 LE ROY | "I have to thank God every day to have met him. He is a great man"
THE ROAD TO ZAMBIA
During his first term in charge, specifically in 2010, he led Zambia into the Nations Cup's last eight for the first time in 14 years. On his next appearance at the Afcon with the copper-rich nation, Renard achieved a feat surpassingly incredible. In what is still regarded one of the most upsetting coups in Nations Cup history, Zambia embarked on a path to unforeseen glory that ultimately saw them topple Ghana and the Ivory Coast - Africa's top two sides at the time - in the semi-final and final respectively. The post-finale images of a beaming Renard carrying injured defender Joseph Musonda so he could join in on the celebrations and collect his winners' medal splashed across TV screens worldwide.
Yet while the rest of Africa still considers Zambia's victory as a barely explicable phenomenon or a fluke of some sort, there is little doubt in Renard's mind what the secret to that epic success was.
"The spirit of that team really made the difference and I was fortunate to coach a Zambia squad bursting with fantastic players who oozed confidence and possessed commitment in abundance."
There is another influence that Renard partly credits his success to without much hesitance: Kalusha Bwalya, arguably the biggest export of Zambian football and their current FA president.
"To say that Zambia football is Kalusha Bwalya is an understatement," he gushes. "Wherever Zambia is mentioned in the world, football-loving people would instantly think of Kalusha. The 2012 team certainly regarded him as a model and symbol of national pride. They never disappointed him and, of course, he was with us every step of the way. Personally, I relate with him quite well, and I have every reason to do so. He appointed me on the recommendation of Claude Le Roy and I believe I haven't given him cause for regret."
Later that year, Renard was named Caf Coach of the Year, an award he dedicates to "several other people" who had a hand in that memorable Afcon victory. In the years that have followed that success, though, Zambia have struggled to maintain the high standards set in 2012, dropping out of the subsequent Afcon's group stages and also failing to progress beyond the second phase of 2014 World Cup qualification. Goal asks Renard whether he regrets not departing at the end of CAN 2012, when the applause was loudest, and he replies with mixed sentiments.
"Honestly, after a big success, I think it is often better to leave and go for new challenge," Renard initially concurs, but switches to defensive mode before long. "We didn't lose even once at South Africa 2013. We contested the same group as the eventual finalists. And, in the World Cup qualifiers we were beaten to top spot by Ghana, a very fine side indeed, mind you. I do not think it was because we were not good on either occasion. I always insisted after CAN 2012 that we were the best at that tournament, not necessarily the best team in Africa overall."
EXPATRIATE v LOCAL COACHES
The conversation reverts to the lingering issue of expatriate coaches versus their indigenous counterparts, and Goal inquires from its guest if he sincerely believes the latter can ever prove truly as capable as the former. Renard responds in the affirmative, and explains why.
"Everyone can be equally capable, be they black or white. All that is required is determination and intelligence. A coach can learn something all the time; he only needs to be curious and determined to do so. Football never places one race over the other."
The local coach, as Renard highlights, needs to have an open mind. He needs to travel and learn the new techniques of training. The Frenchman acknowledges, however, that there are some coaches in Africa who have distinguished themselves and singles out three-time Nations Cup-winning coach, Egyptian Hassan Shehata - a figure who Renard describes as a "big man and a big coach" - as the best of the lot.
After having his say on African coaches, Renard now turns attention to African players. He has worked with quite a few, among them big names like Ghana's Michael Essien and Zambian skipper Christopher Katongo, and has likely seen enough to draw up a brief, fairly accurate profile of the stereotypical African footballer.
"African players are born with lots of skill, speed and vivacity. They just have to learn how to be proper professionals."
Any obvious deficiencies, though, Renard? "Yes, most have diet issues," he opines, before explaining with a slight tinge of humour, "Too much Coca-Cola."
Almost as soon as Goal prepares to skip talk about his footballing career which we had perceived as one of the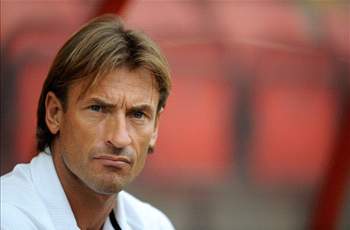 "I want to reach the highest possible level in the world. Today it is the Uefa Champions League and the World Cup"
less fascinating facets of his life, Renard surprises us with some details that make our ears perk up suddenly with rapt attention.
"I played for the French national U17 team with Marcel Desailly and Didier Deschamps, usually at centre-back or in central midfield. I featured once in the French championnat for AS Cannes, the club in whose academy I played alongside Zidane."
Before long, the conversation switches to a topic we had touched on earlier: Ghana.
Not more than a week before this interview, Renard had watched Zambia lose 2-1 to his former employers in the final Brazil 2014 Group D game when the Chipolopolo required all three points on offer to make progress ahead of the Black Stars. Never a sore loser, Renard gracefully concedes defeat while simultaneously praising the efforts of his charges on the day.
"Overall, Ghana deserved to go through. That notwithstanding, I am proud of our second half performance in that last game, coming at a venue (Kumasi) where it is especially difficult playing the Black Stars."
Renard also had some kind words for his opposite number on the said day, coach Kwesi Appiah, with whom he worked briefly in assisting Le Roy before his (Renard's) exit. Appiah, however, does not qualify as the most challenging opponent Renard has had to contend with.
CHAMPIONS LEAGUE DREAM
Who is it, then, sir? "Actually, none I have come up against already has earned the 'toughest opponent' tag. Whoever he is, I am yet to find him. Perhaps I would when the day comes that I coach a side at the Fifa World Cup, who knows?"
Speaking about World Cups, Renard talks up Ghana's chances, expressing unreserved belief in the country's ability to secure qualification ahead of its final challengers, Egypt, and actually making an impact at the Mundial, perhaps even shining brighter than they did at the last edition in South Africa.
His ambitions. "I want to reach the highest possible level in the world. Today it is the Uefa Champions League and the World Cup," Renard says, before concluding with a determined, authoritative "This is my target."
Renard doesn't necessarily desire to realise those goals (particularly the World Cup part) with sides outside Africa. In fact, as he puts it, he wishes to work on the continent for as long as he can find a good job somewhere.
"Africa gave me the chance to debut as head coach at a very big footballing event (the Afcon). I like Africa and, really, I do not have anything like a career itinerary. If nobody wants me here, I would readily go somewhere else. I will get what I deserve."
Much as his love for Africa burns ever so wild at present, that Renard mentions his country of origin, France, as his favourite football nation means he would probably rather fulfill his World Cup ambitions with Les Bleus than any of Africa's national sides, while he'd absolutely relish Champions League success with one of Arsenal or Paris Saint-Germain, his favourite English and European club respectively.
Renard states that he models himself after Chelsea manager Jose Mourinho's style. He specifically admires the Portuguese's 'blend of strength and intelligence' and actually describes him as 'the best' there is around, but says he appreciates Barcelona's philosophy and that he would readily accept the job of Ghana coach if ever it was offered to him. He also dismisses critics who accuse him of being brash, arrogant and a talkative as simply 'jealous' observers who could be right in their negative assessments of him but maintains he cannot be liked by everyone. Renard also names Yaya Toure as Africa's finest footballer at present per the criteria of consistency alone while he regards Stephen Keshi as Africa's finest coach by virtue of his success at the last Nations Cup.
PRIVATE LIFE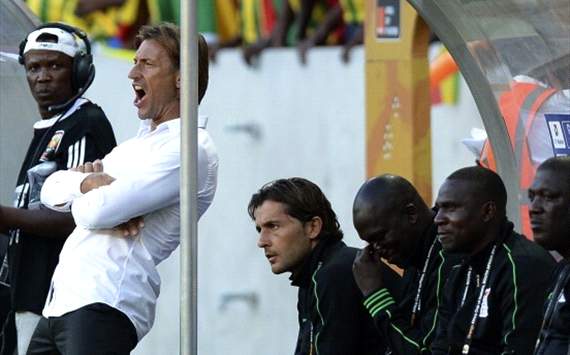 THE LADIES MAN | Renard says: "I might or might not be the most eligible bachelor"
For the coveting ladies, here is a little message from the dashing blond, preceded by a knowing smirk: "I might or might not be the most eligible bachelor on the market. I'd rather keep that bit of my life (my relationship status) private. Do work that out, would you?"
Just before we conclude, though, I recall the one subject this session simply wouldn't have been complete without: Renard's intriguing fashion sense evidenced in his regular touchline dress code that consists of no more than a white long-sleeved dress shirt and blue denim pants.
"Well, I have always felt I would seem a bit formal and too serious were I to go strictly sartorial as other coaches do. Besides, some claim my head looks quite big as it is already, so imagine how so much worse it would appear were I to dress up in a suit."
And what about talk of you being some Johnny Bravo (the hunky Cartoon Network character whose daily apparel remains unchanged) with your wardrobe stocked with several sets of identical clothing?

"Truth is, I have so many white shirts and jeans. Just look properly. They seem the same but they really are anything but that. And there is no superstitious story behind my preference in clothes. Journalists only create those."