SPECIAL REPORT
By Clark Whitney
Bayern Munich may have completed the high-profile signings of Mario Gotze and Thiago Alcantara this summer, but there is one player who, despite his desperate attempts to complete a move to Bavaria, did not quite make it: Dortmund striker Robert Lewandowski.
For months, Lewandowski attempted to engineer a move away from Signal Iduna Park as many of Europe's powerhouse clubs sought his signature. The Poland international later revealed that he turned down interest from Chelsea, Manchester United and Real Madrid, but BVB flatly refused selling him to his club of choice, Bayern. And, after a long and drawn-out transfer saga, it was concluded that Lewandowski will remain at Signal Iduna Park for another year.
There is no denying that the Pole was absolutely desperate to join Bayern this summer. As early as April, his agent revealed an agreement with an "unnamed club," which later proved to be the Bavarians.
Having already been forced to sell Gotze to their rivals, who activated a €37 million buyout clause, Dortmund could not risk the blow to their image that would come with selling a second key player to Pep Guardiola's side in the same transfer window. Lewandowski's contract included no release clause, and therefore BVB were not compelled to sell him as they were in the case of Gotze. But the coveted striker's contract had only a year left, meaning that retaining his services for another season would have come at a forfeit of a transfer fee believed to be around €25m.
It was a situation that had no ideal outcome for the Champions League runners-up: instead of garnering a sizable transfer fee for his switch, BVB opted to retain Lewandowski's services until he leaves on a free transfer at the end of June, 2014.
Although his unveiling will not officially take place until next summer, Lewandowski's move to Bayern is official. Dortmund coach Jurgen Klopp and Bayern chairman Karl-Heinz Rummenigge confirmed this much in July.
With his long-term future set in stone, the question remains: What happens now for Lewandowski?
The player's agent, Cezary Kucharski, appeared to burn all bridges for himself and his client at Dortmund as he did everything possible to force a move this summer. The player even accused BVB's management of turning back on a promise to sell him at the end of last season.
Even in the same interview in which he accepted that he would honour his contract at Signal Iduna Park, Lewandowski admitted he was "astonished at how [BVB were] treating [him]." In July, a big question mark still existed as to whether Lewandowski would be willing to put forth the kind of effort that brought him world-class status over the previous two seasons. He had, after all, already reached a binding agreement with Bayern.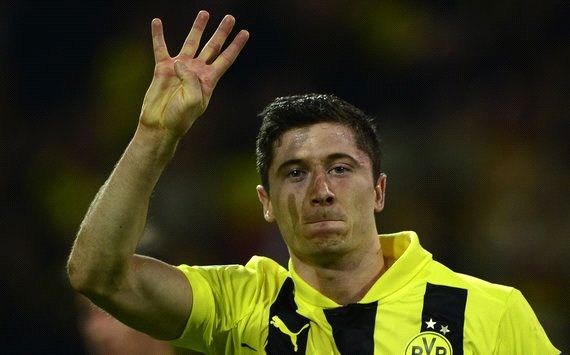 Four-gone conclusion | Lewandowski is set to join Bayern next summer
As of late, however, the turbulence of Lewandowski's transfer saga has died down. In August, the player admitted that "everything's been cleared up," between himself and the club. That may have been prompted by BVB tripling his salary from €1.5m to €4.5m. Lewandowski's wages are still pennies for a player who scored four goals against Real Madrid in the Champions League semi-finals, but the move was nonetheless a sign of good will given that it came with no additional expectation from the player.
The 25-year-old has had a generally positive reaction to his temporarily delayed transfer to Bayern. The striker has scored twice in four Bundesliga matches, and most importantly, BVB have won all six of their competitive matches this season. So far, there are no complaints from either side.
Dortmund are well-prepared for any dip in Lewandowski's form and for the striker's eventual departure, with Pierre-Emerick Aubameyang - a summer signing from Saint-Etienne, who already appears to have captured the hearts of BVB supporters with a stunning Bundesliga opening day hat-trick - a perfectly capable deputy. But the versatile Gabon international has featured exclusively on the wing this season as Lewandowski has retained his starting role.
What initially looked like a possible disaster seems to have been averted. Although disappointed not to have moved to Bayern, Lewandowski has acted professionally and given Dortmund his best effort. And for his cooperation, BVB have been generous enough to keep him in his starting role and given him a generous pay raise.
No matter how well this campaign goes, however, one thing is for sure: Once the season ends, Lewandowski will be a Bayern player.
Follow Clark Whitney on