ANALYSIS
By Ed Dove
Only last Friday I wrote about Victor Moses and his changing status at Chelsea. The additions of Samuel Eto'o, Willian and Andre Schurrle, added to the returning Romelu Lukaku and Kevin de Bruyne, not to mention the continued presence of Oscar, Eden Hazard and Juan Mata left Moses with little in the way of a tangible role for Jose Mourinho's Blues.
I expressed concern that, in signing Eto'o, Chelsea were celebrating Africa's past at the expense of its future. In my closing paragraph I recommended that Moses waste little time in heading to Mourinho's office to demand a move to "pastures new".
The intervening three days between then and now couldn't have gone much better for the young Nigerian. Yesterday he was spotted at Anfield, sitting amidst other new recruits, and today his switch to Merseyside has been confirmed.
The move is not a permanent one, and a year-long loan deal gives the young Nigerian the opportunity to enjoy a year of Premier League action in the knowledge that his bridges are not burned at Chelsea.
Indeed, some of Mourinho's assembly of rich attacking and creative talents are likely to fall by the wayside over the coming 12 months.
Mata, for example, is still to receive the glowing commendation of his new boss, Eto'o and Frank Lampard, for all their prestige and prodigious abilities, are heading towards their career finales, while Demba Ba and Fernando Torres are unlikely to enjoy long and prosperous futures at Stamford Bridge.
There is no reason why Moses cannot impress at Liverpool, and thrive enough to earn himself an extended existence in West London.
I, for one, anticipate a big year ahead for the 22-year-old winger.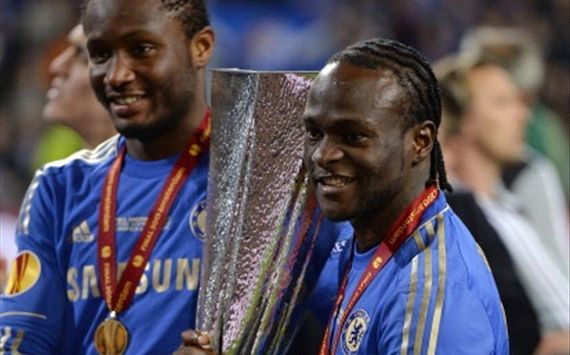 Moses celebrates Europa League glory with Chelsea
Liverpool, following years of malaise and ugly—if unfortunate—publicity, appear to be a team on the up.
That isn't a naïve comment born from an overestimation of their impressive early season start (the Reds currently sit atop the Premier League and remain the only side to retain a 100% record), nor is it a starry-eyed assessment following their comfortable home victory over fierce rivals Manchester United.
Young manager Brendan Rodgers has seen his stock rise this summer following some astute and canny responses to the antagonistic Luis Suarez, he is building a versatile and exciting squad, and enjoys the support of the Liverpool fans—despite some occasionally cringe-worthy outpourings.
I am particularly impressed with the bravery Rodgers has shown in some of his transfer dealings.
LFC fans may have been disappointed to have seen long-serving goalkeeper Pepe Reina shown the door—particularly in the fashion he was—but the reality is that the Spaniard was growing ever-more error-prone, and his replacement, the Belgian Simon Mignolet, is one of the Premier League's brightest stoppers.
His signings, as well, have been promising and, as with his sales, courageous. Philippe Coutinho and Daniel Sturridge were, for different reasons, damaged goods upon their arrival at Anfield. Many feared the former was too lightweight for the Premier League, while questions surrounded the latter's maturity, application and team ethic.
Few have those doubts any more, as the pair—particularly in light of Luis Suarez's enforced absence—have emerged as key players. Together, they are one of the Premier League's more potent attacking combinations.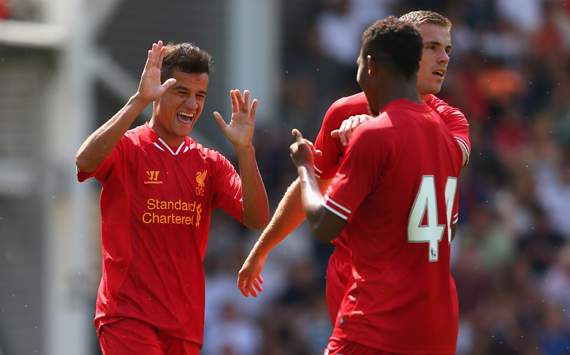 Coutinho: One of several elite new teammates
The perception that Liverpool are a team on the up has been perpetuated by Rodgers's actions during the final days of the transfer window.
French international Aly Cissokho, brought in on loan, is a defender of some pedigree, while his international colleague Mamadou Sakho is a genuine "marquee signing" who would enjoy a much greater profile within the game were it not for the changing face of his former club Paris Saint-Germain. The acquisition of young Portuguese centre-back Thiago Ilori is another example of Rodgers's encouraging vision for the club's future.
Moses might just be the pick of the bunch.
Unlike many players who will change clubs this summer, Moses is neither taking a major step down after being outgrown by his former club (such as Tottenham exports Scott Parker and Tom Huddlestone), nor is he requiring a period of adaptation having taken a huge leap up from lowly surroundings (an example being Arsenal's Yaya Sanogo or even Manchester United's Wilfried Zaha). He is a player coming off the back of the best season of his career, having won the Europe League and the Cup of Nations, and will now have the added incentive of proving to Chelsea exactly what they are missing out on.
His arrival at Anfield offers Rodgers a multitude of attacking options. In this season's Premier League games to date, the Northern Irish boss has opted for either a 4-2-3-1 formation or a 4-3-3, with Steven Gerrard and Lucas Leiva joined centrally by Jordan Henderson in the latter, or marshalling the centre of the pitch on their own in the former set-up.
Iago Aspas has taken the Number 10 spot behind Daniel Sturridge, leaving Coutinho and Henderson to operate on the left and the right respectively. The addition of Moses and the impending return of Suarez could see Rodgers employ the Nigerian and the Englishman on either flank, with Coutinho playing behind the troubled Uruguayan.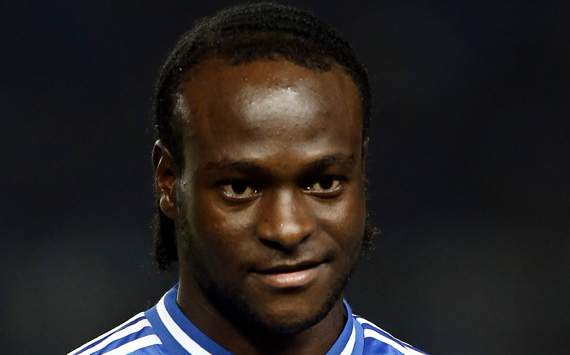 Moses: A point to prove on Merseyside
Such a delicious forward line would be the envy of many of the Premier League's other sides and could be capable of catapulting Liverpool into the Promised Land of the Top Four.
Either formation would not be too far from Stephen Keshi's favoured tactic with Nigeria and would allow Moses to hone his skills both as a left winger primed to stretch the field of play and torture opposition full-backs, and as an auxiliary forward, able to feed off the creative work of Coutinho and Suarez and provide an additional goal-threat for the Redmen.
Whichever option Rodgers chooses—both are far superior to sitting on the Chelsea bench, kicking his heels alongside John Obi Mikel!
Moses, Liverpool and Nigeria can look forward to an exciting season and a propitious new beginning for the Super Eagles' golden boy.