ANALYSIS
By Ed Dove
Following all of the hype, all of the magnificent performances and the many reams of speculation, Godfrey Oboabona's eventual move to Europe was a bit of an anti-climax.
In the end, the club that secured the centre-back's signature wasn't a North London giant, it wasn't another established Premier League side, Newcastle; it wasn't Bastia, of Ligue 1, nor their fellow French clubs, Lille and Rennes.
It was Caykur Rizespor.
The Black Sea side are based in the Turkish city of Rize, on the country's Northern Coast. The city has a population of just over 100,000. The team, founded in 1953, have little in the way of notable history and have only spent roughly a fifth of their existence in the top flight.
Their 15,000 Yeni Rize Sehir Stadi is only slightly bigger than the Sunshine Stars' Akure Township Stadium.
The club lack the glamour and the status of some of the other names to have been connected to Oboabona. 'Caykur' is a Turkish tea company—fine for a sponsor, perhaps, but unlikely to inspire too much passion as an identity to battle behind. The team don't merely boast the name of the tea company, they also feature their snazzy tea leaf design on their badge.
It's hardly a roaring lion or a soaring eagle now, is it?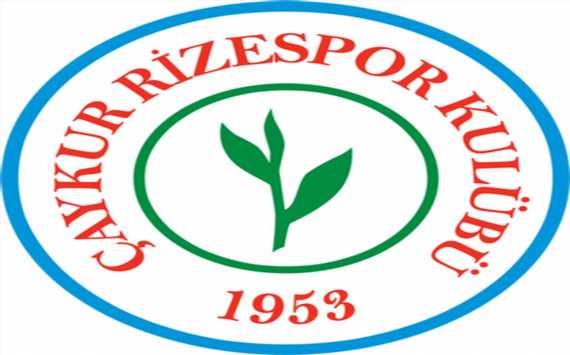 Tea leaves: The Rizespor Logo
The perception is that Oboabona's finest destination isn't as elevated or as prestigious as it might have been. We talked of a palace and received a pigpen.
Earlier in the month I wrote of the potential promise of a link-up between Oboabona and Arsenal. British newspaper The Sun reported the defender's discontent at having been called to trial at the club before sealing a deal to the Gunners.
Despite the alleged disagreement, the potential transfer could have had benefits for both player and club, as well as the Nigerian national backline.
Oboabona has been one of the primary success stories of Stephen Keshi's revolutionary overhaul of the Super Eagles and has proved himself to be a mature and able senior partner in his convincing double act with Kenneth Omeruo.
His expert marshalling of Didier Drogba in Nigeria's emphatic Cup of Nations Quarter-Final victory over Cote d'Ivoire will not have gone unnoticed in the hallowed hallways of the world game.
While the unlikely pairing of Per Mertesacker and Laurent Koscielny managed to achieve a semblance of security in front of Wojciech Szczesny, the duo don't necessarily convince as a long-term solution. Beyond them, Arsene Wenger lacks the depth to truly challenge the upper echelons of the Premier League and reinforcements are required—particularly considering the recent departures of Johan Djourou and Sebastien Squillaci.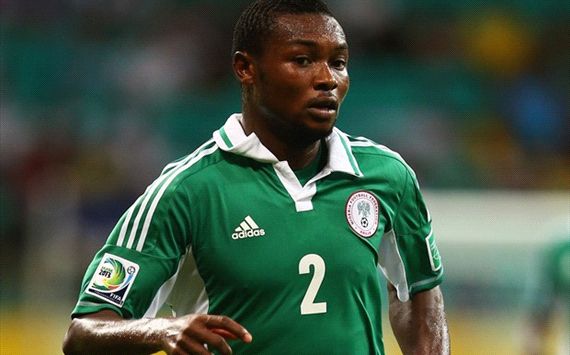 Oboabona: Taking on the Number 2
There is no reason why Oboabona couldn't have been bled into the Arsenal side, have taken a year to adapt to the rigours of the Premier League, before stepping up to claim a spot in the first eleven in the near future.
Similarly, he could have played a role at Spurs, who instead look to be closing in on 23-year-old Romanian stopper Vlad Chirches. At any one of the aforementioned French clubs, Oboabona would have been expected to have readily stepped into a pivotal position. Stade Rennais, for whom Nigerians Onyekachi Apam and Ejike Uzoenyi currently feature, might have been a very appealing option.
Instead he heads to Caykur Rizespor, to the Super Lig, and to Turkey. It may be, ostensibly, a disappointing turn of events for observers of the Nigerian game, but Oboabona seemed remarkably content by this outcome.
Speaking to BBC Sport, the Akure-born defender described his switch as a "dream" move and revealed his delight at having completed the transfer to Turkey.
While the move may feel a step away from his final, anticipated destiny, it may be that—in both the short and long term—the switch represents an excellent step for Oboabona.
At 23, he is still learning his game in the centre of defence and requires playing time to refine and perfect his abilities. The aforementioned Djourou, as well as Liverpool's Sebastian Coates, are two examples of central defenders whose careers have stagnated following excessive periods on the sideline. Injuries certainly took their toll in both cases, but misfortune and a lack of opportunity have meant that the players don't have the prerequisite practical experience to convince as Premier League centre-backs.
A move to Arsenal or Tottenham, for example, would not have guaranteed playing time, leaving Oboabona with the risk of missing out on some crucially formative years of experience.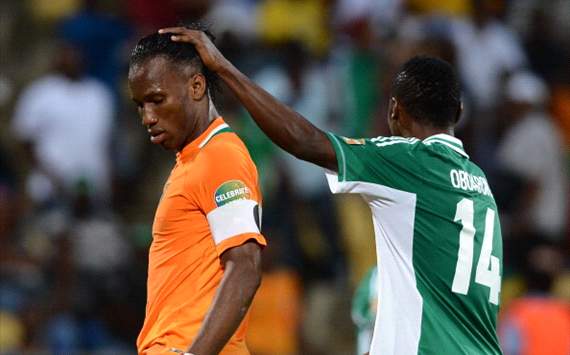 Oboabona makes his mark on Drogba
At Rizespor, the Nigerian should be able to begin to adapt to life in a European league while enjoying plenty of playing opportunity. He could quite feasibly emerge as one of the league's most complete operators while simultaneously improving himself ahead of future challenges.
And those challenges may still come upon a more exalted stage.
In the past, the Belgian and Dutch leagues have both been considered a 'stepping stone' to one of Europe's truly elite divisions; today, the Turkish league can be added to this list—firmly within the second tier of the continent's top flights.
Super Eagles superstar Jay-Jay Okocha once lay down the foundations of prosperous relationship between Nigerian players and the Turkish top division. Today, the league is swarming with talent all hoping to taste even an ounce of the adulation he received.
One can currently find Joseph Yobo and Emmanuel Emenike at Fenerbahce, Kalu Uche at Kasimpasa, Michael Eneramo at Besiktas, John Utaka at Sivasspor, Taye Taiwo at Bursaspor, Uche Kalu already at Rizespor, Isaac Promise at Antalyaspor, and many other further down the league pyramid. John Obi Mikel has been persistently linked with a switch to Galatasaray during this transfer window, and his arrival may well be forthcoming.
For now, Oboabona—who will take the No. 2 shirt at his new club—adds his name to this list, knowing, without reservation, that he is worthy of his spot in European football. Rizespor may not be the 'dream' location, but the Turkish Super Lig could well prove to be the ideal first step for a player primed to go on to great things.