ANALYSIS
By Ed Dove
Sone Aluko and Hull City have finally made it back to the Premier League. While they began life in the top flight with defeat to Chelsea, there are reasons for optimism in East Yorkshire, and the signing of Tom Huddlestone could mean great things for their Nigerian forward and the Super Eagles national side.
Speaking ahead of their opening EPL clash with Chelsea, Hull boss Steve Bruce expressed the need to provide constant and consistent support for his striker Danny Graham—newly acquired, on loan, from Sunderland.
Having endured barren spells in the past, with clubs such as Birmingham, Wigan and the aforementioned Black Cats, Bruce knows what not to do in England's top flight. Clearly, his years of Premier League experience have taught him not to leave a lone target man isolated and to encourage regular support and interaction between a forward and his teammates.
Now, there are three key ways of doing this.
The first, is to have support from the centre of midfield, perhaps a player more prone to play further forward, in support of the striker, or maybe one who is capable of running off the frontman, linking midfield and attack, and contributing energy and direction to the heart of the pitch.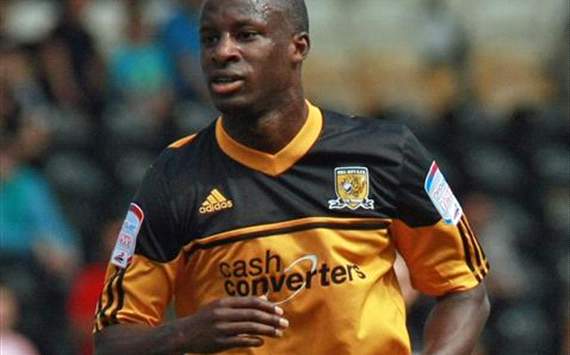 Aluko: A vital role to play
West Ham and Sunderland, for example, are two clubs who, over the course of the EPL's opening weekend, demonstrated a desire and a willing to support a lone frontman in this manner.
Secondly, one could encourage the frontman to drop deeper, linking with the midfielders, seeking the ball and operating more creatively. This, however, nullifies his attacking threat and reduces the pressure on the opposition centre-backs.
I imagine, however, that Bruce will opt to support Graham using the third key method—and this is where Aluko comes into play.
Instead of having midfielders who support the striker from central positions, I suspect Hull will look to offer soutien for Graham from the wide berths. The players who occupied the flanks on Sunday were both nominally strikers, but men capable of operating effectively from close to the touchline
Aluko is a versatile forward who excels in wide positions, while the newly acquired Ivorian Yannick Sagbo possesses raw physical skills, but also the mobility and technique to drift in from the flank and influence the action alongside Graham.
The two Africans could—in principle—be the ideal players for Bruce to employ in the 4-5-1-cum-4-3-3 formation he intends to use this season. Should Hull revert to playing three at the back, as they did at times during their emphatic Championship run last term, the pair are versatile enough to adapt.
Last week, Hull announced the £5million signing of Tottenham's Tom Huddlestone.
He is a player who could have a major influence on Aluko's fortunes and, I argue, an indirect impact on Nigeria's summer in 2014.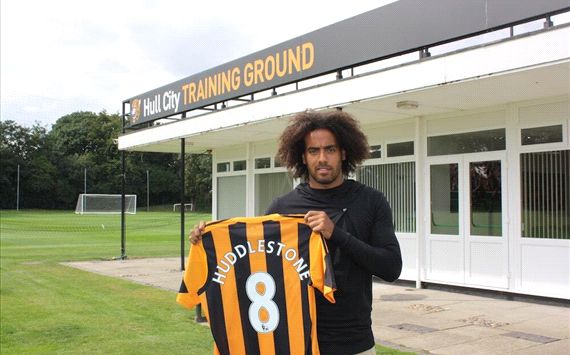 Huddlestone: Can he make a difference to Nigeria's summer in Brazil?
Huddlestone has long been a guilty pleasure of mine, and, as a Spurs fan, I was distraught to see him leave the club, even if, objectively speaking, it was a wise move.
The player is a throwback, and few, over the years, have embodied Tottenham's quest for glory and flair—at the expense of hard-nosed pragmatism—better than 'Hudds'.
He is a passer of the calibre of Lilywhites icon Glenn Hoddle, a deep-lying playmaker capable of keeping a side ticking along or changing the pace of a clash in an instant with a perfectly-weighted, perfectly-sighted 60 yard pass from one penalty area to the other.
He was a touch of class, majestic and refined, if a little sluggish and lumbering for the hurly-burly at the truly elite end of Premier League competition; a white knight on horseback, quenched by the quagmire of Ypres.
His debut against Chelsea—where he was introduced from the bench—showed how Huddlestone's presence changes the complexion of Hull's approach. His vision, his ingenuity, and his pitch-perfect technique unleashed the side's rapid wide men. No longer were Hull's attacks over before they had began, now they had direction and purpose. Chelsea's full-backs were suddenly reined in, their attacking instincts conflicted and their composure put to the test.
Against the better teams, Huddlestone's long-range vision and Aluko's pace and movement will provide Hull with an effective counter-attacking threat. Against the weaker sides, those with whom the Tigers will contest their Premier League existence, Huddlestone's composure will add structure, tempo and rhythm to the team, hopefully to the advantage of those ahead of him.
It doesn't take a huge leap of the imagination to realise how Aluko's qualities and current set-up at Hull potentially make him a valuable asset to Stephen Keshi and the Super Eagles.
Like Bruce, Keshi favours a midfield three with two versatile widemen-cum-forwards alongside, and in support of, a sole central striker. While I am keen not to draw comparisons for comparisons' sake, John Obi Mikel's work in the heart of midfield, as a static, ball-playing anchor man, is not dissimilar to the role that Huddlestone will likely go on to play at Hull.
Mikel lacks mobility, but has the vision and the technique, as well as the masterful ball control, to drive a team forward and inspire those around him.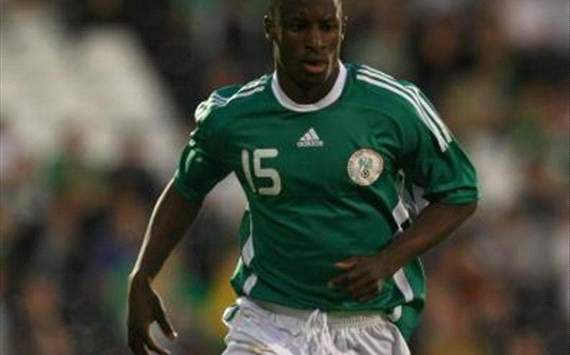 Aluko: Set to play a part at Brazil 2014?
Both men require terriers alongside them, ball-winners who will do the dirty work, put in the hours of running, and 'feed' their creative midfield partner. As Ogenyi Onazi has readily made this spot his own in the Super Eagles set-up, so Spurs loanee and England international Jake Livermore will surely seek to stamp his tenacious authority on the Tigers' midfield.
Mikel, like Huddlestone, can provide the long, raking, accurate passes to the feet of wide men in order to stretch the opposition and to offer a menacing attacking threat.
Similarly, Aluko has the capacity to play a similar role to that of Victor Moses during the triumphant Cup of Nations.
Both men can pull deep in order to create space and prompt movement among their teammates, each has the ability to hug the touchline and trouble full-backs with their pace and running, and they are likewise capable of cutting inside, supporting a striker and providing a lethal goal threat.
Hull's season will likely be long and arduous, but if Aluko can avoid the injury nightmare that derailed his last campaign, he can show himself to be a forward of immense quality.
Huddlestone will doubtless play a part in this revitalisation, and if things unfurl as I have described, don't be surprised to see Aluko take his spot in Keshi's plans sooner rather than later.