COMMENT
By Lolade Adewuyi | Chief Editor
Wednesday's Nelson Mandela Challenge between South Africa and Nigeria is set to be a top game between two of Africa's key countries. Since the 1990s, a form of rivalry has developed between both nations on and off the field.
Two years after Madiba's release from prison, when the Rainbow country was welcomed back into the international football community, both teams faced each other for the first time on the way to qualifying for the 1994 World Cup in the United States.
At the height of that golden era, the Super Eagles trounced Bafana Bafana 4-0 in Lagos and were denied a sweet victory in Johannesburg when Rasheed Yekini's goal was disallowed for a 0-0 draw in the return leg in Johannesburg.
That was to set the tone for the football relationship since, with the West Africans dominating on the field – five wins, one draw and a single loss that came in the 2004 Nelson Mandela Challenge.
The tone of football matches between Nigeria and South Africa has long been influenced by politics outside the pitch. With Nigeria refusing to defend the Africa Cup of Nations title it won in 1994 at the edition hosted by South Africa in 1996, due to frosty diplomatic relations, Bafana Bafana emerged as a force to reckon with on the continent.
There are many people who point to that period as the key moment when the fortunes of both countries began to unravel. Bafana's stock rose as they hosted and won the tournament while the Eagles began to experience a decline that would last 19 years before they returned to the pinnacle of African football, in ironically, the same country where they refused to play back then.
Every now and again, relations between both countries are put in the balance.

After the Sani Abacha-Nelson Mandela diplomatic rancour over the extra-judicial killings of Ken Saro-Wiwa and the Ogoni minority rights activists in 1995, both countries have had a few more diplomatic spats.
In 2008, the Umar Yar Adua government spoke out against Thabo Mbeki's handling of the xenophobic attacks against Nigerian and other African immigrants in South Africa. In 2011, another diplomatic row ensued as 125 Nigerians were denied entry at the OR Tambo Airport for not possessing proper yellow fever vaccination certificates, for which Pretoria later apologised.
However, the relationship between both countries has been more than the above. Nigeria serves as a large market for South African companies who, since the end of apartheid, have thrived doing business in Africa's most populous country.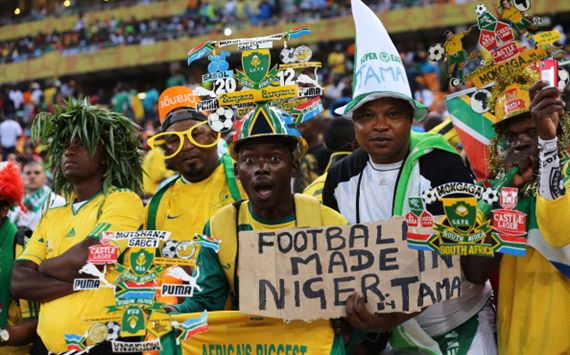 South Africa and Nigeria fans united
While Nigeria's economic prowess is not that huge across the divide, it has increasingly exported cultural products like its movies and music to South Africa where its stars are household names. Lots of Nigerians also live, love and thrive among South Africans. Scores of young Nigerians enter the country every year in pursuit of educational degrees and professional capacity building. The country's highly developed tourism sector also attracts lots of Nigerians who spend big to visit the Rainbow Nation.
Wednesday's game comes 21 years after both countries first made contact at international football level and must be used as a platform for building greater ties. While Nigeria has been more successful in football (in terms of trophies won and the number of talent playing in top clubs around the world), South Africa has shown excellence in the business of sport with its successful hosting of the 2010 World Cup among other international sporting events.
While one encourages healthy rivalry between our two great nations, it's important that we find ways to learn from each to create growth on both sides.
As we celebrate the great Nelson Mandela who, in his 95th year, looks increasingly larger than life, we need to ensure that his life work is preserved by a continuous propagation of positive messages that will benefit our continent.
South Africa and Nigeria remain key countries in the continent's long walk towards economic freedom and political justice, we must remain allies in the fight for Africa's growth. It would be Mandela's wish too.