The Nigeria international has seen his dream come to fruition with a return to Fenerbahce two seasons after he left without playing a game for the Yellow Canaries
ANALYSIS
Babajide Alaka | Deputy Editor
It is now official that Super Eagles and Spartak Moscow striker, Emmanuel Emenike has made a return to Fenerbahce after their €13 million bid was approved by the Muscovites.
"My dream is to play for Fenerbahce at the Sukru Saracoglu Stadium," Emenike had told Turkish-football.com last week, and now that dream has come to pass.
The situation is almost like the proverbial prodigal son who returned home to much fanfare and for whom the fatted calf was slaughtered. Though, Emenike did not fritter away his inheritance in Russia, he is supposedly swapping the cold of Russia with the Mediterranean weather of Turkey.
Emenike said he wanted to return home even before Fenerbahce agreed to pay €13 million for the player they sold to Spartak in 2011 for €10 million and now he has his wish but is this the right career move for the 26-year old?
SEASON BY SEASON STATS
| | |
| --- | --- |
| | EMMANUEL EMENIKE | GOAL SCORING STATS |


MORE ON
EMMANUEL EMENIKE


| | | | | | |
| --- | --- | --- | --- | --- | --- |
| Club | Season | Games | Subs | Booked | Goals |
| Spartak | 2009-2010 | 27 | 2 | 2 | 16 |
| Spartak | 2010-2011 | 23 | 1 | 3 | 14 |
| Spartak | 2011-2012 | 24 | 2 | 3 | 13 |
| Karabukspor | 2012-2013 | 22 | 6 | 0 | 8 |
| Karabukspor | 2013-2014 | 4 | 2 | 0 | 3 |
| Total | | 100 | 13 | 8 | 54 |
| Nigeria | 2001 -2013 | 8 | | | 5 |
While it is every man's prerogative to dream and a joy to see dreams become a reality when they are infused with passion and desire, there are also dreams that can ultimately become nightmares.
Emenike has come back very strongly from two major injuries this year and that clearly shows the desire of the man to become one of the best in his trade but we have to ask - will the move to Turkey be football-wise?
Every professional hopes, prays and works to breach the nadir of his career and Emenike is no different but when a move is on the cards, it is best to explore the hazards and benefits without imputing any emotions.
Yes, Fenerbahce can claim (really there are no stats to prove) to be a bigger club – that is they are always challenging for the league title in Turkey and playing every season in Europe - either in the Champions League or the Europa League, a competition in which they got to the semi-final last season but that record is almost identical to that of Spartak.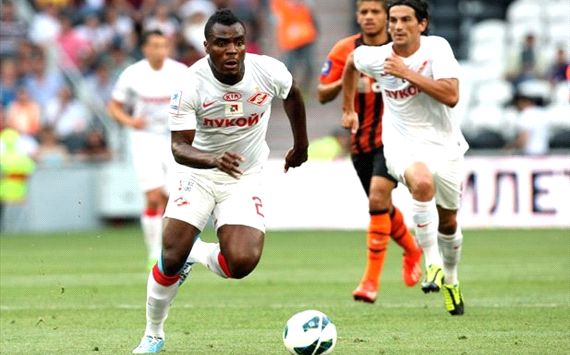 EMMANUEL EMENIKE WAS A SUCCESS AT SPARTAK MOSCOW

So what will Emenike gain on returning to Turkey?
Let us look at his two-year career in Moscow with Spartak and a point that jumps straight at you is that his stock has definitely increased. Fenerbahce signed Emenike from Karabukspor for €9 million in 2011 but the Nigeria international was sold to Spartak for €10 million without playing a single game for the Yellow Canaries and now he is back for €13 million – for a Nigerian nay African striker, that is a humongous amount.
He has won the league and played in the Champions League, playing and scoring against the likes of Celtic and Barcelona. He has gone on to represent Nigeria at the Nations Cup where he led the Super Eagles with four goals in five matches.
One good fact about being in Russia is that they have a winter break that bodes well for the recovery of the player, especially in a World Cup year. We have heard so much about the burnout suffered by English players in the Premier League because they do not get a winter break.
The winter break was good for Nigeria as Emenike and Ideye were all fired up in South Africa in January. They had gone on break from November till the Eagles camp took off, but that is an aside.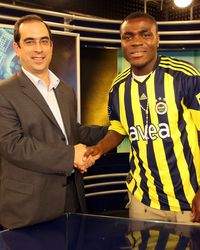 "I have unfinished business here because I owe it to the club and fans who never stopped supporting or believing in me"
In Turkey, there is no extended winter break though they have a three-week break compared to the two months hiatus witnessed in Russia and Ukraine. In a World Cup year, that rest would truly have benefitted the Super Eagles – that is assuming they qualify.
But looking at the league over the past five years, Turkish clubs have not performed too well in European competitions, which is a malaise that has also affected the Russian teams, though I have to add that the winter break does not help the Russian teams, as they are a bit rusty towards Match-day 3 and 4.
Emenike has been consistent in front of goal
Though looking at Emenike's scoring statistics over the last four years show that he has scored more goals in Turkey – 30 in Turkey as against 24 in Russia, where he also played in the Champions League and we have to add that these stats have been spread equally over 50 games each.
The stats show that he has been consistent in front of goal and he started the 2013/14 with a bang in Russia – scoring three goals in four matches, though he started two of the matches on the substitutes' bench. It was looking to become one of his best seasons until his switch to Turkey.
The question of whether the switch is a good thing cannot be answered judiciously based on stats but I will make one assumption – Emenike just needed to get some sun and Fenerbahce of Turkey were willing to pay him to strut his stuff in the sun or that he just has unfinished business as he told the BBC, "I have unfinished business here because I owe it to the club and fans who never stopped supporting or believing in me."
Istanbul tekrar hoşgeldiniz (welcome back to Istanbul) and we hope that this unfinished business ends in satisfaction for both parties.


Follow Babajide Alaka on