ANALYSIS
By Ed Dove
The Super Eagles' failings during the Confederations Cup were plain for all to see.
Despite thrashing Tahiti and performing admirably against Uruguay and Spain, Nigeria's sojourn to Brazil provoked a response of frustration and, at times, anguish.
Stephen Keshi's side were eliminated at the Group Stage, but everyone knew that things could have been so much better.
They could have been so much worse—that's for sure—especially considering the now-forgotten pre-tournament squabbles, but it was exasperating to sense the victory that was tantalising close to Nigeria's grasp.
The defence can once again provide a point of confidence. Naïve at times against Spain, certainly; rattled by the partisan crowd against Tahiti, perhaps; but the pairing of Kenneth Omeruo (before his unfortunate injury) and the magnificent Godfrey Oboabona once more demonstrated their burgeoning relationship.
Fans can also be proud of the midfield. Shorn of the influential Ogenyi Onazi, the players held their own against an established Uruguay side and, in swathes, against the Spanish.
Fegor Ogude comes in for bad press but is a grizzled warrior in the heart of the park. John Obi Mikel was an assured presence, the heartbeat of the side. The Chelsea man delivered a selection of majestic performances; mature creativity mixed with regal composure and the touches of Manet.
His goal against Uruguay was an example of the refined class that the Super Eagles have been lacking since the departure of Jay-Jay Okocha.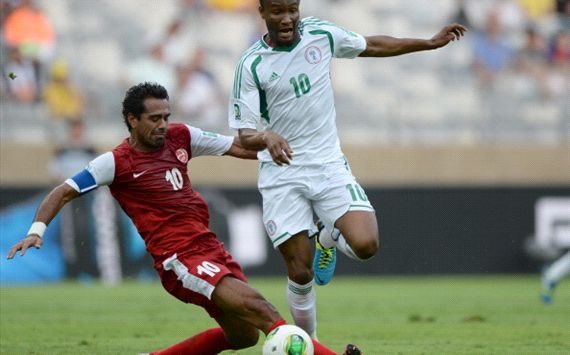 Mikel: Graceful against Tahiti
Up front, however, things were not so sturdy for Keshi's men. It was here that the squad's failings became glaringly apparent.
This is a topic I have done to death over the last month, and so I don't wish to dwell on our shortcomings…even so, a brief roll call may not go amiss.
Few teams can look toothless in a 6-1 victory, but thanks to Ideye Brown and Anthony Ujah, Naija managed this against Tahiti. Many have speculated that the latter is unlikely to be seen in the Super Eagles' famous green again after this hapless outing.
Joseph Akpala demonstrated why so many international managers have chosen to discard his alluring talents, rather than capitalising on a striker who appears--at first glance--to have the lot.
Mohammed Gambo: while he doesn't deserve to be remembered for his excruciating miss—few supporters will reminisce too fondly about that particular wretched moment.
And Ahmed Musa…sure to be a fixture for years to come…but right now has shown little more than promise and potential with the national side. Despite troubling defences with his pace and vitality this summer, some of his shot selections and decision-making left a lot to be desired.
Super Eagles fans can take staunch solace from the reality that Victor Moses and Emmanuel Emenike, architect and executioner of the 2013 Cup of Nations triumph, are due to return to this side. Nonetheless, Keshi's post-Brazil activities show that the Big Boss is keen to address and strengthen this area of the squad.
And thus, we arrive on Merseyside, at Everton—a club that, incidentally, don't play their football in Everton, but in nearby Walton—and a Nigerian forward who, incidentally, doesn't play his football for Nigeria, but for Everton.
It's a complicated one, but quite simple to untangle.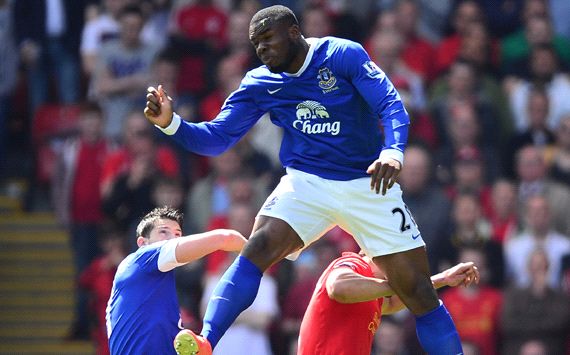 Anichebe: A Very Physical Presence
The beginnings of Anichebe's career, both for club and country, have been wrought with misfortune and set-backs. Back in May I described his fitness problems thus: "Injuries have played their part, and for a player so explosive, a litany of groin and knee complaints have greatly stymied his progress. The problems haven't merely been niggles and set-backs either; back in 2009 Anichebe was caught by then-Newcastle United midfielder Kevin Nolan—that cost him 11 months of his career, while against Madagascar in 2011, playing under Samson Siasia, he endured an agonising groin injury."
The set-backs have taken their toll on the young man's career, and his progress has been stymied by such lengthy disruptions and agonising routes back to fitness.
These jolting experiences surely influenced his decision, at the end of Spring, to announce a break from his fitful international career to date. Citing a need to "manage his body accordingly", Anichebe's choice indicated a desire to forge his way in Everton's first team and cement a place in David Moyes's thinking.
The fear was, however, that Anichebe's flagrant preference for his club career would come at the expense of his future with the national side. Coming in the context of Keshi's preference for hungry players and those not carrying any baggage, the forward's desire to abdicate (albeit temporarily) from international duties had the potential to damage his relationship with the Big Boss.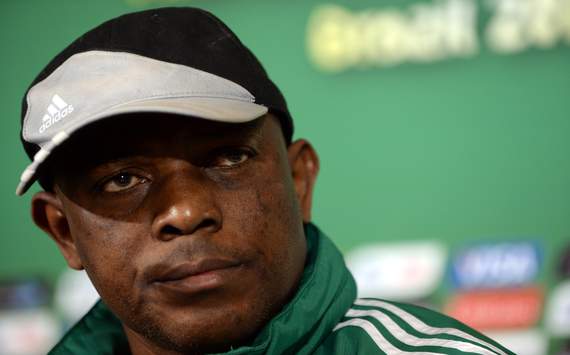 Keshi: Looking for Options
Fortunately, Keshi appears primed to ignore Big Vic's previous self-imposed exile and has asked to meet with the Everton frontman in a bid to recruit him back into the Super Eagles fold.
Considering the faiblesses of the forward line as they were apparent in Brazil, it's clear that something new is needed to ensure that Nigeria aren't found wanting at the World Cup next summer—should we qualify.
The presence of an experienced Premier League forward can only be of benefit to the other attackers populating the squad. Anichebe could have a great influence on some of his peers, and encourage others to up their game as competition for places increases.
The striker also offers a slightly different option to some of the other Super Eagles attackers.
Keshi's attempt to integrate Shola Ameobi into the squad ahead of the 2013 Cup of Nations was evidence of the coach's desire to include a more physical type of forward to complement his myriad of quick, dynamic talents.
Anichebe could be the best of both worlds. He possesses explosive pace but also has the presence up front to provide a pleasant change of pace to the likes of Moses, Musa and Emenike.
It remains to be seen whether Keshi can convince Anichebe to once more seek a future with the continental champions. I imagine the allure of the World Cup next summer and certain guarantees on behalf of the manager might convince the striker that an opportunity to join this magnificent collection of players, this exciting era in the nation's sporting history, is too good to miss out on.