COMMENT
By Enis Koylu
The wait is over. Five months and eight days after Bayern Munich confirmed that Pep Guardiola would take over from Jupp Heynckes at the end of the 2012-13 season, the Spaniard was ready to meet the media.
And he did not disappoint. Never in the history of 'FC Hollywood' has a single press conference attracted so many reporters - around 240 of them - all clamouring to hear his first words as a Bundesliga coach. "Excuse my German."
Much had been made of the Spaniard's ability to communicate with the locals. CEO Karl-Heinz Rummenigge had always been adamant that anyone who could not speak the language would not be considered as a trainer, but Pep had spent four hours per day learning while on sabbatical in New York City.
THE VIEW FROM SPAIN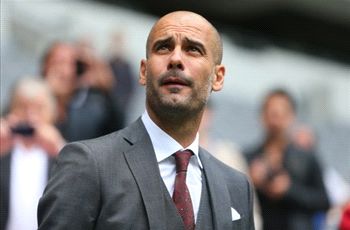 The first impressions are very positive: Pep is rested, recharged and ready for his latest adventure. The Catalan coach charmed his audience by speaking good German and talked of his excitement about this latest project. He will adapt to Bayern, not the other way around. He promised attacking football - and he also promised to improve. That's Pep. He apologised for his skills in German, yet spoke impressively in his new language - as well as answering questions in Spanish, Catalan and Italian. That is a mark of the man: he is obsessive, a perfectionist. So even though Bayern won an historic treble in 2012-13 and Pep admitted it will be difficult to improve the team in the coming campaigns, he made it clear that he aims to do exactly that. As Uli Hoeness remarked, this looks a great fit.

- Ben Hayward | Spanish Football Writer
And the effort served him well, save a thick Spanish accent and one instance where he pronounced his predecessor's first name with a hard J, he was erudite and articulate, able to understand and respond to questions with ease and charm.
And the content of his opening speech will have served him well too. Much has been made of his supposed revolution at Bayern on the back of their record-breaking past season, which saw them pick up that ever-elusive treble, losing just three matches on the way.
However, he was quick to emphasise that he would not overhaul their system in favour of the one he employed over the course of his wildly successful four years at Barcelona, stressing that Bayern have different players to the
Blaugrana
and that he would adapt to their style of football.
There was even a hint of humour in his unveiling, joking that his German teacher in the USA - a Borussia Dortmund fan - did not want him to show up, along with a picture of Bayern sporting director Matthias Sammer and Guardiola going head-to-head in their playing days for Germany and Spain shown in the background.
His clear affiliation with the club, their history, tradition and prestige would have gone some way to endear him with the locals and he seems determined to make his mark at the Allianz Arena over the next three years.
And, of course, he has a tough act to follow. Heynckes' side were simply brilliant, dismantling the Barca that Guardiola moulded 7-0 over two legs, sweeping everyone aside.
Karl-Heinz Rummenigge's statement that Bayern are below only the Catalans in the Uefa club coefficients due to Pep's work at Camp Nou was telling. Heynckes has laid the foundations for a Bayern dynasty which the former Spain midfielder must build upon in order to surpass his old club.
Of course, there are many who feel that he will not find life at his new club that much of a challenge. Bayern are already streets ahead of the rest and the one team that looked capable of challenging them last term both in Germany and Europe, Dortmund,
have been crippled by the loss of Mario Gotze
- to
die Roten
.
Meanwhile, Jens Lehmann, a former BVB and Schalke star, took to Twitter to say: "Pep's impressive, talking fluent German. He will inspire German football. But he will be disappointed that the Bundesliga won't challenge him."
And there are still several questions that remain unanswered, too. The only talk about transfers concerned Mario Gomez, with the new boss stressing that every player would get a chance. There was no word, for instance, on long-term target Robert Lewandowski, whom Dortmund are determined to keep.
The hard work starts here for Pep. In just over a month's time, he has his first competitive match in charge of his club and it could not be harder - a trip to Signal Iduna Park to face Jurgen Klopp's side on July 27 in the Supercup.
Before too long, he will be back into the the daily rigours of coaching a club. His task? To build on something remarkable.
Follow
Enis Koylu on