The Super Eagles may have put six past Tahiti, but the goals didn't mask the inadequacies of Stephen Keshi's forward line. Things must improve before Uruguay come to town.
ANALYSIS
By Ed Dove
British novelist Helen Fielding once wrote "It is a truth universally acknowledged that when one part of your life starts going okay, another falls spectacularly to pieces." It has felt like that for Stephen Keshi and his Super Eagle collective over the last few months, as soon as we think we've got everything fixed then things fall apart.
We win the Cup of Nations, are declared Kings of Africa and all of her territories, stand at the pinnacle of the mountain…and then Keshi himself decides that things have got too much, and calls it quits.
A brilliant, bright young team guides us to the title, finds harmony after the exclusion of the troublemakers, presents a united front…and then Joseph Yobo throws his toys out of the pram and criticises the manager's approach and methods.
We uncover the unheralded Sunday Mba; a goal-scoring midfielder of dynamic qualities, capable of progressive football, primed to make a difference in the biggest games and the perfect foil for the talents of John Obi Mikel and Ogenyi Onazi.
The youngster then becomes embroiled in an ugly transfer row between Warri Wolves and Enugu Rangers, and his form and confidence tail off dramatically.
I think you probably get the picture—as soon as one aspect of the Super Eagles set-up starts going okay, another crumbles to the ground.
Right now, it feels like it is the Nigerian forward line that is falling apart.
This may appear to be a strange comment to make after the side have recorded a 6-1 victory at a major international tournament, but at times it felt like the goals were coming due to Tahiti's inadequacies in defence rather than the Super Eagles' clinical finishing.
Time and time again holes were carved in a particularly porous backline before any number of our attacking talents blazed wide, fired over, or shot into the grateful arms of Tahitian stopper Xavier Samin.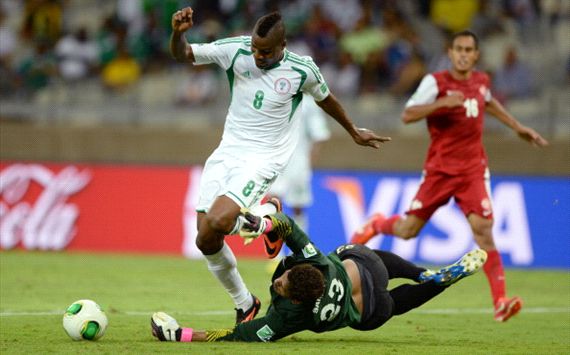 Ideye takes on Tahiti
Working in the @GoalcomNigeria Twitter handle during the contest, I witnessed the dissatisfaction of our supporters firsthand. Jorge Enunwa suggested that it was one of the worst performances by a Nigerian forward line in history, while @MattRaul_LFC suggested that our attackers were unprofessional, and lamented the number of offsides and missed chances that characterised our offence.
The outing, and for that matter, recent performances against Namibia and Kenya, have felt worlds away from the tantalising attacking showings against Cote d'Ivoire and, particularly, Mali during our run to the Afcon title.
Certainly, injuries have taken their toll, and it is natural that we are looking less threatening without the delicious talents of Victor Moses and Emmanuel Emenike. The pair were architect and executioner, respectively, of our triumph against Mali, and their absence, through injury, is a veritable disaster for Keshi and his team.
The pair dazzled during the Cup of Nations, and Nigeria are looking set for years to come with the duo leading the line for the Super Eagles.
Still, other players need to step up and make the most of the opportunities that come their way. In the World Cup qualifying draw with Kenya in Calabar in March, Moses proved that even he is prone to the occasional day off. His pace and direct running, and Emenike's dynamism must be supported and supplemented by the multitude of other forwards vying for spots in Keshi's plans.
This tournament has provided a terrific opportunity for the likes of Ideye Brown, Nnamdi Oduamadi, Joseph Akpala and Anthony Ujah—nominally the 'best of the rest'—to show their worth and muscle their way into the Big Boss's World Cup plans.
Oduamadi has impressed, and has integrated superbly into the national side, stepping up to meet the demands expected of him. A post-Cup of Nations addition to Keshi's plans, he made an instant impact against Kenya in the aforementioned World Cup qualifying clash. His late goal secured a point for the Super Eagles, and saved them humiliation at home against weaker opposition.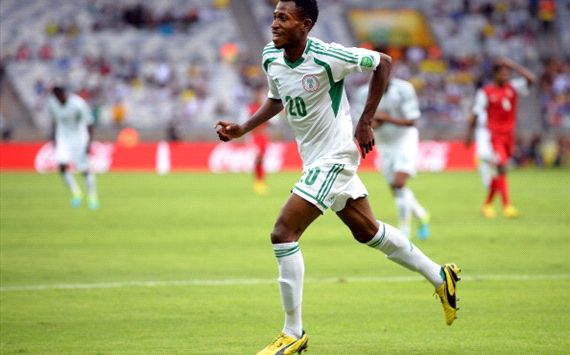 Oduamadi: Four goals in six international apps
Against Tahiti his clinical finishing made the difference between a shabby outing against opposition ranked over 100 places beneath us in the FIFA World Rankings, and a comfortable scoreline which ought to perpetuate confidence within the Nigerian camp.
Beyond the Milan forward however, the opportunities are not looking as encouraging.
Ideye Brown was a physical threat and a constant menace during the Cup of Nations, but only managed to score one goal—in the rout against Mali, and hasn't subsequently produced the performances to justify his continued selection.
After entering as a second half substitute against Tahiti he once again flattered to deceive. As Goal Nigeria's deputy editor Jide Alaka noted, thrice Ideye found himself through on goal, and thrice he failed to find the net.
Chinua Achebe told us that Mr. Brown thought of nothing apart from numbers, but Ideye's successes can be counted on one hand since the turn of the year.
His inadequacies have clearly been noted by Keshi, and the Eagles coach has opted for Anthony Ujah of 2. Bundesliga side Koln to start the last two fixtures. Despite netting a goal every other game for his club side in the league this season, Ujah has yet to adapt to the rhythm of international football.
Even with the gilt-edged opportunities afforded him against Tahiti, he showed himself prone to both hesitation and over-elaboration. He won't be gifted so much time against Spain and Uruguay, and must realise the value, quickly, of profiting from the possibilities that come his way.
While Mohammed Gambo of Kano Pillars is an unknown quantity at this level, and unlikely to feature in the tournament, Joseph Akpala may be a potential source of joy for Keshi and Super Eagles fans.
The Werder Bremen striker has, in my opinion, all of the tools to prosper at this level. He is imposing, at 6'1, and has a zip about him that would fit in well amidst Nigeria's fluid forward line. While he has not been prolific since arriving in Germany last summer, he demonstrated, over six years in Belgium, that he knows how to find the net on a regular basis.
While Jide Alaka was perhaps justified to question Keshi's choice of Akpala ahead of more seasoned frontmen such as Oba Martins, Peter Odemwingie or Ike Uche, the Big Boss is not the first to be seduced by Akpala's potential impact. Since making his debut in 2008, a succession of coaches have seen fit to take a punt on the former Charleroi frontman, all, thus far, without great success.
With Sunday Mba still suffering an apparent crisis of confidence, and Ahmed Musa yet to recreate the stunning form of his league season with CSKA Moscow, it will surely fall to one of these men to score the goals necessary for Nigeria to advance.
Who will stand strong if things around him fall apart?