ANALYSIS
By Ed Dove
As I expressed all too poignantly in my recent article profiling Nosa Igiebor and his recent fall from grace, things have not all been plain sailing for members of Nigeria's triumphant Africa Cup of Nations squad following their success in South Africa.
While the likes of Victor Moses and Ahmed Musa have returned to their clubs and built on their international form, 2013 has only stuttered and stumbled into life for other members of Stephen Keshi's all-conquering squad.
Emmanuel Emenike and Sunday Mba were two of the stars of Nigeria's run to Nations Cup glory back in January and February. The former provided energy and impetus up front, combining well with Moses and Ideye Brown to drive Nigeria's attacks and to offer much-needed firepower in attack.
Emenike scored against Mali, Cote d'Ivoire, Burkina Faso, and Zambia, and despite being missing for the final through injury, managed to win both the Golden Boot—ending the competition as top scorer with four goals—and earned himself a spot in the team of the tournament.
While Emenike contributed goals in abundance, few of them matched Mba's in terms of importance.
In the crunch quarterfinal against the Ivorians in Rustenburg it was Mba, with little over 10 minutes left on the clock, who burst through the Elephants' defence, making the most of some kindly ricochets, and fired the ball past Copa Barry.
It was an emphatic triumph for the Super Eagles, and a genuine watershed moment; the young, raw, unfancied Naija side overcoming (and eliminating) the much-feted Golden Generation of the Ivory Coast.
Keshi's collective had defeated one of the finest assortments of African talent the continent had produced, and a belief had been forged among the group—maybe, just maybe, this could be their year.
Mba was the man who made reality of belief. The un-fancied attacking midfielder from Warri Wolves took the final by the scruff of its neck, and despite the weariness that enveloped both Nigeria and Burkina Faso, managed to break the deadlock just before half time.
It was a goal for Keshi, it was a goal for posterity, and it was a goal for Nigeria—the finish that sealed the nation's third Afcon title, and doused all those present in streams of immortality.
For Emenike and Mba it was presumed to be the start of something special, two young men, two burgeoning national symbols, two vital attacking components of Africa's kings—and of one of the most exciting young sides assembled on the continent.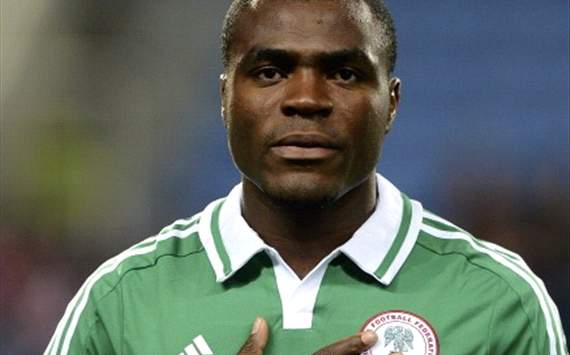 The early months of their tenure as continental stars haven't been as comfortable as either would have hoped, and despite their success on Africa's highest platform, controversy and complaint have found both men.
Emenike was arrested for match-fixing back in July 2011, but was released after questioning. The allegations, however, have followed him since then, through his brief stint at Fenerbahce, and during the early part of his career in Moscow with Spartak.
The accusation was that Emenike had agreed not to face Fenerbahce in return for confirming a move to the Turkish giants. The defence centred upon a doctor's note which indicated the player missed the game through injury, rather than a covert personal agreement.
Last week, Emenike was released from the shadow that had accompanied him since 2011, as a court in Turkey ruled that there was insufficient evidence to charge him.
While the player expressed relief at the decision, it feels like a case of 'out of the frying pan into the fire' for Emenike, who is enduring an injury prone campaign. No sooner had he recovered from his latest setback, and escaped the suspicions that had surrounded him, than another, new fitness problem befell him.
Previously, it had been hamstring woes that had sidelined the hotshot, but his latest issue concerns his knee. It is a complaint that will put him out of action for at least two months—a major blow for Spartak Moscow, who lose their top scorer for the final Russian league run-in, but also for Nigeria.
Between now and the beginning of July, Keshi's Super Eagles are due to compete not only in potentially taxing World Cup qualifiers away to Namibia and Kenya, but also in the Confederations Cup, where, as Africa's representatives, they will take on the likes of Spain and Uruguay.
The tournament is traditionally a precursor to the World Cup, and Keshi will rue the absence of his chief striker as he heads to Brazil ahead of—hopefully—a place at the global centrepiece occasion next summer. Even despite Emenike's recent criticisms of the Super Eagles hierarchy, he would doubtless have been a key player at the Confederations Cup.
His absence will open the door for the likes of Ideye Brown, Anthony Ujah, and Mohammed Gambo to lead the line, while the aforementioned Mba will also be turned to in the search for goals.
However, he too has endured a period of stasis since the glorious triumphs of South Africa. One of many domestic-based talents within Keshi's Afcon squad, Mba was one who shone enough to hear his name strongly linked to a move to Europe.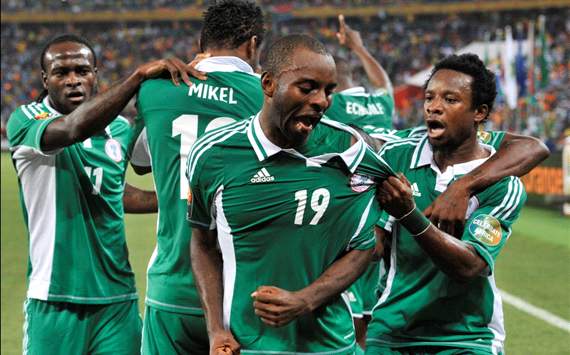 His exploits saw him earmarked for a move to the Premier League in February, where North London giants Tottenham Hotspur were reportedly interested in his signature. However, nothing was forthcoming, and instead, the player became embroiled in a contract dispute between Warri Wolves—who claimed registration rights over him—and Enugu Rangers, who hoped to secure his signature for themselves.
After months of anguish, progression appears to be in sight for Mba, whose move to Enugu Rangers appears finally to have been cleared.
It isn't the European switch that he was hoping for, but I imagine that after a demoralising few months, the midfielder will just be keen to finally get back in action. He will doubtless aim to recapture some of his Cup of Nations form as Rangers travel to Angola this weekend to battle Recreativo do Libolo in the Caf Champions League Second Round.
While the Cup of Nations success may feel a lifetime away for Emenike, crocked for the conclusion of the Russian top flight, Mba's revival might coincide delightfully for Stephen Keshi's summer ambitions for Nigeria. Be sure that the Super Eagles star will be desperate to get back amidst the goals and the glory for the national side in Brazil.