COMMENT
By Ed Dove
While the vast majority of Super Eagles emerged from Nigeria's glorious Cup of Nations victory renewed and revived, others struggled to profit and capitalise from the squad's triumph at all.
For every Victor Moses—who went from teenage prodigy to one of Africa's most feared forwards, there is an Ike Uche, who appeared shorn of rhythm and confidence in South Africa and has been omitted from the national team picture in subsequent months.
For every Kenneth Omeruo or Godfrey Oboabona—now looking like Naija's centreback pairing for the next decade or so—there is a Joseph Yobo, who despite becoming the country's record cap holder during the tournament, was, at best, a peripheral figure. Yobo's tolerance and gracious approach has finally given way, and at the beginning of April the national captain criticised Stephen Keshi for failing to show senior players the respect that their continued service deserved.
And while Ogenyi Onazi delivered some masterful performances after claiming his place in the starting line-up, Naija's creative midfielder Nosa Igiebor has fallen from grace since his disappointing Afcon contribution.
Before the tournament, I anticipated that the Real Betis midfielder would operate as the Super Eagles' creator-in-chief during the competition. He was on the brink of becoming an integral part of Keshi's plans, and had impressed in the year leading up to the Afcon, demonstrating the creative spark that could have made him a vital asset to Nigeria's Cup of Nations squad.
Indeed, Igiebor was a crucial player in the Super Eagles' qualification for South Africa; it was he that opened the scoring in the 2-2 first leg draw against Liberia in Monrovia, and back in Calabar he was, once again, a prompting influence from midfield, supporting the attacking trident of Ahmed Musa, Victor Moses and Emmanuel Emenike, and guiding Naija to their triumph.
It was natural that he started the competition in the first XI, and unsurprising that Keshi gave him such responsibility in the side's opening fixture against Burkina Faso. In that game, Igiebor played with liberty as part of a midfield three alongside Fegor Ogude and John Obi Mikel.
How the complexion of that team changed!
In contests against the Stallions and Zambia, Igiebor failed to spark; he struggled to impose his game, and appeared to lack the vision and flair needed to prise open the opposition defences and create for strikers ahead of him.
It wasn't long before Keshi adapted and developed his approach—introducing Onazi, Moses and Sunday Mba, and dropping Ogude and Igiebor to the subs' bench. Neither featured at all in the knock-out stages, as Mba and co. became the darlings of a nation, and as the Big Boss was heralded for having faith, well-placed, in young and domestic-based stars.
Since then, things have gone from bad to worse for the Abuja-born midfielder, he was overlooked for Nigeria's home World Cup qualifier against Kenya on the 23rd of March, and has again failed to force his way into contention for next month's friendly against Mexico, and this summer's Confederations Cup.
The significant change in personnel in the Super Eagles' squad since the Afcon demonstrates not only Stephen Keshi's ruthless approach to squad selection, but also, to a degree, the depth of talent that Nigeria currently possess. It is unlikely that Igiebor will be missed over the coming months.
Unfortunately for the player, his club career is in danger of a decline as immediate as his international career. After moving to La Liga, and Real Betis, from Hapoel Tel Aviv last summer, he has failed to force his way into the side regularly, and has struggled to adapt to the demands of the Spanish top flight.
Guardian journalist Sid Lowe decided to focus his column on the Nigerian's plight last weekend, and even though this was a direct result of his match-winning goal for Betis against local rivals Sevilla, Lowe's piece left no ambiguity surrounding his current situation.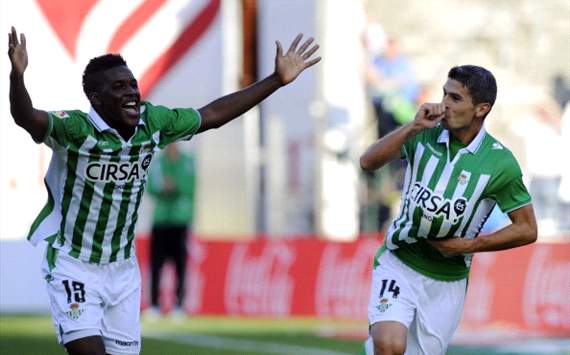 After being 3-0 down at home to their local rivals, Betis were in the process of staging a remarkable comeback. Having pulled it back to 3-2, time was running out for them to secure a momentous draw.
Fortunately, they had an unlikely saviour; Igiebor, the substitute, rose above the massed Sevilla defence to head home Dorlan Pabon's cross as the game drew to a close. The 90th minute, and a crucial equaliser, crucial both in the wider context of Betis's challenge for a European place, but predominantly in the context of that heated local derby.
There are few better ways to endear yourself to a fanbase, but unfortunately for the former Warri Wolves man, he has a lot of endearing to do before there is a secure future for him in Andalusia.
After signing for €1.2million, his performances in 2012 had been underwhelming. With only three league starts before the New Year, and little in the way of a tangible contribution, he had 'waste of money' written all over him.
After a difficult Cup of Nations, he postponed his return to the club, taking nearly a month to travel back to Andalusia after the final against Burkina Faso. Needless to say, the club were less than pleased when he finally did return, and despite the player claiming 'passport problems at Frankfurt airport' they sought to fine him the largest amount possible.
When the player finally took to the field again for his club side, the fans were vocal in their displeasure. Only the most talented or the most committed could get away with such a neglect of duties, and certainly, to date, Igiebor didn't fit into either of those categories.
Axed from the Nigeria set-up, unwanted and unloved in Andalusia, as Lowe suggests, it only felt like a matter of time before his career at the Benito Villamarin came to an unhappy end.
It is obviously too early to say whether his stunning late equaliser will secure his future. It is likely to earn him a reprieve however, and he found his way into the starting line-up for Betis's defeat to Real Madrid last weekend—only to be replaced at half time.
Things feel a long way away from the optimism of 2012, and Igiebor has an arduous road ahead to prove to Keshi that he can be the creative fulcrum we had hoped he would become. Perhaps a change of scene might once again be required, or perhaps Sevilla just need to come and play every week!