COMMENT
By Wayne Veysey at Wembley Stadium
For
Rafael Benitez
, every match at this pivotal juncture in his career represents a job interview.
So punishing is the Chelsea schedule that chances to impress chairmen and owners across the globe arrive thick and fast. So, truth be told, do chances to fail.
MAN CITY 2-1 CHELSEA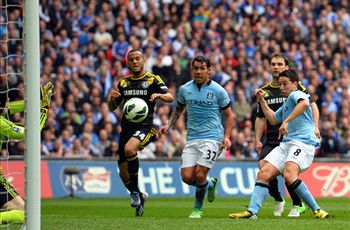 | | | |
| --- | --- | --- |
| | 35' | Nasri gives City the lead |
| | 47' | Aguero makes it two |
| | 66' | Ba pulls a goal back |
TOP OF THE MATCH
MATIJA NASTASIC




Calm and measured, the 20-year-old read danger well and dealt with it in assured fashion. Excellent in the air throughout and was formidable as Chelsea began bombarding the box in the closing stages.
Thirty-eight games into a 21-week reign that has been weighed down since the start by the 'interim' tag, it is hard to know for sure whether Benitez will receive a solid flow of offers in the summer or have to brace himself for the purgatory of the lecture circuit.
Getting dumped out of the FA Cup at the semi-final stage by a team of Manchester City's resources just 72 hours after a Moscow slog resulted in progress to the last four of the Europa League is hardly disastrous.
But it also provides another handy stick for Benitez's army of critics to beat him with.
In the eyes of many observers, the Spaniard's two most obvious oversights at Wembley were omitting twin totems John Terry and Frank Lampard from the starting line-up and then waiting 19 minutes after Sergio Aguero's header put City 2-0 up before throwing caution to the wind and replacing the ineffective anchorman John Mikel Obi with a second striker in Fernando Torres.
On a day when City's greater energy and purpose overwhelmed a jaded-looking Chelsea, it would have been stretching credulity to confidently claim that Terry's creaking 32-year-old knees would have done more to restrict the impact of the dynamic Argentines Aguero and Carlos Tevez. When a coach as thorough and modernistic as Benitez says the centre-back's days of playing two full games in a week are behind him, we should respect his judgement.
As for Lampard, his most decisive contributions these days tend to come either from set pieces or against opponents below the elite level. His finishing finesse and ball-striking calibre make him an ideal impact sub candidate for a team chasing a late equaliser, but his days of being undroppable are long gone.
The more the season goes on, the more it looks that Chelsea's greatest transfer window error last summer was not missing out on Radamel Falcao, magnificent though he is, but failing to beef up their central midfield with a blue-chip anchorman.
Given Chelsea's relentless fixture schedule, making seven changes to the team was eminently logical, although such widespread rotation was not enough to prevent City flying out of the starting blocks.
Where Benitez's decision-making does look sketchy is in the use of his substitutes. As soon as Aguero's wonderfully precise header looped past a motionless Petr Cech in the 47th minute, it would have made sense to immediately command Torres to pull on his face mask and try to rough up City's centre-backs.
Instead, the manager stuck to this original game-plan and waited. It did not work. City continued to control the game and it was not until Torres came on that Vincent Kompany and Matija Nastasic did not radiate complete authority. The Spaniard did not touch the ball in the build-up to Demba Ba's superbly executed volley but his mere presence de-railed the two defenders.
When the inquest began, Benitez rued the failure of referee Chris Foy to award Chelsea a late penalty when Kompany tangled with Torres. "You can see the pictures," said the Spaniard. "It is clear. Very clear." In Benitez's estimation, Aguero should also have been sent off for a two-footed stamp on David Luiz.
Such are the fine lines between success and failure at the elite level of football. The penalty call was marginal but Aguero was certainly fortunate not to have received his marching orders.
Yet over the 90 minutes, City were comfortably the superior team, just as they were when defeating Chelsea 2-0 in the league at Etihad Stadium in January. Reasons abounded for this, particularly the greater freshness and vitality of Roberto Mancini's side, who had three extra days to prepare for the fixture.
With little over a month of the season remaining, Mancini is in a more secure position than Benitez. If his team supplement the Premier League runners-up spot with a second FA Cup in three years, City's executive team and Abu Dhabi high command are likely to conclude that Mancini deserves another season at the helm. If not, he should not be short of alternative employment.
By contrast, the jury is still out on Benitez. He has spoken openly of these being the final weeks of his Chelsea reign (although a shock Roman Abramovich U-turn cannot be completely ruled out) and his willingness to discuss his availability suggests he is as in the dark about his future as everyone else.
Benitez knows only too well the personal benefits of having some silverware to show for his difficult Chelsea tenure.
The best-case scenario for the Spaniard is to supplement the bulging trophy cabinet of the Abramovich era with the Europa League pot and provide his successor with Champions League football next season. If he does, it is not unreasonable to imagine the leading English, Spanish, German and Italian clubs having his mobile number on speed dial.
Given the strength of the Chelsea squad, a top-four finish is the minimum requirement for him to be remembered as anything other than a Stamford Bridge failure.
The worst-case scenario for Benitez is to find himself once again in the conference rooms and lecture halls of five-star hotels telling people how to win football matches rather than actually standing in dug-outs and doing the job for real.