COMMENT
In the last few days since Goal.com published exclusive images of the Kenyan national team training at a dusty pitch inside the Ajao Estate Primary School in Oshodi, Lagos, there has been an increase in exchanges between Nigerians and Kenyans on the social media site Twitter.
As Kenyans digested the unpalatable welcome offered the Harambee Stars in Lagos, something the Nigeria Football Federation blamed on the visiting delegation, a Twitter battle ensued with the East Africans taking out their anger on things Nigerian.
As #SomeoneTellNigeria began to trend, it brought out the animosity held against Nigerians by the East Africans.
Swiftly, Nigerians reacted by creating a hash tag of their own, #SomeoneTellKenya. Both topics trended worldwide as international news organisations like the BBC and Al Jazeera took notice.
Moments like this one actually serve to show the thoughts that people hold inside them, some funny, some angry and others preposterous.
Now that we know how Kenyans and Nigerians feel about each other, it definitely increases the stakes in Saturday's match between the Super Eagles and the Harambee Stars.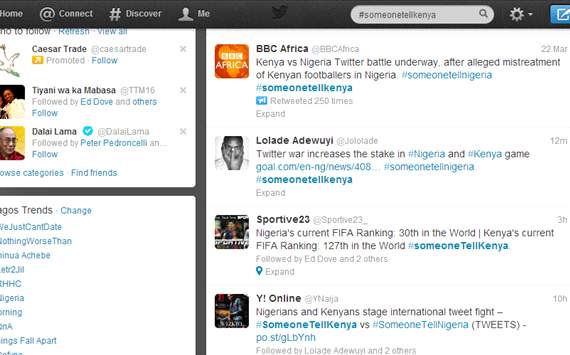 Online battle | The game between Nigeria and Kenya has been fought on Twitter
For the Kenyan national team that has never defeated Nigeria in a senior match in 13 encounters, it gives them a massive opportunity to try to undo their hosts in Calabar.
I watched the Kenyans run around the dusty primary school pitch in Oshodi on Wednesday, the looks on their faces showed anger and determination. I've seen that look before.
Whenever a team gets to the point where it needs to play for pride, it becomes dangerous and unpredictable.
For people who don't normally watch football, the Twitter war between Kenyans and Nigerians has made this game an enticing one. In Kenya, the government has ensured that the game would be shown live on national television meaning increased attention.
While the new African champions might think this is another opportunity to run roughshod over their opponents, they must understand that it's more than that.
Just like they fought for pride in the Africa Cup of Nations quarter final victory over Cote d'Ivoire, creating an upset that many didn't see coming, so also will the Kenyans be taking inspiration from the vibe that has been created by their countrymen's anger.
There will be sparks in Calabar on Saturday. The game will be tough, tight and contentious. There will be pride at stake, not just three World Cup points.
The Kenyans will go into the game to prove a point. They want to spoil the party of the Super Eagles. It's now more than a game, for them it's an opportunity to strike back and claim some scalp.