COMMENT
By Lolade Adewuyi | Chief Editor
When Nigeria coach Stephen Keshi began his experiment to use players from the Nigeria Premier League in his national team squad less than two years ago, it was considered a suicidal move by many watchers.
The former national team captain told his audience that the fulcrum for building a veritable championship winning side was to be found in the unheralded NPL clubs, this was after a bunch of Europe-based players had failed to secure qualification for Nigeria to the 2012 Africa Cup of Nations. Keshi said that home-based players needed to be encouraged by giving them opportunity to play on the big stage wearing the national colours.
He also decried the penchant for young Nigerian players who always want to run to backwater leagues abroad in order that they may be considered for national team call up based on their foreign CV. Keshi said that it is possible for Nigerian players to move directly from NPL clubs to major European sides based on their performances for the national team if they were given the opportunity.
Months later, the Big Boss' experiment has begun to pay off. After emerging stars of the Africa Cup of Nations winning Super Eagles squad, Warri Wolves attacking midfielder Sunday Mba and Sunshine Stars defender Godfrey Oboabona have become beautiful brides that clubs from Europe are reportedly falling over.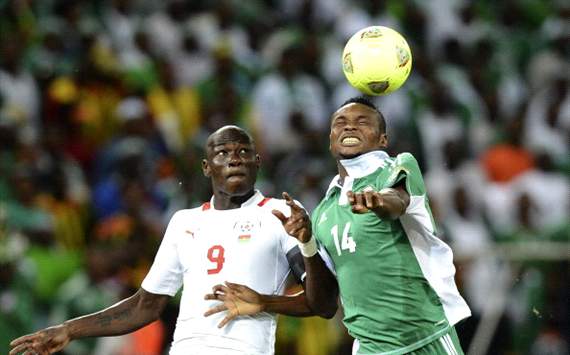 Oboabona | The Sunshine Stars captain is courted by clubs in Europe
Cashing in on the euphoria surrounding their players' performances, the clubs have both reportedly listed the sum of one million Euros each as the asking price for the duo.
Two years ago, this would have been an unprecedented asking price for an NPL player. Not only because the league has not created any high profile players in recent times but because of the eagerness of players to run abroad in search of hard currency after scoring a handful of goals in a season.
The problem that Nigerian clubs have faced, even as they must also be blamed for their inability to pay players living wages, is that they are unable to keep players long enough to ripen for quality deals.
An example in recent times is that of Enugu Rangers' Chikeluba Ofoedu who played less than a season in the top flight but because he scored about ten goals rushed off on loan to a second division Turkish side.
Lots of Nigerian players are stuck in small European and Asian countries where they had been promised lots of dollars only to find out that the recession in those countries could mean worse fate than if one were living close to family members here.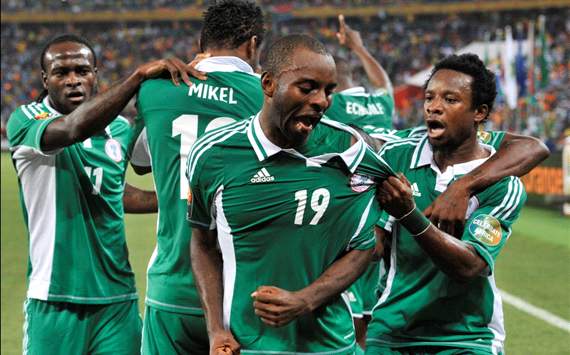 Mba | The scoring machine is set for a big move
What Keshi's decision to take home-based players to the Afcon has done is that it has brought back attention to the NPL and the quality products that can emerge out of that dystopia. Now Nigerian clubs can begin to think about making better business from player transfers and royalty.
However, Mba and Oboabona must not be in a rush to settle for just any European deal. Their managers need to be able to negotiate with clubs for playing time that will ensure they keep improving their profile. It is not enough to sign for a club and then warm the bench even though one's salaries will be paid in dollars.
The strong belief that Keshi has instilled in the players must be kept burning. They are able to play against any opposition and must ensure that they stay in shape and in high competitive mode. These boys are young and have many years ahead of them, there is need to realise that the future ahead of them is greater than the trophy they have just won.
While the clubs try to make the most out of their new found fame, it is important that they must ensure the lads go to clubs that will improve their performance while building them up for greater national team duty. It is the only way to justify the high price they are asking for.