COMMENT
By Kris Voakes
There's no keeping a good man down. Having experienced the perfect denouement to his five-year spell with Los Angeles Galaxy, David Beckham insisted he had one last assault on Europe left in him. And on Thursday, Paris Saint-Germain made the decision to give 'Goldenballs' the curtain call his star-studded career deserves by handing him a short-term contract.
The cynics will immediately point to the marketability of 'Brand Beckham' as the sole reason for Les Parisiens' making a move for the former England captain, but if there's one thing that Beckham has proven time and again during his long professional career, it is that to write him off is foolish in the least.
Even at the age of 28, when he left Manchester United for Real Madrid, many claimed that los Blancos were spending €37.5 million simply for the benefits that would arise on the balance sheet. As it happens, Madrid have recorded the highest revenues in football in the decade since that switch in 2003, but Beckham's golden right foot also ensured that he would deliver on the field, helping to end Barcelona's dominance at a time when the Galacticos project was in ruins.
After departing for America, his continued desire to experience top-level football saw him take the opportunity of signing a short-term loan deal with AC Milan. Coached by Carlo Ancelotti, he was an immediate success, to the extent that his two-month contract was extended until the end of the season. He was then invited back for a similar stint the following campaign under Ancelotti's successor Leonardo. That he now finds himself working with both men again is no surprise, such was the impression he left with all involved in Lombardy.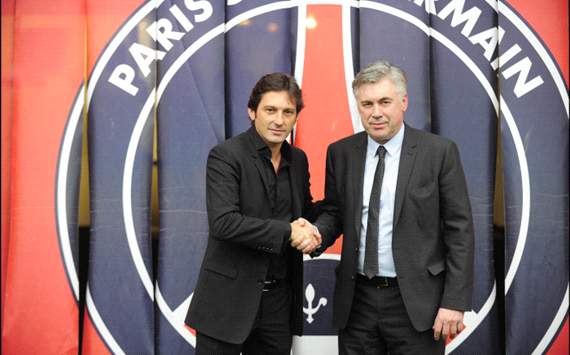 "That he finds himself working with Ancelotti and Leonardo again is no surprise, such was the impression he left at Milan"
The first major injury of his career, an Achilles tendon rupture, ruled him out of the 2010 World Cup and all but the final knockings of the MLS season, much to the Galaxy's chagrin. He repaid them with his full attention for the 2011 and 2012 campaigns, and finished an MLS Cup winner on both occasions. Again, he had been written off as a sideshow, again he proved to be anything but.
"What Beckham brought for the Galaxy was a calming influence in a league that often plays at a hectic pace," says Goal.com USA's Allen Ramsey. "He was a big reason for the team winning two straight titles and his precision in delivery - along with having two of the best forwards in the league to serve the ball to - gave the Galaxy a huge advantage over most teams in MLS."
That continued thirst to aim for the stars has seen him look to extend his career still further. Watching from afar, he has seen former team-mates Ryan Giggs and Paul Scholes playing at the top at 39 and 38 respectively, fuelling the belief burning away inside him that he can still offer something despite his advancing years.
There's no escaping the fact he will also be a huge boon off the pitch too though. PSG were notable absentees from the recent Deloitte Football Money League Top 20. If the Qatar Investment Authority is to hoist the club into the upper echelons and begin to see a return on their considerable investment, then more signings that bring guaranteed cash like Beckham could be key to the club's development in the Financial Fair Play era.
But Goal.com's French football expert, Robin Bairner, explains why Beckham will have to fight long and hard to make an impression on the pitch this time around. "It's difficult to know where exactly he'll fit into the PSG side. What's almost certain is that he won't start too many matches, as the club already boasts great strength in the centre of the field.
"For him to come into such a physically demanding league will be difficult for a veteran who has not played in three months. An injury to Thiago Motta does leave an opening in a defensive role in PSG's 4-2-3-1 system in the short term, and it would seem that this is his best bet of getting game time.
"It may well be that he operates almost as a mentor for Marco Verratti, who has gone off the rails a little in recent months. Only one can play at a time, though, as Blaise Matuidi has been one of PSG's stars this season and will not be displaced."
Whether he has been signed to help the club's younger stars develop or to make a bit-part contribution himself on the pitch, Beckham's impact is bound to be felt beyond the bank account. 'Goldenballs' is back for one last stab at the big time, and he's as ready as ever to prove the critics wrong.
Follow Kris Voakes on