COMMENT
By Lolade Adewuyi | Chief Editor
The announcement of Newcastle manager Alan Pardew to stop Shola Ameobi from competing for Nigeria at next month's Africa Cup of Nations in South Africa could be the beginning of a club versus country row.
The Toons' coach has been quoted by the media to have said he would not release 31 year-old Ameobi for an opportunity to play for his country of birth after he finally made his international debut in November in a friendly against Venezuela.
Ameobi who had been blocked out of the senior England squad for many years finally showed that he could succeed at the highest level and make a name for himself in the colours of Nigeria with a performance that was hailed by Stephen Keshi last month.
However, Keshi's decision to call up Ameobi for his final Afcon camp might have made the Magpies coach uncomfortable since Ameobi has suddenly come into a rich vein of form. The Nigerian scored the lone goal at the weekend to help his side defeat Queens Park Rangers in the English Premier League.
In a report by fans website Nufcfans.co.uk in November, Ameobi had expressed fears for the coach's worries about his potential joining up with Nigeria for the Afcon. Shola said the coach was afraid that if he performed well in the game against Venezuela then the club might lose him for almost two months.
"I think with my age and the travelling, that's what he's worried about. You don't get back until later, you don't get much time to recover but it's something that we will look at and make sure I'm not doing a disservice to the club," Ameobi was quoted to have said.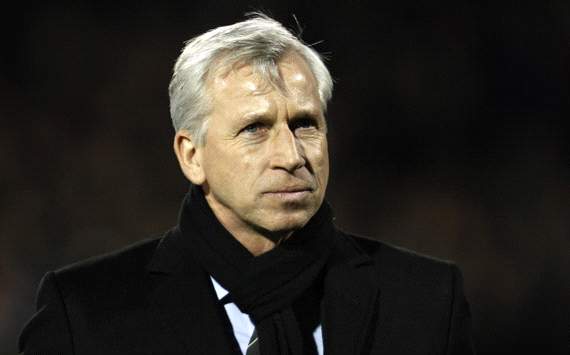 Pardew | Stoking an international row
With Pardew's declaration on Monday, it's clear he might never have been comfortable with Ameobi's decision to accept an international call up this late in his career. Otherwise, why would a coach that has two top Senegalese forwards and who has sparingly used Ameobi suddenly claim that the player cannot turn up for his country at the biggest continental football fiesta?
What Pardew is doing is setting up a clash between his club and the Nigeria Football Federation whose spokesman has already said that they "will do all within [our powers] to see that Shola or any player picked by the coach for the Nations Cup is released to us."
For 12 years, Ameobi has been on the books of Newcastle – a city where he grew up. And for the first time in his career he has the opportunity to fulfil every player's ambition to play for a national side following years of being snubbed by the Three Lions.
It is important that Keshi gets whoever he wants to play for the national team as he seeks to win a third Afcon trophy for Nigeria. If Shola Ameobi is that ingredient that will bring strength to the Eagles attack, then by all means the NFF must secure his release. A club can never be greater than the collective aspirations of 160 million people.
Follow Lolade Adewuyi on