By
George Ankers
Champions of equality; holiday heroes
Arsenal
In this jolly festive season, we see people at their best. Perhaps it is the Christmas spirit or simply a product of the shared hardship of sub-zero temperatures but this is the time of year at which people are most willing to reach out to the less fortunate.
Pass a homeless person on the street in July and many would walk straight on. "Not my problem, there are official channels to deal with people like that," some would think, if they even noticed them at all.
In mid-December, however, the story might be different. Perhaps merry after a glass of mulled wine or simply more aware of the biting cold, every now and then a passer-by might look at the down-on-their-luck vagrant curled up on a street corner, think for a moment, then take off their warm coat and pass it to the stranger.
What Darren Bent learned this week...


Relegation with QPR it is, then! Sorry, Darren. You're good, really you are, but there is absolutely no way that Aston Villa will be needing you anymore. Christian Benteke's indomitable performance against Norwich City reinforces his Michu-esque status as one of the summer's most inspired buys.
A heartwarming example of a human being making a sacrifice for no personal gain, only so that another might be more comfortable.
Football is not known as an excessively moral sport, particularly after a year which solidly puts it in the 'Naughty' column on Father Christmas' famous list. So congratulations are due to Arsenal, who have gone to admirable lengths to foster some holiday spirit.
Taking a shortcut through League Two Street as they walked towards their intended destination of Capital One Cup Road, the Gunners stopped when they spotted a ragged, unkempt Bradford City lying, shivering, in a post office doorway.
The club sighed. They recognised Bradford. Not so long ago, they had everything. Money, stability and excitement. Now look at them. It was heartbreaking.
"Are you tired of life kicking you in the nadgers?" Arsenal asked. The Bantams, slightly confused but glad of some human interaction, nodded.
What we will learn this weekend...


After the Steve Bruce era, we will learn how it looks to see Sunderland not "accidentally" capitulate when Sir Alex Ferguson's Manchester United show up. Of course, it won't actually look any different, as Martin O'Neill's side may not be as sycophantic but are every bit as rubbish.
"Go on, then," the Gunners continued, adjusting their stance so that their legs were standing further apart. "Kick us in the baubles. We won't mind. Hard as you like. Honest. It's no trouble." Bradford looked at them in cautious bewilderment.
"Seriously, mates," insisted Arsenal, "It's absolutely fine. Take it all out. Give us a good thwack, right in the Christmas puddings. Go on. We want you to."
Bradford got up. Bradford stepped forward nervously. Then Bradford swung their foot back and planted a Bruce Lee mega-kick into the Londoners' stocking and two gifts with all the pent-up emotion of a team who had spent 12 years falling backwards down an escalator, before running silently off towards Capital One Cup Road.
"Merry Christmas," Arsenal squeaked in a strained falsetto, doubled up on the cobbled street, eyes watering with a mixture of intense pain and humanitarian pride. What heroes they are.
Photo of the week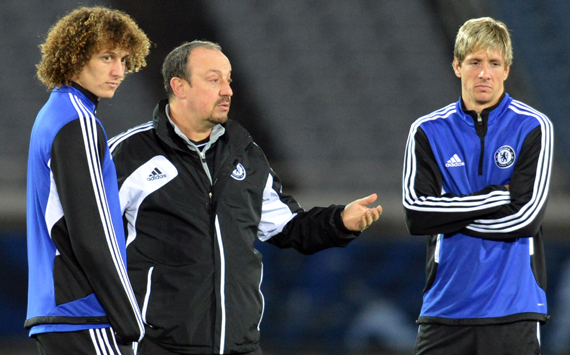 Rafa's suggestion of 'Naked Twister, anyone?' goes down well

Chelsea rock out on world tour
Jetting into Japan for a rare pair of Far Eastern gigs to thrilled local fans, it would have been easy to confuse Chelsea for rock stars this week.
The detour to the Club World Cup represents a welcome break from singing the Blues to their English fanbase on a punishing nine-month national tour, although Rafa Benitez's men are decidedly more Spinal Tap than Iron Maiden these days.
Quite aside from the fact that Benitez is often greeted like a frontman who has swaggered onto the Yokoham stage and yelled "HELLO KOREA!", the recent change of manager makes this, as any music fan will know, a bad time go watch Chelsea live.
Having cited "creative differences" and parted ways from Roberto Di Matteo, the Blues are now peddling little-recognised new material from an album released suspiciously close to the Christmas shopping rush.
Nobody has come to the Japanese stadiums wanting to hear unfamiliar and frankly off-putting tracks like 'Fernando Torres Has Scored Again'. No-one in the crowd knows how that one goes, so they just shuffle awkwardly and watch in silence, hoping against expectation that maybe Didier Drogba will come out for the encore to make the £80 ticket feel vaguely worthwhile.
Still, though, they remain big enough names that the strange new musical direction will probably prove lucrative enough – at the very least, it should pay for the band's wealthy agent to further pimp out his already-spectacular yacht. The critics are warming to it, even if long-time fans are turned off.
At least those disillusioned listeners will be able to go home afterwards and stick Chelsea's platinum-selling hit, 'The Special One', on the stereo. There's even talk of a reunion tour next summer – now that really would be the hottest ticket in town...
Follow George Ankers on