ANALYSIS
By Kris Voakes | Italian Football Writer
Diego Milito threw open the
Scudetto
race last weekend when his double for Inter dealt Juventus the blow of their first defeat in 50 league games. But, more than that, he exposed the
Bianconeri
's lack of a deadly finisher who could have taken the Italian title contest well beyond the rest over the past season and a half.
While Juve got away with a lack of firepower in their forward line at times last term, there is no guarantee the same will happen again in 2012-13, and the Argentine's deadly double at Juventus Stadium last Saturday has simply served to highlight how exposed Antonio Conte's side have left themselves by their inability to finish teams off.


Goal.com
has looked into the statistics and discovered some startling facts relating to Juve's lack of goals over the last 18 months.
JUVENTUS 28



The Old Lady may well have collected their first Scudetto since Calciopoli this year, but little of their success can be attributed to a strike force which has scored only one more goal than Milito during the course of 2012.

The deadly finisher netted 20 league goals between January and May despite the Nerazzurri's form fluctuating under the leadership of Claudio Ranieri and Andrea Stramaccioni, and has since added seven more to help Inter in their bid to match Conte's men in 2012-13.

During that time, every striker on Juve's staff has combined to net only 28 times in total, meaning they are contributing between them barely as often as a single Inter player when it comes to converting chances.
JUVENTUS 1 in 223.67



To many, it may well have appeared that 2012-13 was going completely to plan for Juventus until last Saturday's defeat, but the Bianconeri's forward line has actually been less clinical than last term.

While during 2011-12 the Old Lady's strikers were responsible for one goal every 221 minutes, Mirko Vucinic, Sebastian Giovinco, Alessandro Matri, Fabio Quagliarella and Nicklas Bendtner have actually scored less often than the forward line of last term were able to, with each goal from a striker coming every 223.67 minutes.

Compare this to Inter, and you'll find that the Nerazzurri strikeforce of Milito, Antonio Cassano, Rodrigo Palacio and Marko Livaja has been able to score 88 minutes sooner on average, making Stramaccioni's forwards statistically likely to score one game quicker than Juve's.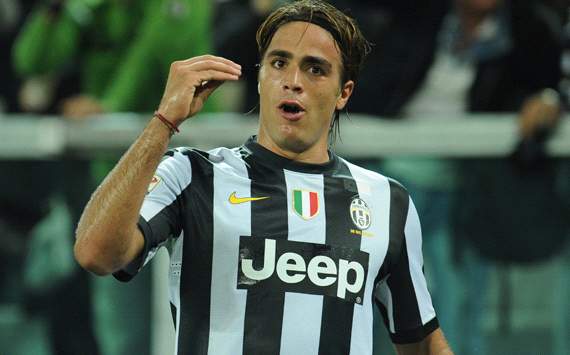 Flattering to deceive | Matri netted just 10 times in 2011-12 but ended as Juve's top scorer
ALESSANDRO MATRI 11



Matri's status as Juventus' top scorer in a Scudetto-winning came more out of circumstance than anything else, with the former Cagliari forward contributing 10 goals during the Old Lady's successful title charge.

Over at San Siro, things may not have turned out too rosy for Inter, but Milito managed to recover from a poor first half of the campaign, in which he contributed just four goals, to fire home 20 times after January 1.

Not only did the Argentine score twice as many goals in four months than did Juve's most lethal finisher in an entire campaign, but since Conte took over at Juventus Stadium, he has also scored nearly three times as many as Matri, who remains Juve's top scorer in the former Siena coach's spell in charge of the Turin giants.
JUVENTUS 0.25



OK, so it's clear that Milito has had an outstanding calendar year, with only Lionel Messi and Cristiano Ronaldo being able to boast more league goals in 2012 than Il Principe, but even taking his goals out of the picture, Inter's strikers have just about matched their Bianconeri counterparts.

Juventus' forwards have combined to score 28 goals this year, with Matri, Vucinic, Giovinco, Quagliarella, Bendtner, Alessandro Del Piero and Marco Borriello combining to make 111 appearances in total since the beginning of January, meaning they have scored one goal every four games between them. But even discounting the presence of Milito, Inter's forward line has just about matched that mark, which isn't bad considering the malaise of Diego Forlan, Mauro Zarate and Giampaolo Pazzini in the early part of the year.

The fact that the Turin outfit's hot shots are barely outscoring the remnants of a forward line which finished sixth last term, has been in crisis for much of the year, and - for the sake of this comparison - has had the record of their best finisher shorn from its records, says much of the inability of Conte to find a decent strike partnership.
GIOVINCO 3 in 10



In the summer transfer window, Juventus evidently went looking for a striker who could score them goals. They did so exactly because the struggled up top in 2011-12. Yet this term has been no more successful for them up top, with Sebastian Giovinco's return and Nicklas Bendtner's loan signing doing little to improve their firepower statistically.

The 'Atomic Ant' has scored three league goals in 10 appearances this term, making him Juve's joint second-highest scorer behind midfielder Arturo Vidal, yet his record still cannot match that of Inter's least prolific striker in 2012-13.

Rodrigo Palacio struggled to initially make an impact at the Giuseppe Meazza due to injury, yet he has since hit the ground running. And with Milito having netted seven league goals in 11 matches, and Antonio Cassano having hit five, Palacio has hit three despite only starting four games and coming off the bench in two more. This means only Marko Livaja of Inter's strikers has been less deadly than Juve's best finisher this term, and the Croatian has only played for a total of 11 minutes in Serie A.

Follow Kris Voakes on